Our Team
DAVE DESCHENES
EXECUTIVE DIRECTOR/BOARD OF DIRECTORS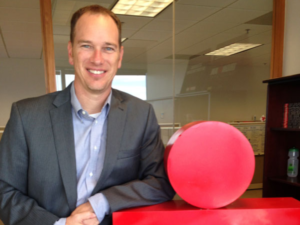 Dave is the Executive Director of The IRONMAN Foundation. Dave joined The IRONMAN Foundation in 2011 after serving as the Managing Director of the Prostate Cancer Foundation from 2010-2011 where he was responsible, and oversaw, $1M of funds for their fundraising program. Previously, Dave worked for Franklin Templeton Investments for 14 years. Dave worked in a variety of roles from Director of Marketing to Global Key Accounts Manager, with an overall asset base of over $17B. Dave strives to be a dynamic and integrative leader who leverages the power of sport to grow business and impact society. While in his role of Executive Director, Dave has led The IRONMAN Foundation to achieve its mission by implementing thought-based leadership, organizational and business strategy, nonprofit compliance, financial planning, program management, marketing innovation, community engagement, social media outreach, and exceptional team management.
WHITNEY STALOCH
SENIOR MANAGER, FUNDRAISING & DEVELOPMENT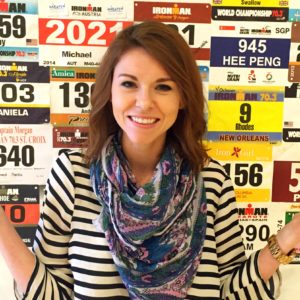 Whitney joined The IRONMAN Foundation in January of 2014 and brings with her 6 years of event coordination experiences including 5 years of professional fundraising. She started her love for nonprofit work as the campaign coordinator for The Leukemia & Lymphoma Society's Team in Training endurance fundraising program. While with Team in Training, she developed a comprehensive plan of operation for the Society's highest grossing fundraising campaign. She developed skills in strategic planning, budgeting/forecasting, recruitment, and the development of marketing and sponsorship plans. Whitney then moved to The American Cancer Society where she managed the achievement of income performance targets for a 4-fold portfolio of Relay for Life Events. Whitney graduated from Florida State University with a B.S. degree in Exercise Science. As a triathlete and IRONMAN 70.3 finisher, she is excited to work with athletes as they add fundraising to their IRONMAN journey.
SARAH HARTMANN
COMMUNITY RELATIONS MANAGER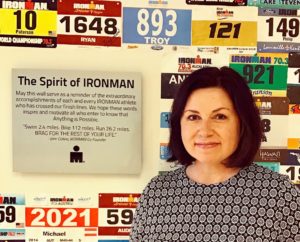 Sarah joins the IRONMAN Foundation as Community Relations Manager. A marathoner and triathlete, Sarah is a certified USAT race director with 15+ years of professional nonprofit, marketing, technology, sales and operations experience. She is also the co-founder and former President of Race2Rebuild, a nonprofit endurance racing program founded by athletes to rebuild communities and bring families home after natural disasters, now headquartered in Washington DC as the official endurance sports program of Rebuilding Together and their 145 affiliates nationwide. Before she fell in love with endurance sports and creating change through sport, Sarah received her MFA in Theatre from the University of Delaware, acted on stages and in front of cameras in New York, Chicago and Los Angeles, and taught acting and speech at the NY Conservatory of Dramatic Arts, Roosevelt University in Chicago and University of Colorado/Boulder. Sarah is honored to work with the extraordinary partner organizations and causes of The IRONMAN Foundation to help create positive, tangible impact in IRONMAN race communities.
MORGAN LIBER
PROGRAM COORDINATOR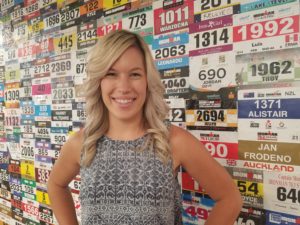 Morgan joins the IRONMAN Foundation as Program Coordinator. A runner, boxer and former soccer athlete, Morgan brings to our team 6+ years of operations, marketing, social media and sports event planning experience. Prior to joining the triathlon world, Morgan spent two years with the Tampa Bay Rays Marketing and Promotions team, planning and executing more than 350 grassroots events each season, assisting with the creation and execution of giveaways, on-field entertainment, the summer concert series and more. Most recently, Morgan ran all social media accounts for IMG Academy in Bradenton, where she monitored and oversaw all sports programs and captured all campus events through her lens. Morgan graduated with her B.S. in Sports Management and Marketing from Miami University in Oxford, Ohio. Morgan is pumped to meet all our IMF athletes and to work with The IRONMAN Foundation's fantastic partner organizations to positively impact all of our race communities! She completed her first half-marathon in February, will run another one in February of 2018 and plans on working her way up to the honor of completing an IRONMAN 70.3 and one-day an IRONMAN event!
GUILHERME COSTA FORTES
IMF PROGRAMS INTERN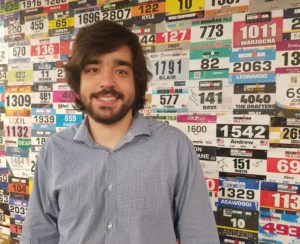 Guilherme joins the IRONMAN Foundation team as a Senior from The University of Tampa, where he is pursuing a double major in Sport Management and Economics. His experiences include working for the International Olympic Committee, as an international relations assistant, during the 2016 Olympic Games in his home country. He worked in the 2015 Women's Final Four held at Amalie Arena, as well as at the 2016 She Believes Cup held at Raymond James Stadium. Guilherme also interned at Sao Paulo F.C., where he worked with youth soccer, in one of the best player development centers in Brazil. Back in the US, he also worked in a few Tampa Bay Rowdies' games, on game-day operations and at the box office, and he was a part of the Athletic Marketing team at UT for almost a year.
After living and experiencing places like Brazil, Angola, Venezuela, and South Africa, Guilherme has become passionate about giving back and fighting inequality, which were some of the main reasons he choose Economics as his second major. Now at IRONMAN Foundation, he is excited about finally having the chance to work in a non-profit organization and wants to help create tangible impact in the communities that host IRONMAN Events.