Fundraising Ideas
5 Ways To Spring Into Fundraising
Warmer(ish) weather, birds chirping, and outdoor bike rides can mean only one thing…SPRING IS HERE! Take advantage of this wonderful time of year by jumping on the fundraising wagon and accomplishing your goal with plenty of time to spare.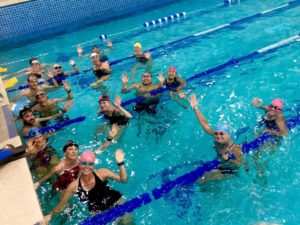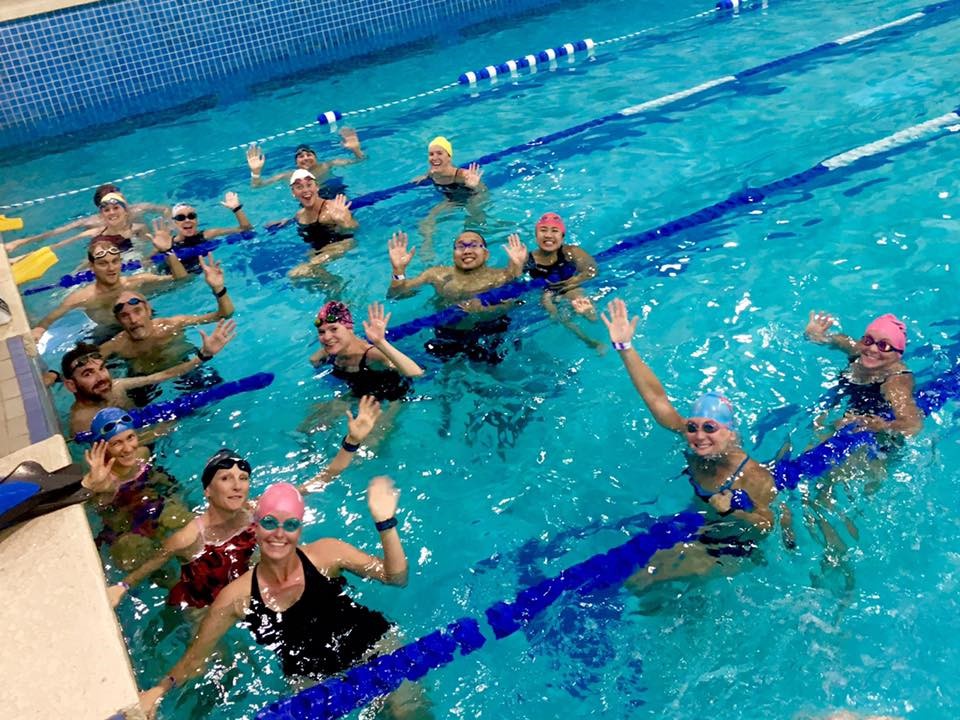 Spring Cleaning Garage Sale
Its time to clean out those closets and make room for more TEAM IMF gear! Spring is a great time to host a garage sale, where all profits go to benefit your fundraiser. Ask other neighborhood friends to donate items to your garage sale that they'd ordinarily give away or sell. Set up shop in the driveway or another area allowed in the neighborhood, and get to selling! Last year, TEAM IMF athlete Dustin Schmidt raised $2,000 at his garage sale. Check out his guest Fundraising Ideas Blog Post under "TEAM IMF Athlete Guest Post by Dustin Schmidt"
March Madness 50/50 Bracket
Host a March Madness Bracket with friends, family, and coworkers. Charge $20 per bracket. At the end, the winner receives 50% of the profits, and your fundraiser receives the other 50%.
Neighborhood Field Day
Parents will be thrilled for the chance to tire their kids out at a good old-fashioned field day this summer. Ask for a minimum donation and be sure to host classic events like a wheelbarrow race, sack race, three-legged race, egg-and-spoon race, water balloon toss, and games of capture the flag, and tug-of-war. Offer an assortment of baked goods for a donation, as well!
Lawn Care & Gardening Services
For much of the country, spring is the season of cleanup. Stray sticks and stones have wandered into yards, and the grass—having finally escaped the snow—looks unruly as ever. Take the burden off of your community and advertise a lawn maintenance and moving service in exchange for donations. Recruit landscapers (or your kids!) to volunteer their services.
NBA or NHL Playoffs Viewing Party
Spring is an exciting time for the sports world. As fans gear up for the playoffs, advertise a viewing party as a chance for your community to support their favorite team AND support a great cause (your fundraiser!).Partner with a local bar to get part of their proceeds donated to your organization, or sell tickets to get in the door. Another option would be to host at your house, and ask for a donation at the door.
It's Football Season! | September Search Trend
With the fall season comes colder weather, longer bike rides, pumpkin flavored everything, and most importantly- FOOTBALL SEASON! Whether you're a diehard NCAA fan, or prefer professional games, "Football" is consistently the most searched keyword on Google.com during the month of September. What does this mean for you? Great question. It's time to give the people what they want: A Football Fundraiser.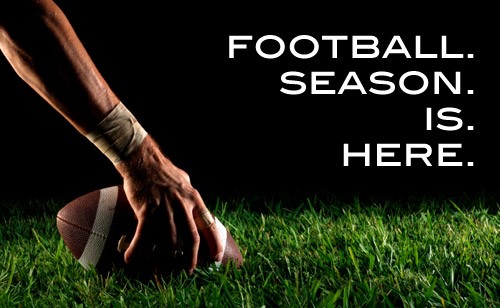 Concession Stand
Many High School and College Stadiums are in desperate need for bodies to man their concession stands! Contact your local schools to see if there is any available time slots for the next few games, and donate your earnings to your fundraiser.
Winner's Pledge
Weekly, ask friends to pledge a "donation" if their team wins. This way, you're consistently receiving donations week-per-week. Their team wins, you win (donations) and everyone is happy!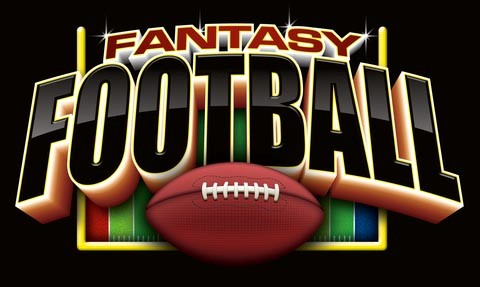 Fantasy Football
Host a Fantasy Football League for a 50/50 winner's pot. Have a $25 buy-in, and at the end of the season, half of the total donations go to your fundraiser, and the other half go to the lucky winner! If you get lucky, maybe they'll be satisfied with simply the pride of winning, and donate their portion back to your fundraiser.
Football Game Watch Party
Everyone loves a good Football game watching party. Problem is, no one likes hosting them. Be everyone's best friend by hosting a Sunday afternoon watching party, and ask people to donate $20 to attend. Tip: Include the "Winner's Pledge" idea from above at your watch party for an even better fundraising day!
Fall For Fundraising! 10 Creative Ideas for Fall Season Fundraising
Halloween Costume Party
A Halloween party can be a great way to interact with your supporters face-to-face and humanize emphasize the FUN in FUNdraising. Host a costume party, set up a haunted house, or organize a fall foods potluck. Sell tickets, snacks, and refreshments for a donation. Attendees can even donate to enter an apple bobbing or best dressed competition.
Pie Eating Contest
Ask a local bakery for donated pies, and offer publicity for their business in your communications, marketing, and online event page. Ask participants to enter to contest for a minimum donation amount.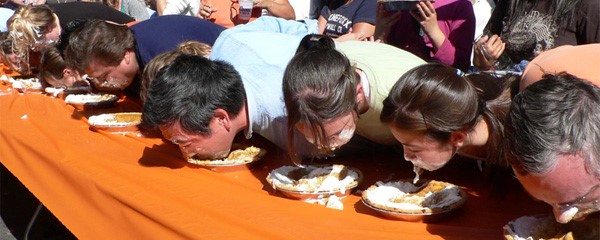 Pumpkin Pie Bake-Off
Have a minimum donation for bakers that want to participate in the baking contest, as well as folks who want to come to the event and judge the pies! Be sure to have a super cool prize advertised (preferably something donated by a local business).
Host a Cycling Skills Clinic
Don't we wish that everyone had the correct etiquette and techniques for proper road and tri cycling? Now's your chance to correct that! Partner with a local tri coach/cycling expert to offer a couple-hour Bike Skills clinic in a local open area.
Fall Trivia Night
Partner with a local bar/pub to host a fun night of trivia! Create an event page so that teams can register and make their donations ahead of time. The goal would be to have the bar offer a discount on drinks/food, as well as help host the event. Ask questions about Sleepy Hollow, the history of Halloween, pie ingredients, or movie and song quotes. Example: What are Adam Sandler's favorite kind of pants in his famous Thanksgiving song?
Bonfire Night
There's nothing better than having a fall bonfire night. Make sure to have s'mores available for roasting, as well as a singer/guitar player to lead the Kumbaya! Have attendees make a donation, as well as offering snacks/games for a donation at the event as well.
Oktoberfest Pub Crawl
Work together with a handful of local breweries and bar, and charge ahead of time for participation in the crawl. Consider selecting pubs already embracing a fall theme with their drink menu (think pumpkin ales, ciders, mulled wine) and ask participants to break out their lederhosen to put a fun spin on this classic event.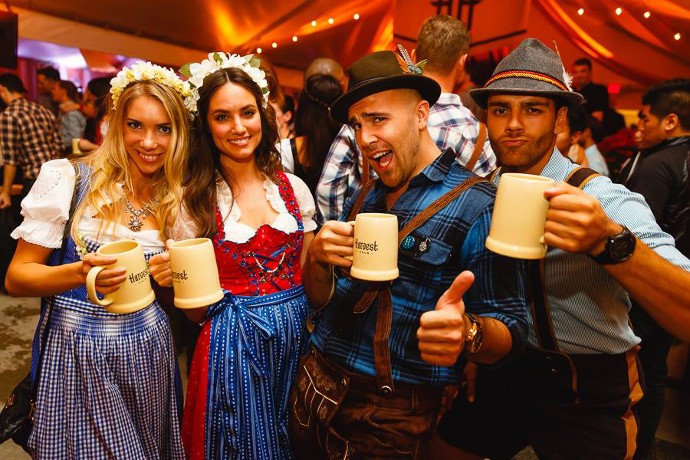 Host a Virtual 5k
While real-life 5ks can be a logistical challenge to organize, a virtual 5k is something that is easy to put together, and does not require any safety officers to be available! Create an event on an event hosting website, and have attendees make a donation to participate in the "Virtual 5k". If folks want to run together on that day, even better! Offer an official "finisher's certificate" to all those participate in the event.
Give It Up
The holiday season is almost upon us, and there's no better time to cut down on a bad habit (for health and budget's sake!). To demonstrate how the smallest donation can make a difference, ask fundraisers to give up a daily beverage, meal, or "bad habit" (cough-cough, Starbucks) and donate the money to a worthwhile cause instead. Make it easier for your donors by asking them to make a donation in an amount that would equal a week, or two weeks, or a month!
Fall Recipe Books
This is the perfect time for grandma's recipes to be in the limelight! Gather up some family and friend's favorite fall homemade recipes, put them all in a little booklet together, and sell them to anyone and everyone!
Racing To The Fundraising Finish Line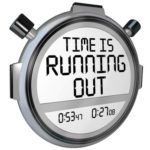 It's less than a month until race day, and your fundraising deadline has snuck up on you quicker than you could have ever imagined! It's easy to become overwhelmed with the thought of trying to reach your deadline, while also attempting to prepare for your race. Not to worry, though, below are some helpful tips to making sure you achieve your fundraising goals on time, and even capitalize on the fast-approaching deadline!
1. Create A Sense Of Urgency: Seriously- make your donors feel the same sense of "I need to donate NOW" that you feel about reaching your fundraising goal! Many times, donors have the best intentions to donate, but put it off until the last minute. Well, THIS is the last minute, and they need to support you in your moment of greatest need.
2. Analyze your ROI (Return on Investment): There are times when it is a great idea to plan an extravagant, all-out, fundraising gala to support your event. This is not one of those times. Think critically- What fundraising strategies will get me the most bang-for-my-buck in the time I have left? Below are some great ideas that don't take much time, effort, or monetary investment, but could potentially raise you a substantial amount of money in a time-crunch! (These ideas are all included on this webpage in accordions below for reference)
a. "The Easiest Way to Raise $1,000"

b. "A Video Is Worth 2,000 Words"

c. "7 Steps For The Perfect Email"

d. "How To Double Your Donations"

e. "Get Your Miles Sponsored And Raise 140.6"

3. Break It Into Bite-Sized Pieces: What sounds like a more reasonable goal to reach: Raising $3,000, or raising $150×20 donors? (You should be saying $150×20 donors). In the same way this makes it sound better to you in your head, you need to break it down for your donors, and potential donors as well!
a. Need to raise $1,750? 35 donations of $50 will get you there!

b. Need to raise $1,000? 10 donations of $100 will get you to your goal!

c. Need to raise $500? It only takes 20 donations of $25 to get there!
Swim all the way to your fundraising goal
TEAM IMF Athlete, Taylor Newgaard, has a secret weapon: her swimming expertise! Through her TEAM IMF Fundraising this year and last year, she has come to realize that EVERY triathlete needs help with their swimming, and what better way to ask for donations than to host an open swim clinic?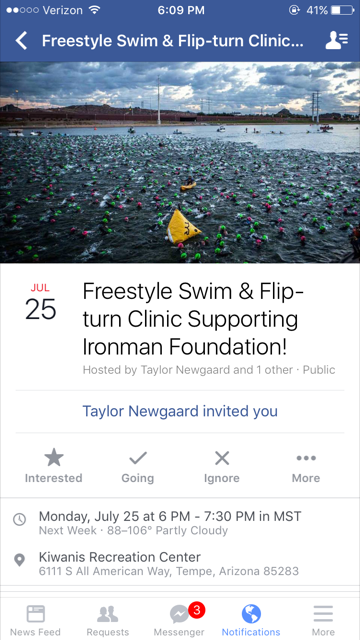 1) Choose a location
– Make sure it has a pool
– Check with the host location to make sure they are okay with you hosting an individual clinic
– Coordinate with the host location on a good date, and time. Many times pools are closed to the public due to team practices, meets, etc.
2) Choose your donation fee
– Are you going to charge a flat fee, or offer a "free" clinic with a donation to your page? Taylor opted to offer the clinic for free, while asking all attendees to make a donation to her page. She raised over $300 from one swim clinic night, and plans on doing it again soon!
3) Ask for help
– Depending on how many people attend your event, you may be overwhelmed hosting it on your own! Whether you are a seasoned swimmer, or still taking lessons, it's always good to have backup help.
– Taylor, a seasoned swimmer, asked an old friend and now University of Arizona swim coach to help her teach the clinic.
– If you are not an experienced swimmer, it would be best two ask two experienced swimmers/swim coaches to help out with your clinic.
4) Advertise
– Taylor relied on Facebook, as well as word of mouth from friends, to let her local triathlete community know about the event.
– Another good way to advertise your swim clinic would be through an "Evite" for your network not on social media.
– It also never hurts to ask the host location whether they would be willing to put up a flyer for the event.
– Ask your local tri clubs to advertise the event on their weekly newsletters, and Facebook groups.
5) HAVE FUN!
– Once everything is in order for the event, make sure to keep reminding your triathlete community on the days prior to the event. And most importantly, have fun!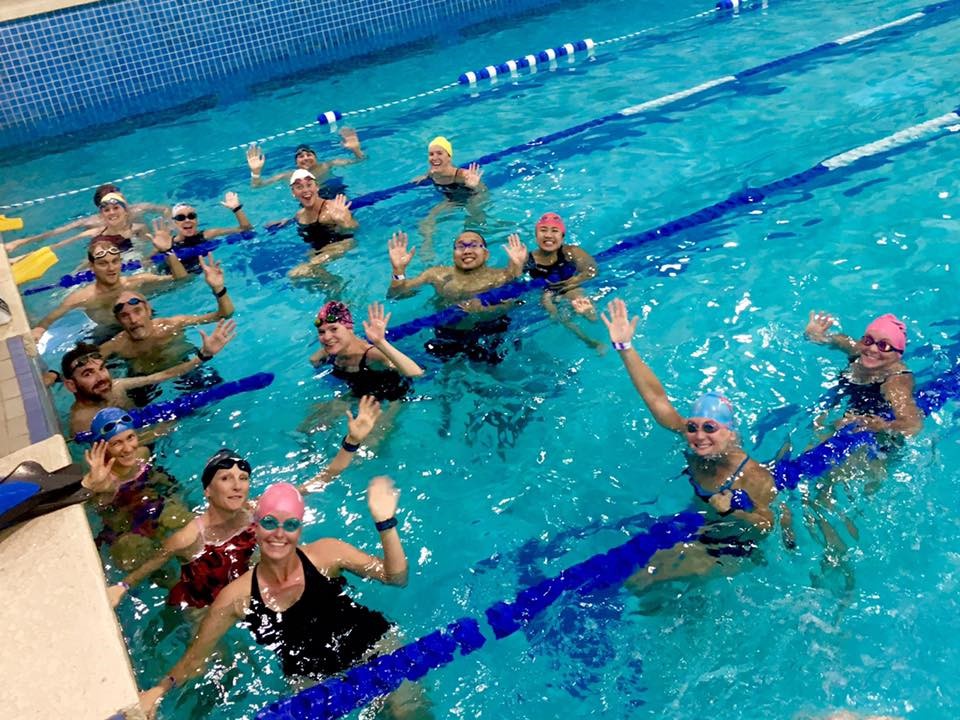 The Easiest Way To Raise $1,000
Day 1: Donate $100 to your own page | $100
Day 2: Ask your girlfriend, boyfriend, wife or husband for $100 | $200
Day 3: Ask your nicest brother or sister for $50 | $250
Day 4: Ask 6 friends for $25 each | $400
Day 5: Ask 5 acquaintances for $25 | $525  
Day 6: Ask both of your neighbors for $25 | $575
Day 7: Ask 4 relatives for $50 | $775
Day 8: Ask your boss for $100 | $875
Day 9: Ask 4 people you work with for $25 | $975
Day 10: Rest Day!!!!! | $975
Day 11: Ask an old teacher for $25 | $1,000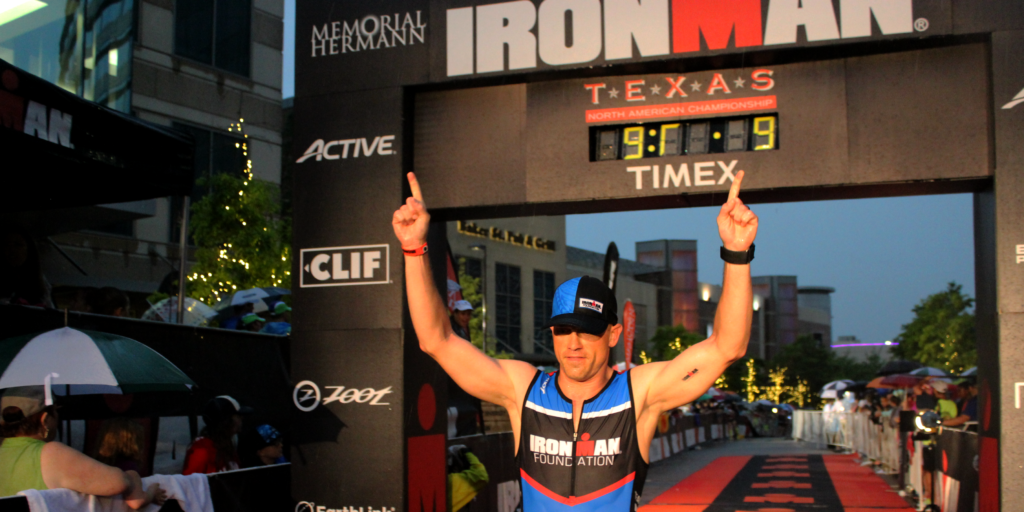 YOU DID IT! $1,000 raised just like that!    
Give Your Donors Some Love | 9 Great Ways To Thank Your Donors
1) HOST AN AFTER-EVENT PARTY | Invite your donors to an event that doesn't involve asking for money! Especially after completing your IRONMAN, a feat in-and-of itself, hosting a post-race & post-fundraising after party is a great way to tell the story of where their donations went, say "Thank You!", as well as give an update on how your race day turned out.
2) DONATION LEVELS | Incentivize your donors by offering different "Levels" of donations. For example: $50 Donation receives a handwritten card, $100 Donation receives a personal "Thank You" call, $125 Donation receives a plate of handmade cookies.
3) HANDWRITTEN NOTE | Sending handwritten Thank You notes is incredibly important, and a step that is often overlooked during a fundraiser. There is nothing as simple, or as effective, as a handwritten Thank You card. DO IT!
4) SOCIAL MEDIA SHOUT OUT | Just as you feel a jolt of excitement when you log on and see a notification symbol on Facebook, your donors feel the same knowing they've been included in some kind of social media post. This is a great way to say thank you to donors, both large and small. Not only does it let them know you've received their donation and you're grateful for it, it also tells the world of their commitment to your fundraiser.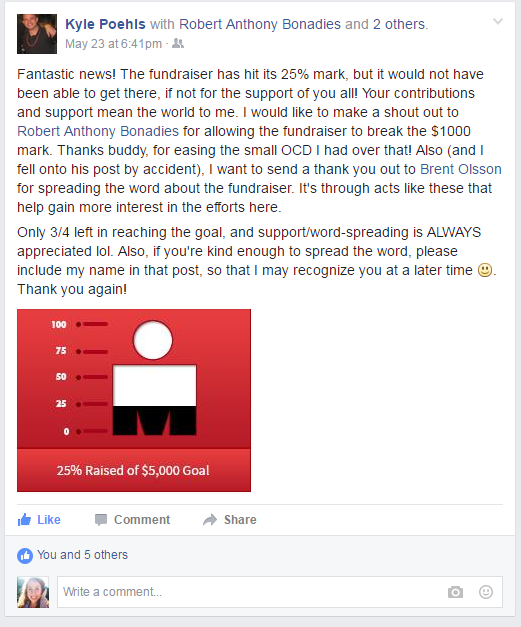 5) THANK YOU CALL | Similar to the handwritten card, a personal thank you call is a small and simple way of showing your gratitude, but it goes a long way. Take a few minutes out of your day to call and thank everyone that donated to your fundraiser. It is something your donors won't expect, but will make a lasting impact on the warm & fuzzy feelings they get from donating to your cause!
6) RACE DAY INVITE | Have a very big $$ donor, or donors that live near the city where your race will be? Invite them to come out and support you on race day! This is a great way to help them feel connected to your cause, as well as become personally invested in your IRONMAN journey (that could not have been possible without their help). Whether or not you have the capability to fund their trip, the simple invite will go a long way in making them feel special and honored.
7) SEND A PICTURE | Whether it is a picture of you holding a "Thank You" Sign as you cross the finish line, or a picture of you in action at a service project during your IRONMAN race week, your donors will appreciate the visual representation of appreciation. You can either send these as a separate photo with a handwritten note, or get fancy and make the photo into the Thank You card.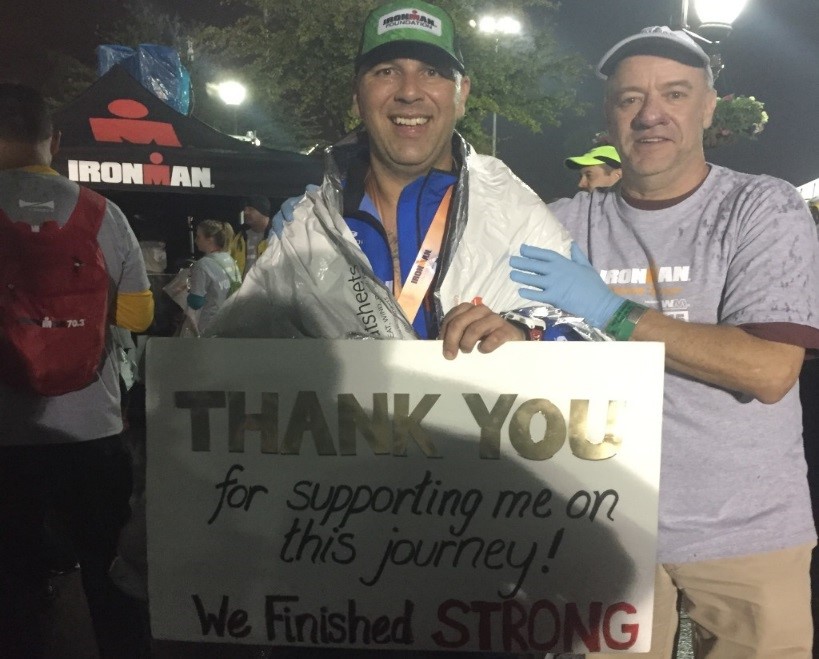 8) THANK YOU VIDEO | A good thank you video doesn't have to be expensive, or long. Acknowledge your donors' gifts with a clear and simple thank you video any time of year, nowadays you can even use your cell phone to record it! A 2 to 5 minute "thank you" video will not only engage your donors but it is also a way to publicly recognize them through social media and promote your cause to other potential supporters.
9) CERTIFICATE OF APPRECIATION | Making donors feel like they matter is the most important part of your fundraiser. You literally would not have been able to do it without them, so make sure that they know it! Get creative and make up an "Official Certificate of Appreciation" and thank them for making a difference. You can use Word, Paint, or Adobe Illustrator to come up with a simple design!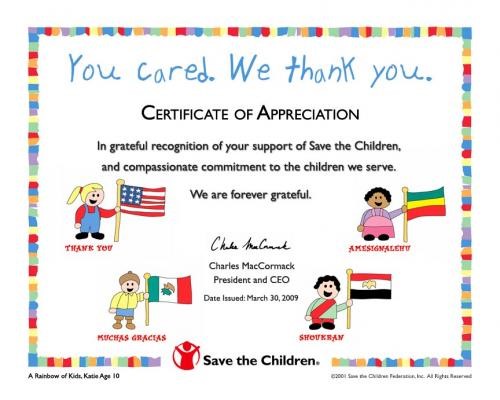 5 Keys to Planning a Fundraiser: Back to Basics
No matter how small or big of an event you have your sights set on, there are a few key things that it takes to make a successful event. Keep these in mind throughout the entire process, and you are sure to have a fun-filled evening raising money for your cause!
PLAN

This may sound obvious, but the most important and vital part of hosting a fundraising event is making sure that you plan it ahead of time. Without adequate time to plan, advertise, and create an unforgettable night, your fundraiser could fall short of your goals- and that is the last thing we want! Depending on the size, formality, and type of event, you may want to begin planning at least 6 months out. This will allow you enough time to secure a venue (at a reasonable price), invite your networks (to have them set aside the time on their calendars), and make sure that every detail is how you want it to be.
| | |
| --- | --- |
| | |
HAVE CHAMPIONS

In order to have a successful event, people need to donate and show up. But to get enough donors to attend, you can't be the only person promoting the event. You'll need a group of other people who are willing to pitch the fundraiser to their friends, co-workers, and networks—and, of course, to inspire them to give. Allowing your friends and family to become directly involved in the process will allow them to become personally connected to your cause, and give them the opportunity to help you be successful.
GIVE MANY OPPORTUNITIES TO "GIVE"

The first rule of fundraising is to ask. And sure, when you host an event, everyone knows that they'll be expected to cough up the price of a ticket. But, you can also incorporate other opportunities for attendees to give. The most common type of ask comes in the form of a raffle or silent auction (and yes, you can do both). It is remarkably easy to get prizes for these types of activities by asking local businesses to contribute; you just need to make sure that the prizes match your audience. In other words, a spa day package will do very well at a Mother's Day-themed luncheon—not so much at the golf tournament. Another example would be to have a donation jar available at any other type of event- a garage sale, field day, or profit share, or tournament.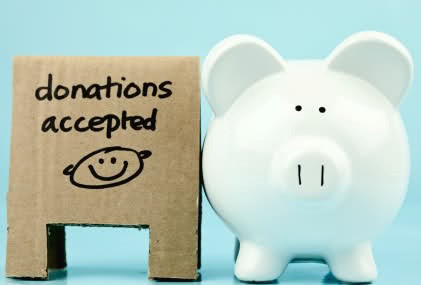 MAKE IT FUN
By donating to and attending your event, give your supporters a time that they will remember, and feel that it was well worth the donation. Make them want to come back to another event in the future! Think of ways that you can also reflect the mission of your cause at the event. For The IRONMAN Foundation, be prepared with stories to tell about the organizations you have helped in race communities. Show your supporters the direct impact they are making by supporting you in your journey. Make them feel that their time has been well spent, and they have created a better world, while also having a great time.
SAY "THANK YOU"
The most important element of a fundraiser is the follow-up that happens after the event. Don't think that it can "wait" until the next time you see them; get on the phone, send out emails, and update your blog/social media. An even better touch is handwritten notes, if possible. You'll want to personally reach out to every donor and supporter that attended your event the night before and thank them for their support. This can be the perfect opportunity to set up as many follow-up meetings you can—step one to cultivating them for their next donation. Also don't forget to thank the businesses that helped make your event possible! Whether it was the venue that gave you a discounted price, or the local running store that donated a gift card, make sure that they feel appreciated.
Summer Fun-in-the-Sun Fundraising
Summertime is all about being outside and enjoying the sunshine. Why not take advantage of this opportunity where everyone just wants to be having some fun in the sun? Entice your family, friends, and networks with a fun opportunity to get out and enjoy these summer days, while also supporting you in your fundraiser.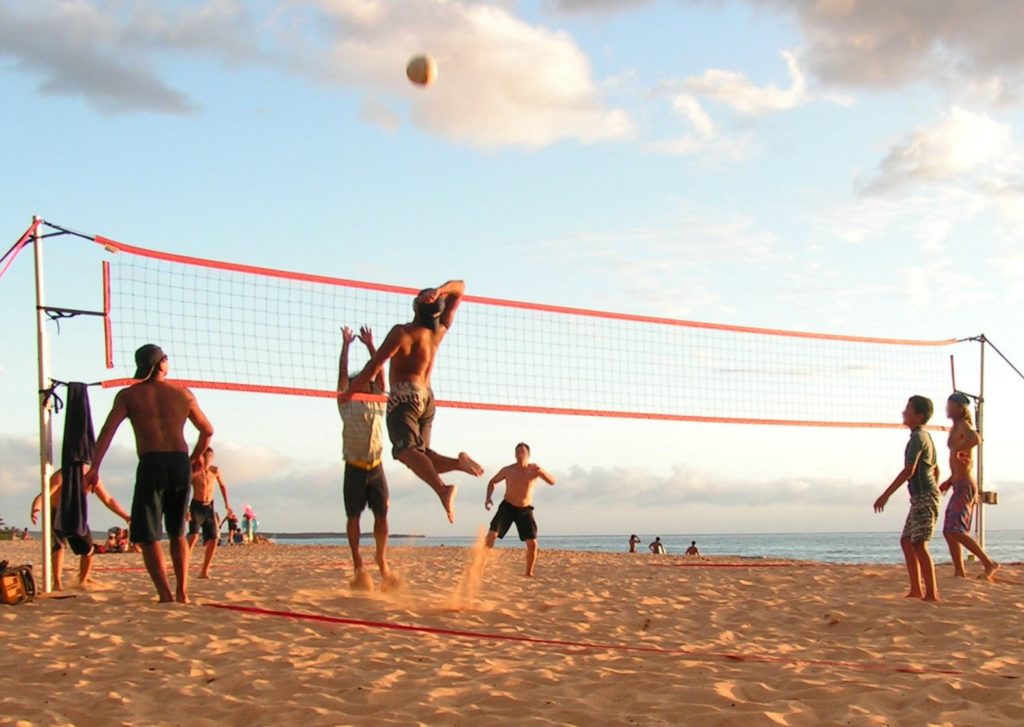 PLAN THE DAY
Host a contest, party, or field day outdoors. Need some ideas on what types of events to host? Check out the list below, and click on the links for event examples!
Volleyball/Beach Volleyball Tournament: This can easily be done at a park, backyard, or the beach. Take your pick! Require teams to pay an entry fee, and offer prizes for 1st, 2nd, and 3rd place. Take a peek HERE at an example Beach Volleyball Tournament.
BBQ Cook-Off Contest: Everyone loves food, so you're already ahead of the game! Host a BBQ cook-off, where aspiring grill masters can showcase their skills to the world. Charge admission for folks that want attend and sample all the wonderful food, and have an entry fee for chefs that want to enter in and compete for the grand prize of the best BBQ. Check out a great example of a Cook-Off HERE!
Cornhole Tournament: There's no better summer past-time than a day of cornhole! Host a tournament style day of Cornhole competition, where prizes are awarded to the best teams. Make sure to secure enough Cornhole boards for the expected number of teams. This would be an event better hosted at bar/restaurant (preferably one that already has cornhole boards available). Check out an example of a Cornhole Fundraiser HERE!
Summer Bar Crawl: Run a bar crawl with local breweries and put a summer spin on it. Entice participants to come out and find their new favorite summer brew by advertising the stops and featured beverages ahead of time. Charge for entry and ask registrants to secure pledges from donors who agree to contribute a certain amount for each bar crawlers makes it to at the event. For those with large triathlon/running networks- turn it into a "Bar Run"! Check out a step-by-step guide HERE on how to set up your Bar Crawl event.
Field Day: Parents will be thrilled for the chance to tire their kids out at a good old-fashioned field day this summer. Ask for a minimum donation and be sure to host classic events like a wheelbarrow race, sack race, three-legged race, egg-and-spoon race, water balloon toss, and games of capture the flag, and tug-of-war. HERE'S an example of a Family Field Day.

KEEP IN MIND:
Keep costs low:  Host your event in your backyard for free, or find a venue that will donate their space for a few hours.
Decide: Family Friendly or Not? This will be key in determining what type of event you host.
Advertise: Put up flyers around town, create an event on facebook, or Eventbrite.com. Be sure to plan this in advance, to allow people to make sure their schedules are free for the event.
IT'S A BLOGGY BLOG WORLD
There are two main reasons that people donate; They are connected to YOU, or they are connected to your CAUSE. As an athlete racing for TEAM IMF, where we are able to help many different types of organizations in many different communities, many of these donations will be made to your fundraiser because your supporters are connected to you, and invested in your IRONMAN journey.
STEP 1: Decide if a blog is right for you! A few questions to ask yourself:
Are most of my supporters online?
Do I enjoy writing?
Will I keep my blog page up to date?
STEP 2: Set up your personal blog site online. There are many really great sites that allow you to customize and set up your own personal blog page. You can also get really creative and just create your own website like TEAM IMF teammates Victor Hall, and Dustin Schmidt. Below are a few of the frequently used sites: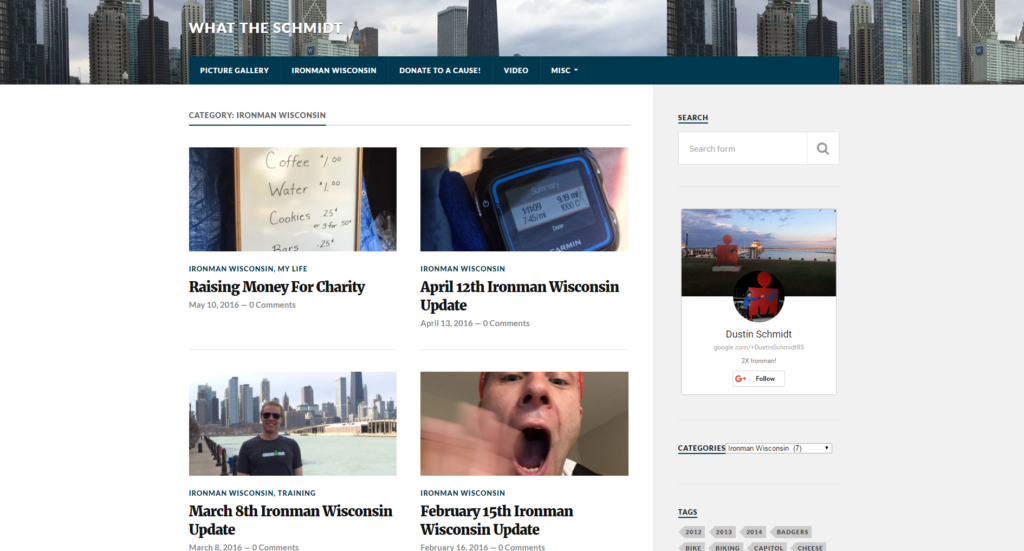 STEP 3: Get to writing. A few of the important first steps to setting up your page:
In your "Bio", tell a little bit about yourself, as well as your purpose on TEAM IMF.
In each of your posts, make sure to include:

Recent donation history,
Amount raised in the past week,
A big "Thank You" to those who have donated recently (singling them out by name is even better),
A fun/informative fact about the life-changing grants your funds raised are helping to fuel.
An update on your training and how you are feeling about your upcoming race

Note: These posts do not have to be long! In fact, the shorter, and more to-the-point they are, the better.
Make your best effort to update your blog at least once a week. You can let your supporters know via email/facebook/blog notifications that you've got a new post up for that week.
EXAMPLES OF TEAM IMF ATHLETE BLOG WEBSITES:
TEAM IMF ATHLETE GUEST POST BY DUSTIN SCHMIDT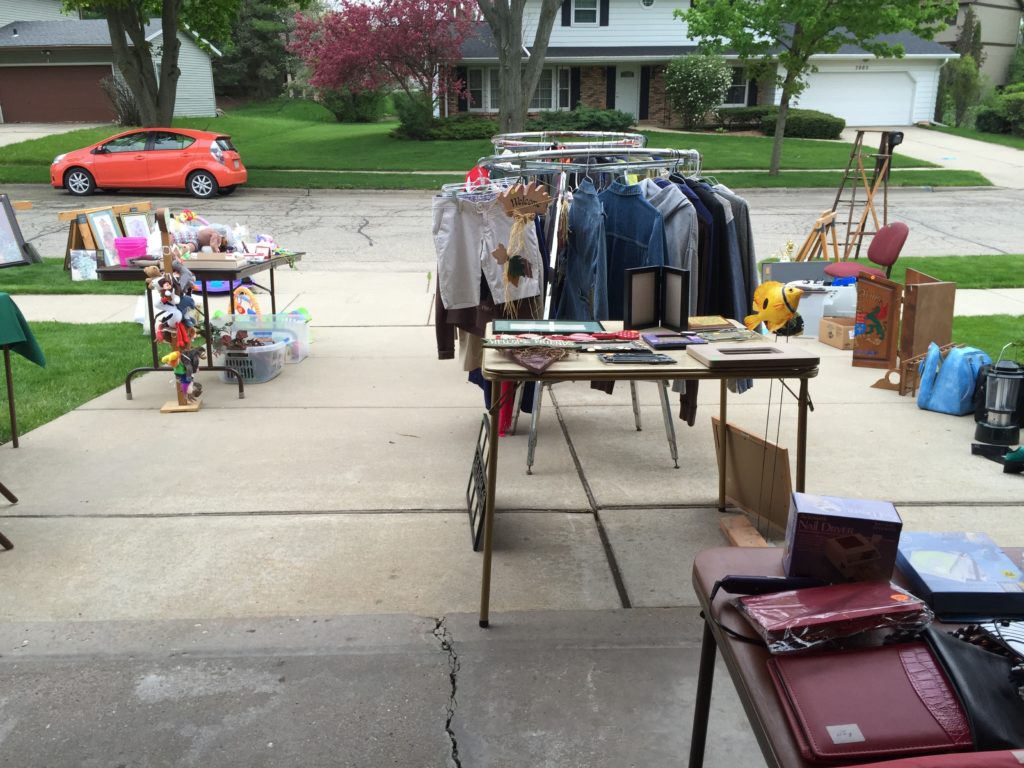 Fundraising. We've all heard of it and many of us have had to do it personally. From selling popcorn as a boy scout to cookies as a girl scout to everything else. We always sign up for fundraising thinking deep down it will be easy and that is just not the case.This year I signed up for the IRONMAN Foundation. A chance to give back to the community that has changed my life so much. The goal is/was $3,500 dollars, half of which needs to be raised by June 3rd, 2016. I knew that was a large amount and that it would be a lot of work.
I have several ideas planned to help raise the money. To my surprise the big one was this past weekend. Let me state, my expectations for the garage sale were not high. If we made $300-$500 I would have been happy. Let's just say we blew past the top end of my guesstimate by over three times when it was all said and done.
The biggest lesson I learned was to start taking donations early. Since all of the items sold were donated by friends and family, getting the word out early was a big plus! No one wants to price items the night before.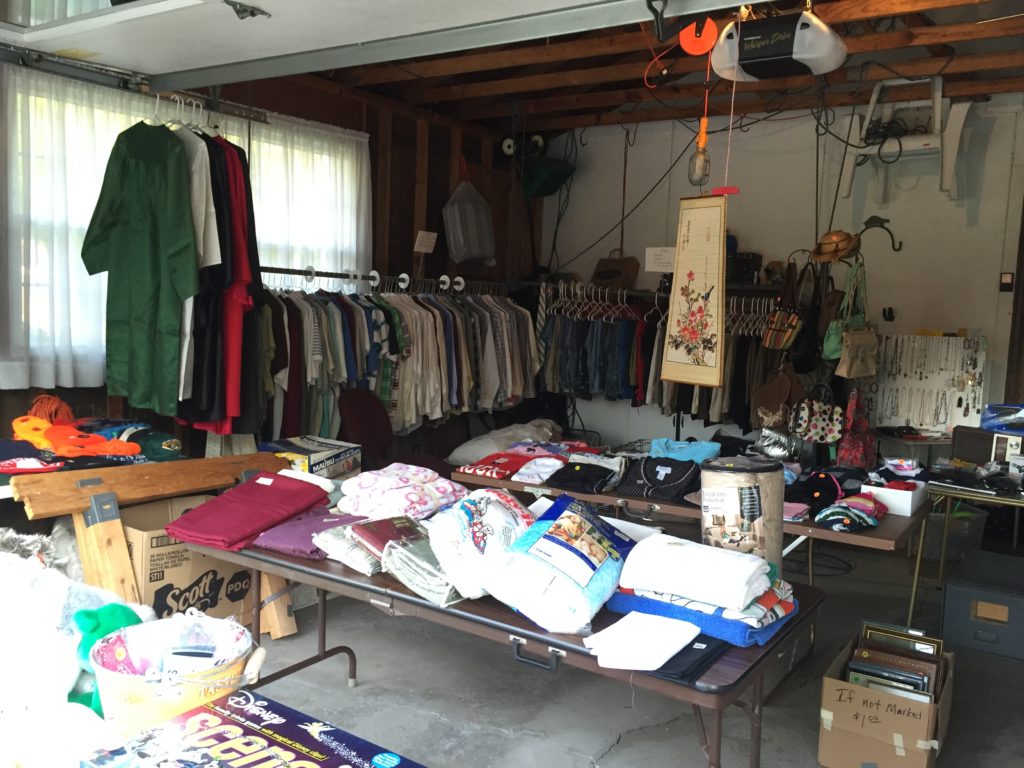 Advertise. Advertise. Advertise. We started a few weeks in advance. Flyers were put up at grocery stores, coffee shops and on cars in parking lots. Flyers were also handed out at another event in town. We also took out an ad in the local newspaper which was pretty expensive compared to our other options. Finally, we used local garage sale sites and Craigslist advertising. Basically, we hit all forms of advertising to get the word out.
Let me say this again. No matter how good the items are that you have for sale, people will simply not be there to purchase them without the knowledge of your sale.
Make sure to have signage up at your sale to hammer it home that every penny from your sale goes to charity. I was able to say that every penny I was raising would be staying in Dane County which really made people's eyes light up. Reinforce that fact when people are shopping that it is all going to charity. We found that people were much more likely to buy something at full price given that fact.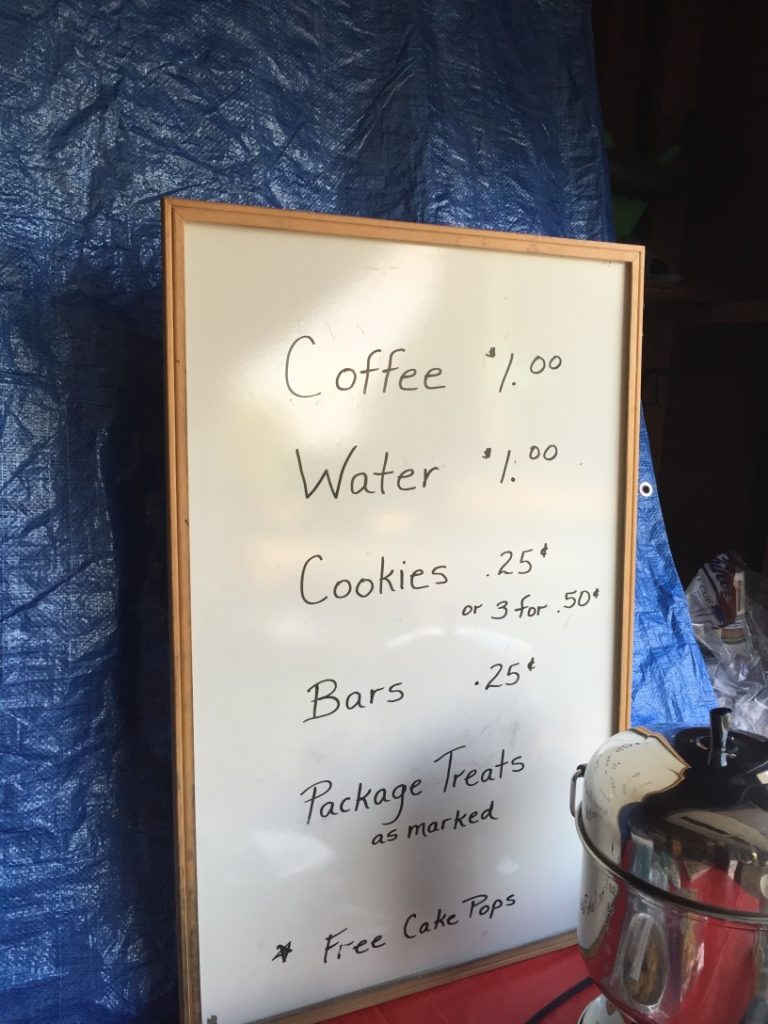 Finally, make sure to have a great support crew. My mother, father, grandparents, aunts and uncles all came to the call of duty. They were the people that made this sale go off without a hitch. They are the true heroes in this story!
A Video is Worth 2,000 Words
Katie Lay, TEAM IMF IRONMAN Wisconsin athlete, has found huge success in posting short video clips of her training on social media, versus simply using text or a picture.
"It works because I think people usually don't know what training for an IRONMAN looks like, or what an IRONMAN is [in the first place]. I hope that people are [realizing] that it's hard, and I'm not just trying to brag. No make-up, sweat dripping work outs. I had someone donate $250.00- I haven't seen this guy since 6th grade!"
Utilizing short video updates to your social media channels is a great way to help your networks visualize the hard work you are putting in to getting across that finish line, and makes it a more personal experience.
WHAT YOU NEED:
A mobile device with ability to film video clips. EX: IPhone, Android, etc.
A waterproof video device for any possible swim videos. EX: GoPro. (not necessary if you don't have one of these available.
A drafted "schedule" of when you plan on filming these clips each week, as well as when you plan on posting them.
KATIE'S WORDS OF VIDEO WISDOM:
I only use a 5-7 second clip, any more than that is too much.
These are great because it allows me to portray what a triathlon consists of, to those who have absolutely no idea. Once they see what we are doing, they are way more inspired to donate!
3 videos a week has worked great, and seems to be a good balance between "just enough" and "video overload".
I use the reverse (selfie) camera view while on my trainer, with music playing in the background, and I also used the reverse camera shot while running.
I always post the videos, or anything IRONMAN Foundation related, with my fundraising page link included.
I don't think it would be a good idea to post every workout; that may be too much. But doing it a few times a week seems to connect people with what I am doing, which translates into donations.
Click the example below to view a video made by a TEAM IMF Athlete!:
How to Host a Restaurant Profit Share
Hosting a profit share at a restaurant is an easy, low-cost way to raise money for your cause. It takes little to no capital, and does not require a big investment of your time. This is a great way to get your local community together and have a great time eating out!
What is a Restaurant Profit Share?
A Restaurant Profit Share is a joint effort between a local restaurant and the fundraiser (you). The restaurant agrees to donate a percentage of their profits to your fundraiser during a set time period. Usually this time period will be within one day (say, Wednesday May 12th between 5-8 PM). This can also be a great opportunity to join forces with another TEAM IMF Fundraiser local to your area and raise even more money by reaching a larger network.
Picking the Restaurant
Many chain restaurants and franchises offer profit sharing opportunities for their community. A great way to do an initial search is to go to the website: Groupraise.com. They have an extensive list of local restaurants in your area that offer fundraising opportunities! If you have a specific restaurant in mind, it is always great to reach out to them individually and inquire whether they would be open to the opportunity.
Remember, this is a mutually beneficial opportunity. While you will be able to raise money for your cause, this is also a great advertising opportunity for them. They will receive free advertising on their business from YOU, and most likely a higher number of customers on the night of the fundraiser. That is a great potential for repeat customers to their business.
Planning the Event
Once you have selected your restaurant, it is time to PLAN!
Pick a date that works for you, and your community. If many of your friends have children, make sure to pick either a Friday night or a weekend night for the profit share. This will allow the event to work with their schedule as well.
Get creative: Make it an exciting event that people will want to attend! Rather than just hosting a simple night out, create a themed event that will be fun for adults, as well as children.

Will the event be taking place around a holiday? Make it a holiday themed event. EX: Wearing Christmas sweaters during the Christmas season. Have a contest for the best sweater!
Make it an event to "Kick Off" your IRONMAN Journey! Encourage your networks to attend and support you in this endeavor.

ADVERTISE: It is extremely important to not only plan the event itself, but also plan your advertising around the event. Make sure to hand out flyers at your local schools, churches, and community centers. If allowed, make sure to advertise at the restaurant itself as well.

Make an "Event" page on Facebook: This way, everyone will have it on their calendars, and you will be able to send reminders/updates through the page.
Send out an email blast: If possible, use a calendar invite for this as well.
Have the hosting restaurant advertise the event through their channels.
Here's an example flyer:

Sip & Spin Your Way to a Great Fundraiser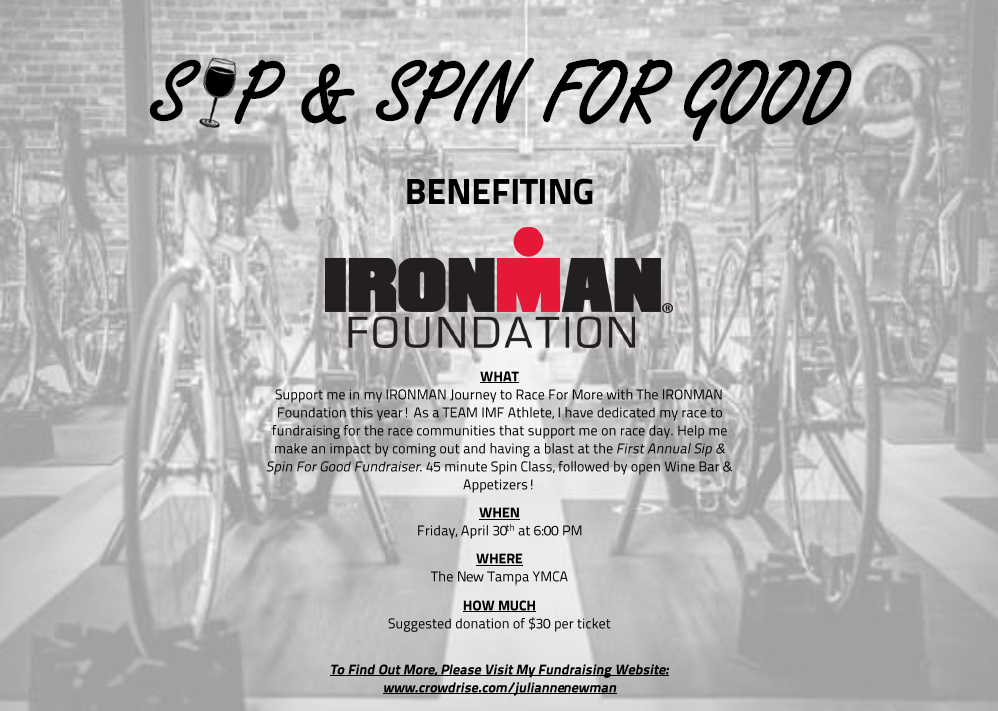 Who doesn't love spin class, wine drinking, or eating delicious food?
Answer: NO ONE! So how do you turn this opportunity into a fundraiser for your cause? Host a Sip & Spin event. The idea behind this fundraiser is to host a fun, relaxed evening of Spinning, then Sipping (wine), and Eating (food).
Suggested Event Structure:
– Ticket Purchase Price: $25-$35
– 30-45 minute low intensity spin class.
– 30 minutes to 1 hour of social mingling. This is the part where food & wine come into play.
STEP 1: Secure your Sip & Spin Location: You will need spin bikes for this fundraiser. Reach out to local gyms & studios to inquire whether they will donate their spin space for an evening and see if any of their instructors would be available to lead the class.
– This event will be most successful as an evening ride.
STEP 2: Secure the Wine & Food: Reach out to local wine stores/wine bars to see if they will be able to provide an in-kind donation of either drinks or food, or if they will offer a discounted price.
– A great way to increase the likelihood of an in-kind donation is to offer the establishment some sort of "marketing opportunities" in association with your event. This includes some sort of mention in the event page, flyers, etc.
STEP 3: Tell Everyone: Advertise your event! Create an "Event Page" on social media, send an email calendar invite, put up flyers at the gym & beverage provider establishments.
STEP 4: Think outside the box: What can you do to make this event even more unique?
– Host a contest for the most miles "spun"- offer a full bottle of wine for the winner!
– Offer additional tickets to purchase for a "Wine Lover's Basket" raffle
– Offer "family friendly" activities: Know a frequent babysitter? Ask them to keep an eye over a kids section of the event, in this area, kids can color, play, and have a blast while their parents are having a blast!
Virtual IRONMAN: The 140.6 Mile Challenge
An IRONMAN Triathlon consists of a 2.4 mile swim, a 112 mile bike ride, and a 26.2 mile run for a total of 140.6 miles. An IRONMAN triathlon is a one day event and must be completed in 17 hours or less.
Have your friends, family, and supporters join you in a virtual IRONMAN Challenge of 140.6 miles! From now until the moment you hit the start line, they will log their miles to try and achieve the challenge of 140.6 by the time YOUR 140.6 begins. Just personalize the message below, pick some great prizes, and post it everywhere; It's as simple as that!THE CHALLENGE:"Join me in a Virtual IRONMAN Challenge and complete 140.6 miles too! I have 17 hours to complete my challenge but you have months to complete yours!Goal: Complete 140.6 miles by the time I hit the start line for (Your IRONMAN event) on (Date).How to join the challenge: Suggested donation of $50 or more for The IRONMAN Foundation (100% tax deductible!).  Click here to join: (insert your fundraising link).Rules:
• Between February 1st and (YOUR IRONMAN event date) you log every mile you swim, bike, run, walk, hike, ski, pogo stick, kayak, etc. You can cover the distance any way you like and in any increment – just get in those miles!
• Track your miles and be sure to post/email your updates.
• Once you hit 140.6 you will get bragging rights and (finisher award you decide).You have (20) weeks which breaks down to a mere (7) miles a week – YOU CAN DO IT! You can even recruit other friends to join you and start 2015 off on the right foot.
Fundraise More By Doing What You Love
Fundraising can be hard work, but, you know what? It can also be a ton of FUN!|
"How is that even possible!" you ask.
Well, we have an answer for you: Find out how to turn your passion, whatever that may be, into a fundraiser.
1. What are you good at? What are your hobbies, passions, and talents? Are you a great piano player? Offer 30 minute lessons for a $50 donation. Are you the best baker on the block? Bake birthday cakes for the neighborhood and ask for a donation instead of payment. Do you love to photograph on the weekends? Offer 30 minute family photo sessions (Easter is coming up!) for a donation to your fundraiser.
2. The Logistics: If you're really savvy, you can make this fundraiser completely expense free from your side! By offering a service, you are not expensing out much, if any, money to produce that opportunity. But, for example, if you're going to be using baking ingredients to bake goods for someone, either factor that into the cost, or ask your local grocery store for donations in the form of ingredients. You'll be surprised at what local businesses will donate to your fundraiser in the form of In-Kind Donations (donations that are goods instead of monetary).
3. Advertise!! Spread the word! Put up flyers at your local school, church, grocery store, advertising your services, and make sure to put that it is for a GREAT cause. Email your address book and let them know about this really great opportunity for them to learn how to play piano, or learn how to swim, or get their Christmas Cards photos done early. And don't forget to post on Facebook!
4. Have a system: Most importantly, don't forget to ask for that donation! Have a system in how you are collecting them, whether it's cash and you write down their names, or whether you ask everyone to donate online before you provide the service. Remember that it is for a good cause and it is OKAY to remind your supporters for their donation.
Be Like Susan and You'll Raise More Money
TEAM IMF IRONMAN Texas Athlete, Susan Young, has utilized all of the resources available to her to create a hugely successful fundraiser. Not only does she raffle off baskets of donated goods in exchange for donations, she sends out daily informational posts on Facebook to educate her networks and better inform her donors about where their money is making an impact. If you ever need advice on what to do to raise more money, it's simple: ASK SUSAN!
Find Out The Facts: A great way to find great examples of organizations that have benefited from the work of TEAM IMF Athletes and The IRONMAN Foundation is to go on our Impact Page HERE, "like' our Facebook Page HERE (we post a grantee highlight every week), AND read these emails for the Organization Giveback Spotlight!
Get Creative: Simply posting on facebook asking for donations is not going to get you to your fundraising goal! We won't beat around the bush, fundraising takes effort. BUT, the effort you put into it exponentially increases the success you receive out of it, in the form of $$ raised. Host a raffle (like Susan Young), have a birthday party and ask invitees for gifts in the form of donations (like David Knight), make salsa and offer each jar for a specific donation amount (like Patty Hernandez), host a wine tasting at a local wine bar (like Stephanie Felber).
Ask For Advice: If you are not sure where to start, or if your idea would even work, there's a simple solution: JUST ASK! There are over 200 TEAM IMF Athletes in our private facebook group just waiting to help you out and give you advice on the lessons they have learned through their fundraising (if you have not joined the TEAM IMF FB Group, you can do that HERE right now). There are also the great folks at The IRONMAN Foundation that are ready and more than happy to help you have the Best. Fundraiser. Ever.. Either way, you are not doing this alone. We've got your back. And you are going to rock your fundraiser.
|
Real Life Example:
Below are a few snapshots of Susan Young's Facebook Page, and all the great content she is posting about her Fundraiser & The IRONMAN Foundation.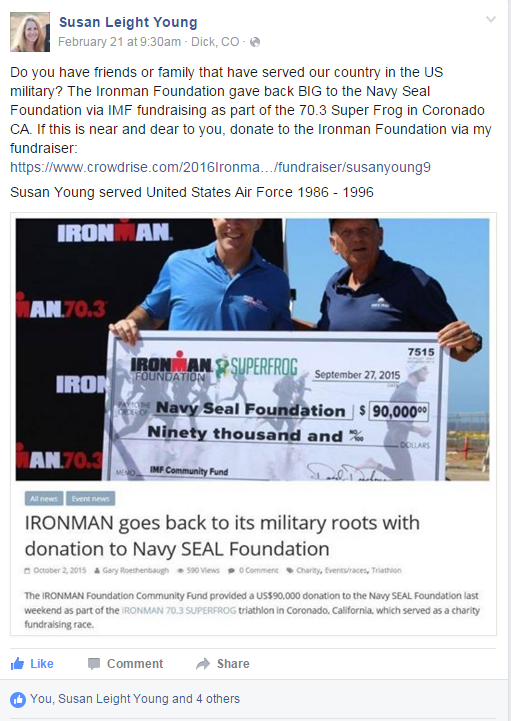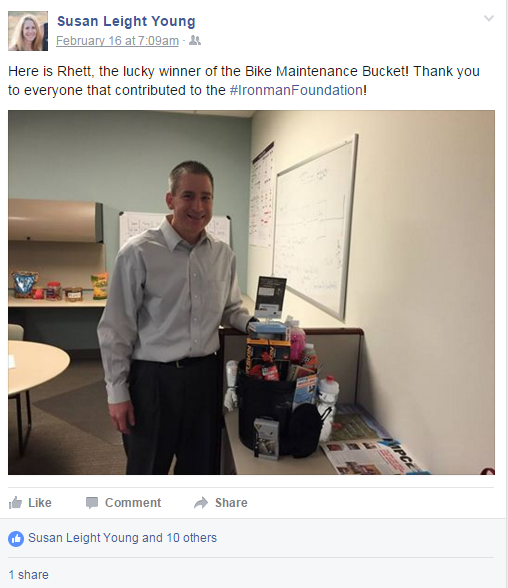 How to Raise Lots of Money on Your Birthday
Having a Birthday this year? (Everyone should be nodding 'yes' to this question). Well then, YOU have an opportunity to fundraise even more money for a great cause! Here are a few fun ways you can make everyone forget you're turning another year older, and donate to your TEAM IMF Fundraiser instead.
• Host a Birthday Bash: Your Birthday is a great excuse to host a party! Get out your party pants and invite everyone in the neighborhood, and then the next neighborhood over, to a party in your honor. Make this party the "Event of The Year" and have guests purchase tickets for the event, which will all be counted a donation to your fundraiser.
• Donations Instead of Presents: Instead of presents this year, ask your family and friends to make a donation to your fundraiser instead! Even for those that wouldn't normally get you something special for your big day, this is a great excuse to ask them to make a donation in lieu of a gift.
• More Years Equals More $$: (PS- The older you are, the better this works out for you!) Announce via email, social media, etc. that for your birthday, you are asking people to donate the amount of your age to your fundraiser. For example, if you are turning 55 this year, invite everyone to make a $55 donation to your fundraising page.
7 Steps for the Perfect E-mail
An Email Ask is the easiest, and simplest way to kick off your Fundraising Campaign! While you should not solely rely on email to raise 100% of your commitment, it is a great way to inform your supporters about WHO you are fundraising for, WHY you are fundraising, and HOW then can support your in your journey. Check out a great example of an "email ask" HERE!
1.  EMAIL EVERYONE. That's right, go wild! Send everyone in your email address book an email letting them know about your fundraiser. The worst they could say is "no".
2.  MAKE IT PERSONAL. Start out with a general template you want to use, and then personalize each email to the person you are sending it to. Whether it is asking about their family, or revisiting a story that you two shared, this is a great way to make that supporter feel special. When a supporter feels like you are reaching out directly to them, it makes it so much harder for them to say "Oh I don't need to donate, someone else will".
3.  THE WHO. Make sure to include in your email WHO you are fundraising for (The IRONMAN Foundation) and why that organization is so great. Include links to their website, ironmanfoundation.org, as well as a real-life example of a way that they have helped impact the world.
4.  THE WHY. Let your supporters know WHY you are fundraising. (And if that is because the race was sold out and this was the only way in….well, maybe don't broadcast that quite as much). Focus on the benefit of your fundraising, and show your supporters why you are willing to go through the effort of fundraising during your IRONMAN Journey to help make a difference in the lives of countless individuals in our race communities.
5.  THE HOW. This is the important part. This is where you ask your supporters to actually support you. Whether that be through a single donation, a sponsorship of miles, or the offering of homemade salsa for a donation (go Patty Balboa-Hernandez!). Make sure you let them know how important it is that they support you, and how much you will appreciate their donation. Remind them of how they are helping to impact SO many great organizations.
6.  KEEP BOTHERING THEM. Just like all of us, our supporters will need to be reminded, at least two more times! Send out follow-up, and reminder emails asking for that donation and request for support. You can even make it fun by making it a "Training Update" email. Include personal updates on how your training and fundraising is going- these guys care about you and want to know about your progress.
7.  THE THANK YOU. Make sure to thank your donors!!! Once, twice, maybe even three times. Send thank you cards, shout them out on social media, and get even more creative if you'd like. The most important detail is to make sure that you acknowledge them and let them know that you are extremely appreciative- no matter if it is a $10 donation, or a $500 donation.
HOW TO DOUBLE YOUR DONATIONS
Have you asked your employer whether they sponsor a Matching Gift Program? If not, you need to do that now!
• What is a Matching Gift?
Extensions of corporate philanthropy, Matching Gift Programs are designed to be the means by which companies support employee charitable giving. Companies match donations made by employees to a wide range of nonprofits.
• Why are Matching Gifts important?
Matching Gifts are FREE money that many donors overlook when making a donation. Many companies will match your donation 1:1, and some will even match a donation up to 3:1!
• Who can submit for matching gifts?
ANYONE who has made a contribution to your fundraiser, including you. It is extremely important to also remind your donors that they should find out if their company supports a Matching Gift Program.
How do I find out if a company supports a Matching Gift Program?
ASK! It is recommended that you as your HR manager on their Matching Gift Programs, and you can also find a list of many companies that have Matching Gift Programs online HERE. They will then provide you with the next steps on submitting a Matching Gift Request, and any additional paperwork you may need to provide.
GET YOUR MILES SPONSORED AND RAISE $1,406.00.
Have donors buy mile(s) of your race- it's easy and fast!
Swim Mile 1: $100
Swim Mile 2: $100
Swim Mile .4 & T1: $100
Bike Miles 1-10: $50
Bike Miles 11-20: $50
Bike Miles 21-30: $50
Bike Miles 31-40: $50
Bike Miles 41-50: $50
Bike Miles 51-60: $50
Bike Miles 61-70: $50
Bike Miles 71-80: $50
Bike Miles 81-90: $50
Bike Miles 91-100: $50
Bike Miles 101-110: $50
Bike final 2 & T2: $50
Run Miles 1-5: $80
Run Miles 6-10: $80
Run Miles 11-15: $80
Run Miles 16-20: $80
Run Miles 21-25: $80
Run Final 1.2 & Finish Line: $106
TOTAL RAISED= $1,406.00!!
SWIM MILE DONORS
If you sponsor my swim mile, I will write your name/a message from you on the inside of my swim cap. Thank You Idea: Buy 3 cheap swim caps & write your "Thank You" directly on the cap, and mail it.
BIKE MILE DONORS
If you sponsor my bike mile block, I will:
– Write your name on the inside of my bike jersey
– Write your name on ribbons to pin to my jersey
– Print out your name/personal message and tape to my bike frame.
Thank You Idea: Make mock Baseball Cards (but Triathlon) with your picture and your thank you. "For your bike spokes: Thank you for supporting mine!"
RUN MILE DONORS
If you sponsor a run mile block, I will: Write your name on the inside of my tri kit, or write your name on ribbons to pin to my tri kit. Thank You Idea: Send them a Mock Race Bib with your Thank You written on it.
T1 & T2 DONORS
Give your donor a funny gift you would typically have in your special needs bag (gummy bears, powerbars, bandaids, etc.)
FINISH LINE DONORS
Send them a small "Finish Line Ribbon" with their name, your name, race, and date.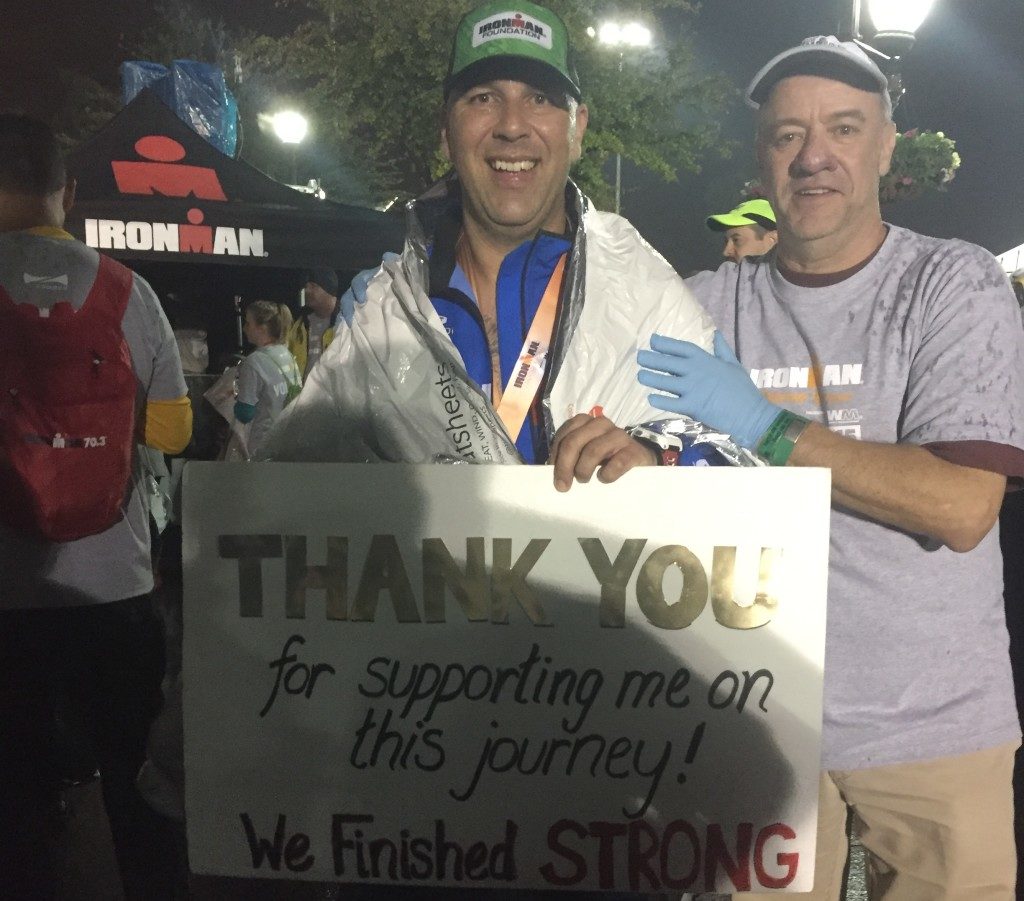 Get Crafty: DIY Fundraising Ideas
Stuck in a fundraising rut? Get creative and make one-of-a-kind goods to sell! Keith Ingrahm and Preston Hernandez had the right idea when they decided to take matters into their own hands and create custom triathlon goods to sell. This is a great way to fundraise and provide the donor with a really cool item in return.
Tips On Making Your Own Products to Sell: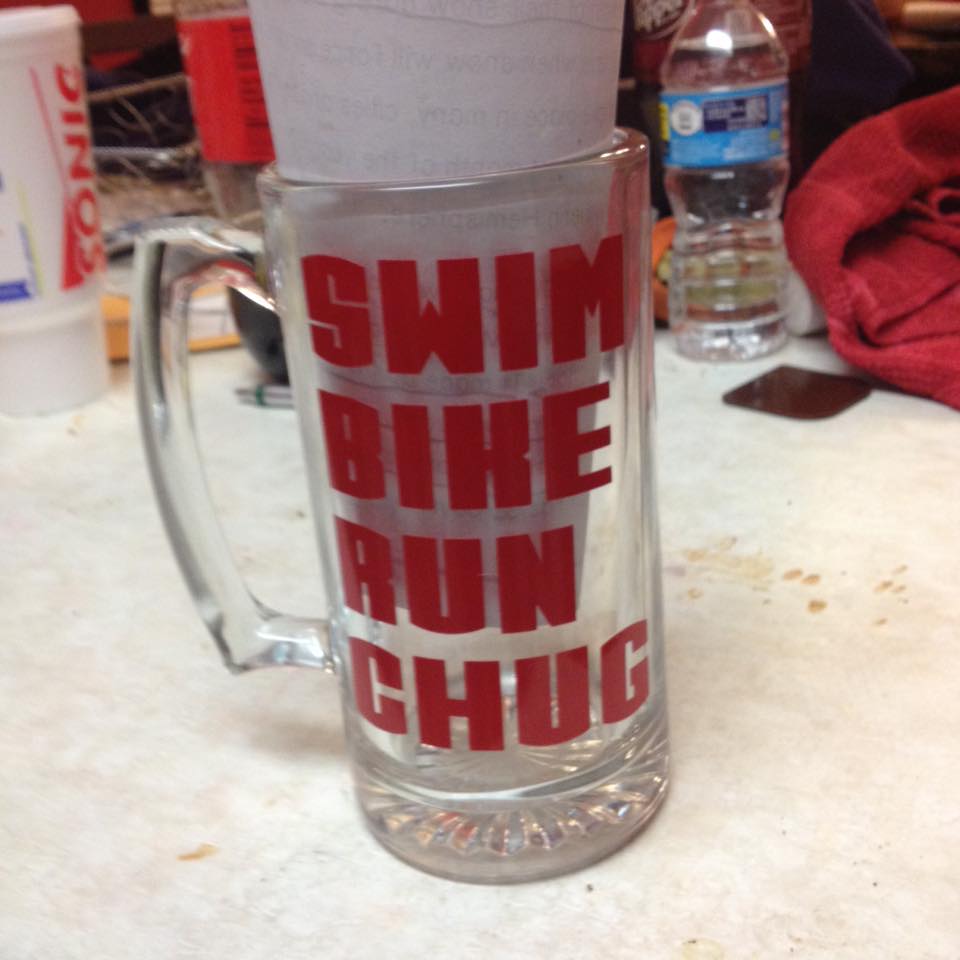 1. THINK of something that people need. Do you have a huge triathlon network? Make something related to the sport. Are you part of a mom's club? Make cute kids t-shirts that they can't say no to. Are you in a local Business Leaders of America Chapter? Offer consulting advice for a donation.
2. DO NOT use any logos or images that are trademarked. This includes the IRONMAN Logo and M Dot. You are however, able to use The IRONMAN Foundation Logo- please contact Julianne Newman if you are interested in using the IMF logo for a fundraiser.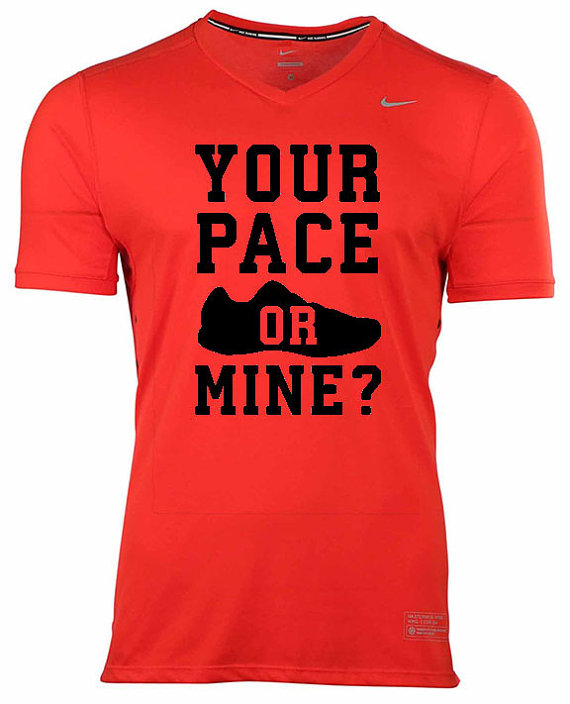 3. CONTACT the right networks, whether that be your family, triathlon team, local church, or colleagues at work. Encourage them to share the fundraiser with their networks as well.
4. MAKE IT EASY for people to donate. Have the link to your fundraising page readily available. Make the item a specific (and attainable) amount. Let supporters write checks (made out to The IRONMAN Foundation, of course).
5. ADVERTISE via email & social media about your contest. Etsy is also a really great way to sell homemade goods.
6. POST reminders about your Custom Goods via social media/email.
7. WATCH the donations start rolling in!
THANK YOUR DONORS during, after, and even MORE after they donate! Include a handwritten note with their item when you deliver it. Shout them out individually on social media. Write their name on a "Supporter Shirt".
Raffle Basket Fundraiser
TEAM IMF IRONMAN Texas Athlete, Susan Young, had the right idea when she began raffling off Raffle Baskets full of goodies in exchange for donations to her fundraiser.
It's easy:
1. Get Creative: Start thinking of great basket themes. This will also help you choose what types of businesses to reach out to. Some theme ideas: Date Night, Bike Maintenance, Movie Night, Backyard BBQ.
2. Contact your local businesses to see if they would like to donate goods for your raffle basket. Have a letter handy that explains what you are fundraising for.
3. Gather some sweet prizes to make it impossible for donors to say no. A nice picture (see below) of the raffle basket creates even more excitement!
4. Pick a donation deadline, as well as the "raffle ticket" donation amount. (Susan gave 1 raffle entry for every $10 donated)
5. Advertise via email & social media about your contest!
6. Post reminders about your Raffle Basket contest deadline via social media/email.
7. Watch the donations start rolling in!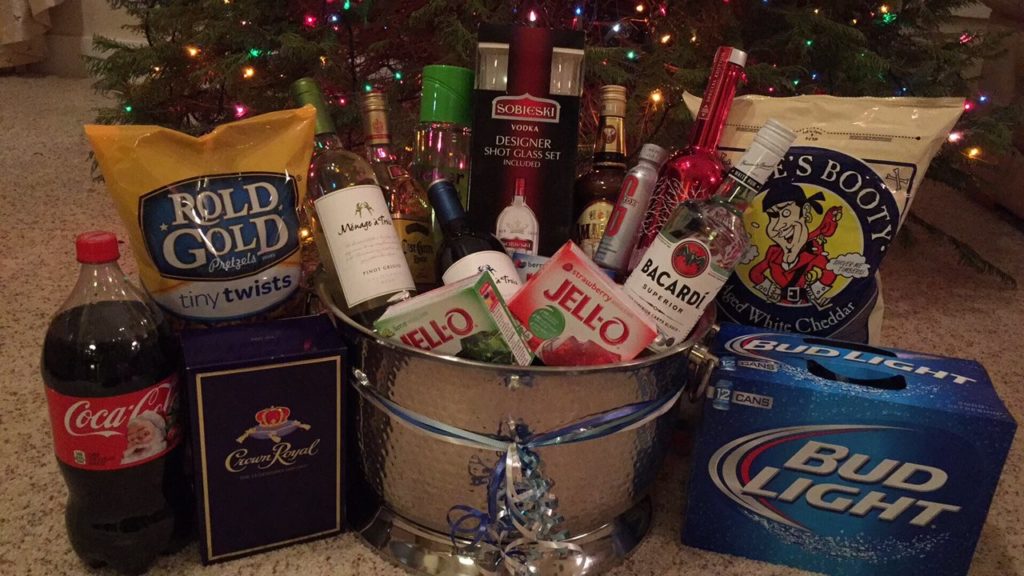 THANK YOUR DONORS and announce the winner via email & the social media channels that you used to advertise. You can even get more exciting and have someone video you pulling a name out of a hat!