Humanitarian Peru Relief Effort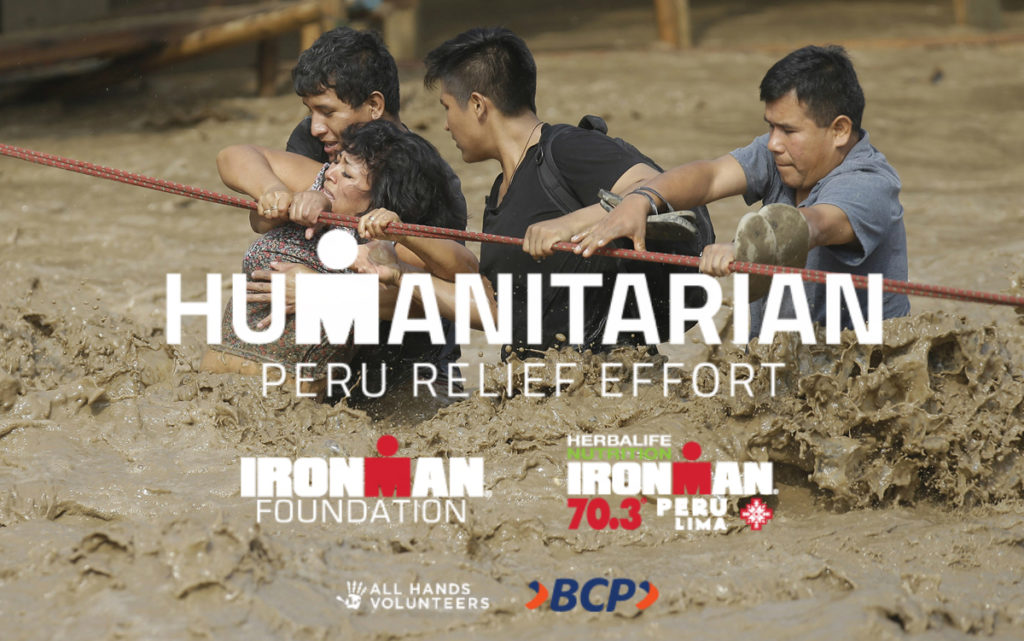 The IRONMAN Foundation and IRONMAN 70.3. Peru are partnering with All Hands Volunteers and Banco de Crédito del Perú to raise critical support for the catastrophic and ongoing flooding in Peru. More than ten times the usual rainfall has caused devastating damage. More than 94 have lost their lives, 900,000 are displaced and 300,000 children are unable to attend school. We're calling upon our IRONMAN community around the world to help us bring relief.
Your generous donation will support All Hands Volunteers' ongoing work to build temporary learning centers and make existing schools safe for Peru's children to go back to school. The IRONMAN Foundation will match all donations made by race day, April 23, 2017 up to $5,000. Click below to view a video of All Hands Volunteers' flood response. IRONMAN athletes who wish to volunteer with All Hands Volunteers in Peru may register here. Let's do this for Peru!

La Fundación IRONMAN y IRONMAN 70.3. Perú se asocian con All Hands Volunteers y Banco de Crédito del Perú para brindar apoyo crítico a las catastróficas y continuas inundaciones en Perú. Más de diez veces la lluvia habitual ha causado daños devastadores. Más de 94 han perdido la vida, 900.000 son desplazados y 300.000 niños no pueden asistir a la escuela. Estamos llamando a nuestra comunidad de IRONMAN alrededor del mundo para ayudarnos a traer alivio.
Su donación generosa apoyará el trabajo continuo de All Hands Volunteers para construir centros de aprendizaje temporales y hacer que las escuelas existentes sean seguras para que los niños de Perú regresen a la escuela. La Fundación IRONMAN hará coincidir todas las donaciones hechas por el día de la carrera, 23 de abril de 2017 hasta $ 5,000. Haga clic abajo para ver un video de la respuesta de inundaciones de All Hands Volunteers. Los atletas de IRONMAN que deseen ser voluntarios de All Hands Volunteers en Perú pueden registrarse aquí. ¡Hagamos esto por Perú!