IRONMAN Foundation 2017 Service Project 5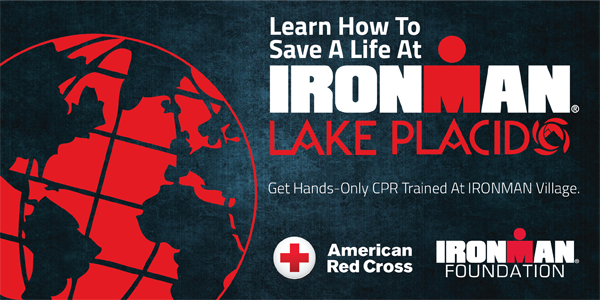 IRONMAN FOUNDATION HANDS-ONLY CPR TRAINING WITH THE AMERICAN RED CROSS
DATE: July 20, 21, 22, 2017
TIME: Multiple Shifts between 9AM-5PM
LOCATION: IRONMAN Village at IRONMAN Lake Placid, The Oval
Our IRONMAN Foundation Service Project at IRONMAN Lake Placid is a massive Hands-Only CPR training with the American Red Cross for all IRONMAN athletes, friends, family and community members.
80 percent of out-of-hospital cardiac arrests happen in private or residential settings. Hands-Only CPR has been shown to be as effective as conventional CPR for sudden cardiac arrest at home, at work or in public. It can double or even triple a victim's chance of survival.
Volunteers will work with American Red Cross staff to train participants in quick training sessions. Our goal: To provide thousands of people with this life-saving skill over IRONMAN Lake Placid race week.
Equipment, nutrition, hydration and event shirt will be provided.
This project is part of the TriClubs in Service Initiative and volunteer spots are extremely limited.
TriClubs: Apply HERE
Received an invitation to volunteer? RSVP HERE
Questions? Click HERE.
The IRONMAN Foundation: Creating tangible impact in IRONMAN race communities through philanthropy and volunteerism.