Special Events
Click below to learn more about some of our special events:
IRONMAN World Championship Broadcast Premiere Viewing Party
Race For Puerto Rico In 2019
The IRONMAN Foundation ANNUAL KONA Auction
Please click
HERE
for more information.
Women For Tri 2018 World Championship Slot
2018 IRONMAN 70.3 World Championship
The IRONMAN Foundation KONA Drawing at the IRONMAN World Championship
Please click HERE for more information.
IRONMAN Foundation Relief Efforts
IRONMAN Hamburg Youth Swim Progam
IRONMAN Foundation Peru Relief Effort
IRONMAN Foundation Ecuador Relief Effort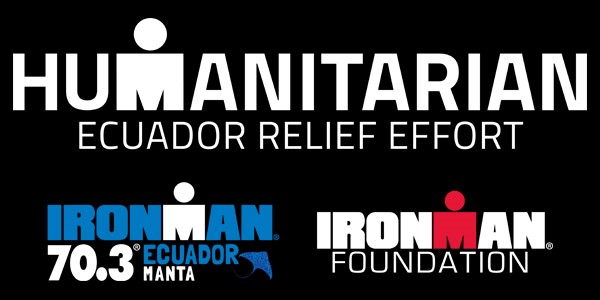 THE IRONMAN FOUNDATION, AND RACE2REBUILD, THE NONPROFIT ENDURANCE SPORTS PROGRAM SUPPORTING DISASTER RECOVERY IS HEADING TO ECUADOR TO SUPPORT CONTINUED EARTHQUAKE RECOVERY AND RACE IRONMAN 70.3 ECUADOR.
MANTA, ECUADOR, THE SITE OF IRONMAN 70.3 ECUADOR, IS ONE OF THE MOST CRITICAL COMMUNITIES IN NEED OF HELP.
THE IRONMAN FOUNDATION AND RACE2REBUILD HAVE PARTNERED WITH ALL HANDS VOLUNTEERS TO BUILD A SER COMMUNITY CENTER (SER STANDS FOR HEALTH, EDUCATION AND RECREATION IN SPANISH) IN THE NEW HOUSING DEVELOPMENT CALLED CEIBO RENACER, LOCATED IN THE OUTSKIRTS OF THE CITY OF MANTA, ON A PLOT OF LAND DONATED BY THE CITY. CEIBO RENACER CURRENTLY HAS 55 HOUSES, WHICH IS JUST THE START OF A MUCH BIGGER SETTLEMENT PLANNED BY THE CITY. APPROXIMATELY 575 FAMILIES AND APPROXIMATELY 2,300 PEOPLE WILL BENEFIT FROM A NEW COMMUNITY CENTER. THE TOTAL PROJECT BUDGET TO BUILD THE NEW SER COMMUNITY CENTER IS $50,000.
THIS NEW COMMUNITY CENTER WILL HELP TO IMPROVE THE QUALITY OF HEALTH, EDUCATION, AND RECREATION FOR ALL RESIDENTS WITHIN THIS COMMUNITY.
HOW CAN YOU HELP?
HELP US REACH OUR GOAL OF RAISING $50,000 BY DONATING HERE.

SIGN UP TOUR THE PROJECT ON SATURDAY, JULY 30TH AND VOLUNTEER TO HELP BUILD THE SER COMMUNITY CENTER ON MONDAY, AUGUST 1ST.  FOR MORE DETAILS ON PROJECT TIMELINES, PLEASE CLICK HERE.  THE DEADLINE TO REGISTER TO VOLUNTEER IS FRIDAY JULY 8TH.

REGISTER TO RACE IRONMAN 70.3 ECUADOR HERE.

BY JOINING IN OUR RELIEF EFFORTS, YOU ARE SUPPORTING OUR MISSION TO LEAVE A POSITIVE LASTING LEGACY BEHIND WITHIN THIS IRONMAN RACE COMMUNITY, AND WILL BE MAKING A TANGIBLE IMPACT THAT WILL HELP THOUSANDS OF RESIDENTS IMPROVE THEIR QUALITY OF LIFE.
COOKIE PROJECT
The Cookie Project was formed to thank community residents for keeping cyclists safe out on the roads. In 2013, the Cookie Project partnered with The IRONMAN Foundation and delivered 2,142 cookies to 357 homes on 40 miles of the IRONMAN Wisconsin bike course.  In 2014, the project expanded their efforts to include the ENTIRE Ironman bike course.  (That's a total of 557 homes.  3,342 cookies. 278.5 dozen!) The IMF and the Cookie Project also expanded the partnership to include IRONMAN Boulder and IRONMAN Lake Placid race communities.