Humanitarian Relief Efforts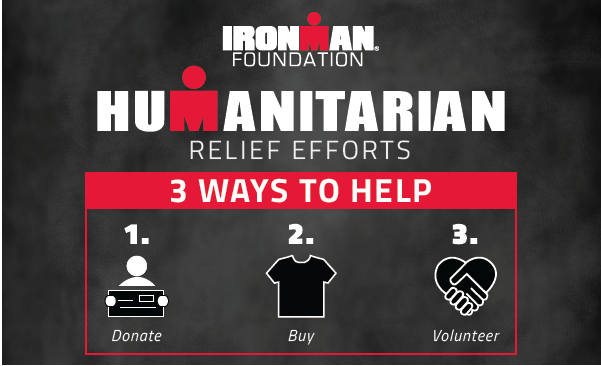 Hurricane Michael is the strongest storm to ever hit the Florida panhandle.
Hurricane Florence's floodwaters have devastated Carolina communities and displaced thousands of families.
The lower eastern side of the Island of Hawai`i has suffered multiple natural disasters, including the largest earthquake to hit the region in over four decades as well as volcanic eruption, and lava flows which have reached over 100 acres of land. Homes have been destroyed and displaced over a thousand residents.
In 2017, the Tubbs wildfires in Northern California were one of the most destructive in the state's history. Harvey's record floodwaters devastated much of southeast Texas. Irma's record-breaking hurricane winds and rain destroyed the homes and lives of thousands in Florida. And Hurricane Maria hit Puerto Rico just two weeks after Irma, causing devastating, mind-boggling damage.
Recovery from these events will take years.
It is the mission of the IRONMAN Foundation, the charitable arm of IRONMAN and Rock 'n' Roll running events, to create positive tangible impact in our race communities through grant funding and volunteerism. We're calling upon our IRONMAN community to support our Humanitarian Relief Efforts, especially in our race communities. In times of disaster, dollars are the most helpful way to show support. Funds raised will support local recovery efforts and service projects.
The IRONMAN Foundation has pledged $50,000 to support local Hurricane Michael recovery efforts and will match all donations received by IRONMAN Florida race weekend, up to $100,000
3 WAYS TO HELP
DONATE – Click HERE to support the IRONMAN Foundation's Humanitarian Relief Efforts in Florida, North Carolina, California, Texas and Puerto Rico. Click HERE to support Volcano Relief Efforts in Hawai'i.
BUY – Click HERE to purchase a custom Humanitarian Relief Effort shirts supporting Florida, North Carolina, California, Texas and Puerto Rico. 100% of the proceeds will support the IRONMAN Foundation's Humanitarian Relief Efforts.
VOLUNTEER – Click HERE to register to volunteer at local service projects and provide hands-on rebuilding assistance during race week at  2019 IRONMAN 70.3 Puerto Rico, 2019 IRONMAN 70.3 Gulf Coast, 2019 IRONMAN 70.3 Santa Rosa, or sign up to be notified of new service projects as announced.
To register for the IRONMAN Foundation Community 5k to Support Hurricane Michael Relief presented by HOKA ONE ONE, click HERE. 
Together, we provide service through sport and show commitment to community.
Check out these 2018 Relief Effort Service Projects: