Women For Tri: TriClub Grant Application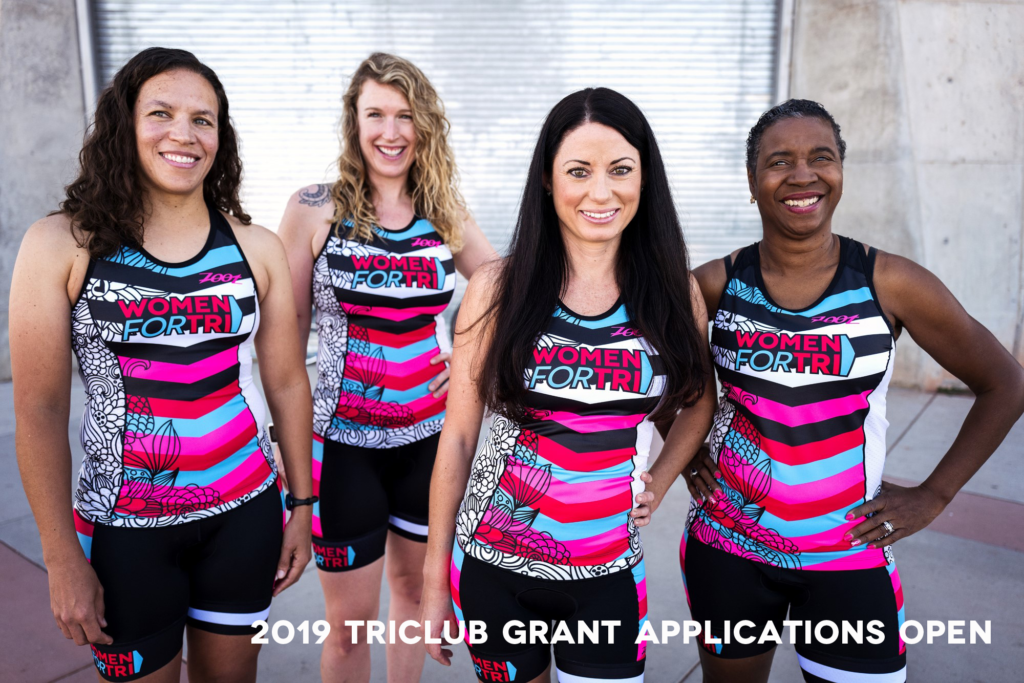 The purpose of the Women for Tri 2019 Triathlon Club Grant Program is to support local triathlon clubs as they undertake activities including clinics, seminars and educational lectures, social gatherings, and related activities to increase women's participation in the sport of triathlon.
This year, Women For Tri will again be offering grants of up to $2,500 each to triathlon clubs dedicated to the Women For Tri mission and who are looking to increase female participation in the sport. These grants are available to triathlon clubs both in the United States and internationally and are not limited to women-only triathlon clubs.

The Women For Tri Triathlon Club grants funds may be used for, but not limited to:
Training for women triathletes, with a focus on removing barriers to participation. Examples include open water swim clinics, tire changing clinics, transition clinics.
Recruitment programs and materials. Examples include recruitment events, web development, marketing materials.
Educational programs. Examples include seminars with featured speakers, rental and use of appropriate facilities, materials for participants.
Networking and social gatherings, with a focus on recruiting and engaging women in participation of triathlon. Examples include group events in conjunction with training or educational programs, events after local triathlon competitions, gatherings at or near event expos.
The grant funds may NOT be used for:
Triathlon gear

Alcoholic beverages

Club membership fees
Women For Tri may withhold approval of any specific use of grant funds.
Grantee Requirements:
All Grants awarded must be utilized within six (6) months of receipt. Grant funds not utilized must be returned to Women for Tri within seven (7) months of receipt of funds. Grant recipients ("Grantees") must submit a written Recap Report and itemization of receipts within one (1) month of completion of the program supported by the Grant. In any public materials promoting Grant-supported programs, Grantees must use the Women for Tri logo or hashtags #womenfortri and/or #whywetri. Grantees should participate in supporting all Women for Tri social assets, and follow us on Instagram and Twitter. The report must document social media utilized by Grantee during the Grant period. Grantees must also agree to take the "I Am True" anti-doping pledge.
All Grantees will be required to acknowledge the Grant on social media in the following manners:
Photos or videos of program on Facebook, Twitter, Instagram, etc. using the hashtags #whywetri and #womenfortri

Testimonials from program participants (video, blog, jpg, meme, etc.) using the hashtags #whywetri and #womenfortri

Posting ongoing updates to the

Women For Tri Facebook

group page

Grantees may be required to complete (as directed by IRONMAN and The IRONMAN Foundation) an Affidavit of Eligibility, Release of Liability and Publicity Release (where permitted by law).
Please see more information regarding eligibility and evaluation consideration HERE.
To review a SAMPLE grant application, click HERE. 
The 2019 application deadline is February 25, 2019 at 11:59pm ET.
Questions?  Please contact WOMENFORTRI@IRONMAN.COM