IRONMAN FLORIDA SERVICE PROJECT
Nov 03, 2019 9:00AM—2:00PM
Location
Panama City Beach, FL
Categories Service Projects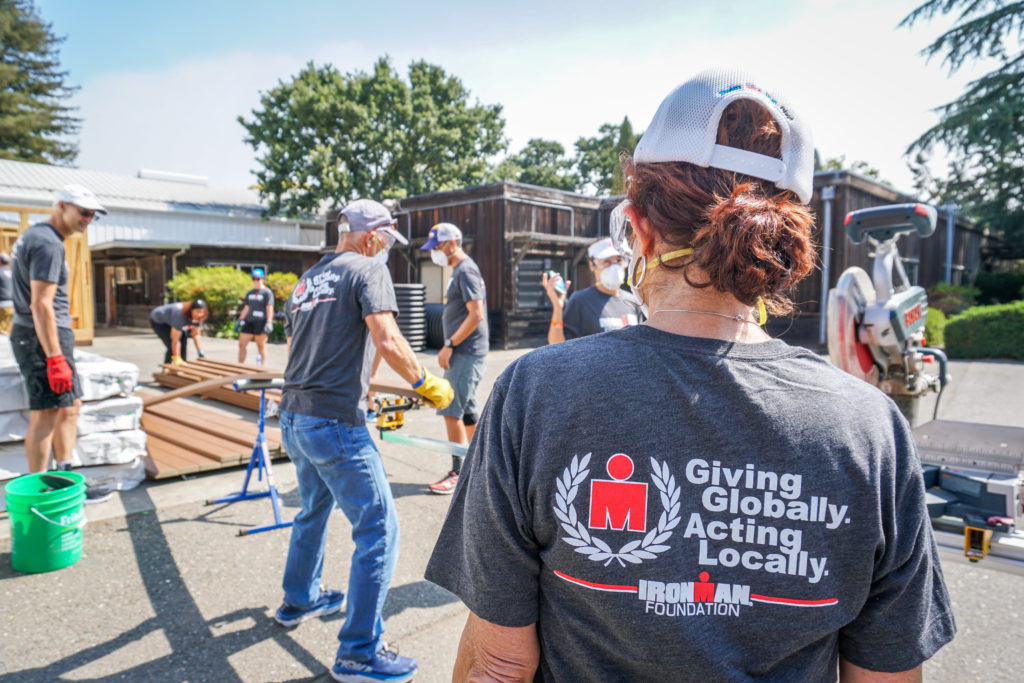 IRONMAN FOUNDATION HURRICANE MICHAEL REBUILDING EFFORTS
WITH RYAN KINDER
The IRONMAN Foundation will return to Panama City Beach for IRONMAN Florida on Saturday, November 2, 2019 to activate Humanitarian Relief initiatives in response to Hurricane Michael with the support of singer, songwriter, and guitarist Ryan Kinder.
Ryan Kinder will participate in events throughout race weekend, including racing with TEAM IMF as well as volunteering with athletes, partners and staff for the IRONMAN Foundation's hands-on community rebuilding project. Additionally, Kinder will perform at the exclusive "Concert for Relief" event at the IRONMAN Florida Welcome Banquet, where participants are encouraged to bring a children's toy or non-perishable food item for the chance to win prizes. Children's toys will be delivered by Kinder's charity Kinder's Kids to youth impacted by Hurricane Michael.
The IRONMAN Foundation has established multiple initiatives to continue Hurricane Michael relief efforts, which devastated Panama City Beach and the surrounding Bay County in October 2018. With support from HOKA ONE ONE, the Firehouse Subs Public Safety Foundation, Ryan Kinder and the global IRONMAN community, activations will kick off a series of events ahead of and during the race weekend:
Wednesday, October 30 – Friday, November 1 – Bike for a Kid in partnership with FLO Cycling in IRONMAN Village, where participants will build 100 new bikes which will be donated, along with 100 helmets, to local children.
Thursday, October 31 – Ryan Kinder will perform the "Concert for Relief" at the Welcome Banquet, starting at 5:30 PM. Bring a children's toy or non-perishable food item for the chance to win prizes. Following the concert, the IRONMAN Foundation will award multiple Humanitarian Relief Effort grants in partnership with HOKA ONE ONE and the Firehouse Subs Public Safety Foundation, as well IRONMAN Announcer Tom Ziebart's Tour de Tom campaign.
Saturday, November 2 – Race day with TEAM IMF athlete Ryan Kinder, along with IMF Pro Ambassadors Ben Hoffman and Matt Russell, and IMF Ambassador Derek Fitzgerald, the first heart transplant recipient and cancer survivor to finish an IRONMAN® triathlon.
Sunday, November 3 – Join the IRONMAN Foundation's Service Project Day from 9:00 a.m. to 2:00 p.m. along with 100 athletes, volunteers, staff, and partners to rebuild local homes in partnership with international disaster rebuilding partners, All Hands and Hearts and Team Rubicon. Nutrition, hydration and event t-shirts will be provided. Registration at www.ironmanfoundation.org/florida.
The IRONMAN family is looking forward to returning to the home of IRONMAN Florida, and hope you will join us!
Volunteers: Registration is now closed. If you would like to attend or have questions, please contact Kaitlin Brunner: kaitlin.brunner@ironman.com.
Want to support with a donation? Give HERE
Questions? Click HERE
The IRONMAN Foundation: Creating tangible impact in IRONMAN race communities through grant funding and volunteerism.