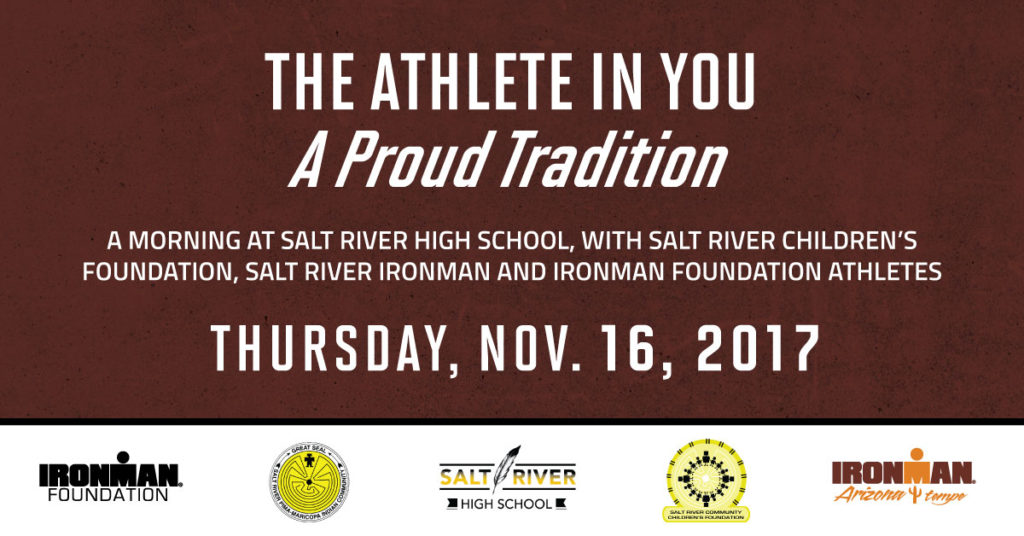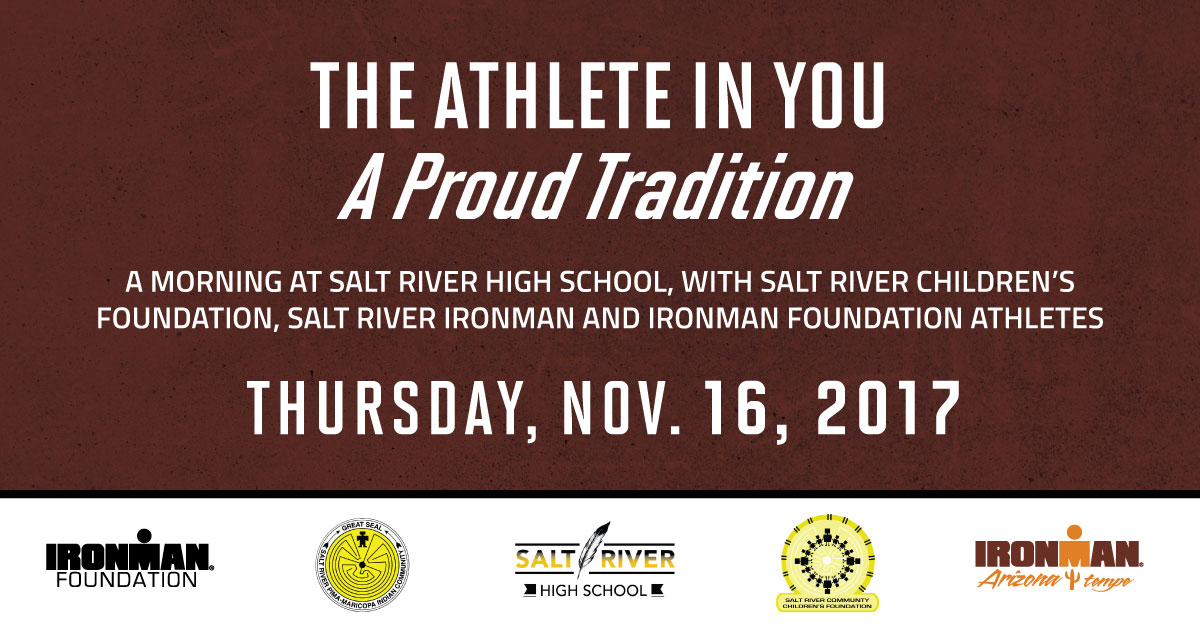 The IRONMAN Foundation® will facilitate a morning of workshops at the Salt River High School located in the Salt River Pima-Maricopa Indian Community, bringing together students and IRONMAN athletes for "The Athlete In You, A Proud Tradition." In addition, The IRONMAN Foundation will distribute more than $65,000 to nonprofit groups and initiatives in the greater Tempe area, including a $10,0000 Community Grant to the Salt River Children's Foundation, in conjunction with the 2017 IRONMAN Arizona triathlon taking place on Sunday, November 19.
At "The Athlete In You, A Proud Tradition," students in grades 7-12 will participate in fitness and nutrition workshops with local IRONMAN athletes from the Salt River Community, as well as IRONMAN athletes from around the world. An opening ceremony will be led by Salt River Community members Tony Collins, Jacob Butler and Amson Williams. The "Voice of IRONMAN" and IRONMAN Foundation Ambassador Team Captain Mike Reilly will lead a panel discussion, Salt River IRONMAN athlete Rachel Seepie will conduct a yoga and meditation workshop and a team of IRONMAN and Salt River nutrition experts will host a hand-on workshop on healthy eating. The morning will conclude with a healthy "athlete fuel" lunch.
Continuing the "We've Got Your Back(pack)" program launched in April of this year, volunteers at The IRONMAN Foundation booth inside the IRONMAN Village will also prepare backpacks for local children at the Salt River Elementary School. Backpacks provided by Travelway Group International will include school supplies and sunscreen provided by Walmart, water bottles from Gatorade, healthy snacks from Clif Bar and inspirational notes written by IRONMAN athletes.
"We are extremely honored for the invitation from the Salt River Community to spend the morning with the Salt River High School students, to support the Salt River Community Children's Foundation and the Salt River Elementary School," said Sarah Hartmann, Community Relations Manager for The IRONMAN Foundation. "This is an extraordinary experience and together we are creating a lasting and tangible impact in the community."
The IRONMAN Foundation Community Fund provides community and volunteerism grant opportunities to non-profit organizations where IRONMAN events are held. This year's grant funding brings the total giveback to more than $845,000 in the Tempe region. In 2017, The IRONMAN Foundation will distribute more than $1.5 million in grant funding to support the needs of IRONMAN race communities across North America.
For more information on IRONMAN and The IRONMAN Foundation, please visit www.ironman.com and www.ironmanfoundation.org.