10 Life Lessons I Learned In 2015
By Whitney Tizzano, Manager of Fundraising Programs
Everyone's IRONMAN journey is different. The motivation, preparation, and race day is unique for each athlete, spectator, and volunteer. This is my IRONMAN journey and what managing our first TEAM IMF team, spending 44 days on the road, traveling 15,000 miles, and sending 10,470 emails taught me about IRONMAN, life, and resiliency in 2015.
10) CROSS TRAINING IS IMPORTANT
Yoga, weight-training, and stretching are hugely important for strengthening and preventing injury. Cross training is also useful when attempting everyday tasks like curling into the fetal position on a 6:00 AM plane ride or climbing metal bins to extract a box larger than oneself.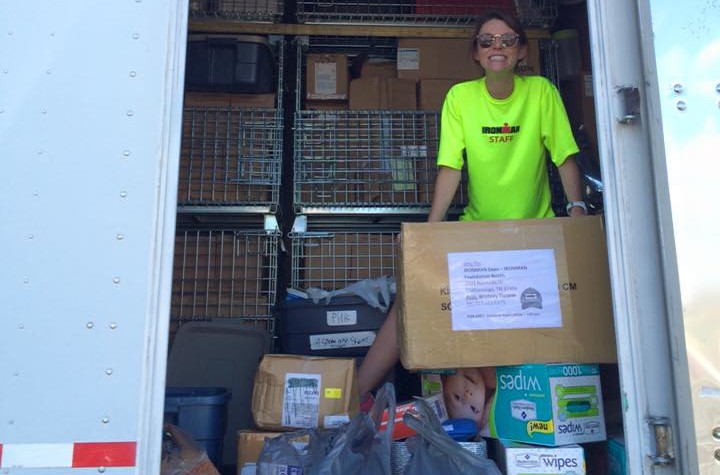 9) ALWAYS KEEP YOUR HEAD ON A SWIVEL
A great picture of Chris from our IRONMAN Florida team is forever ruined by me in the background doing who-knows-what with my right arm. It's easy to get caught up in what we're doing and what our goals are but it's also important to occasionally look up and see how we may be affecting others and their goals.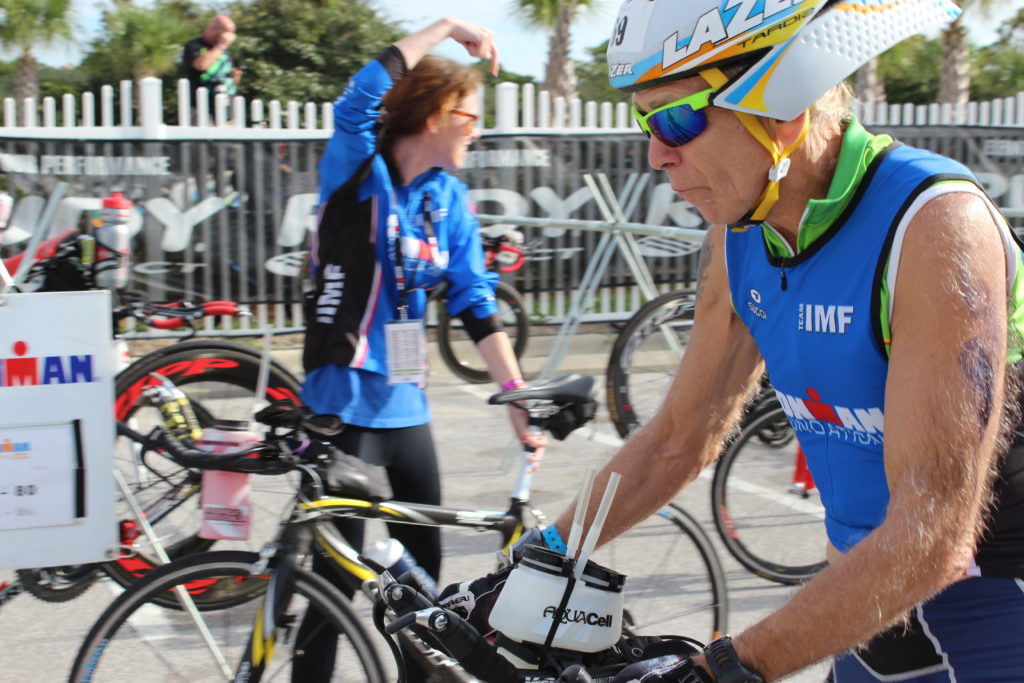 8) BE HONEST WITH YOURSELF
As much as I'd like to be, I am not a good gator driver. I drive too slow (a man in a suit walking on the sidewalk passed me once), can't park it, and let's not even talk about backing up. Sometimes we may not be the best equipped for a certain task and that's okay. A team excels when we take out ego and optimize everyone's talents for the greater good.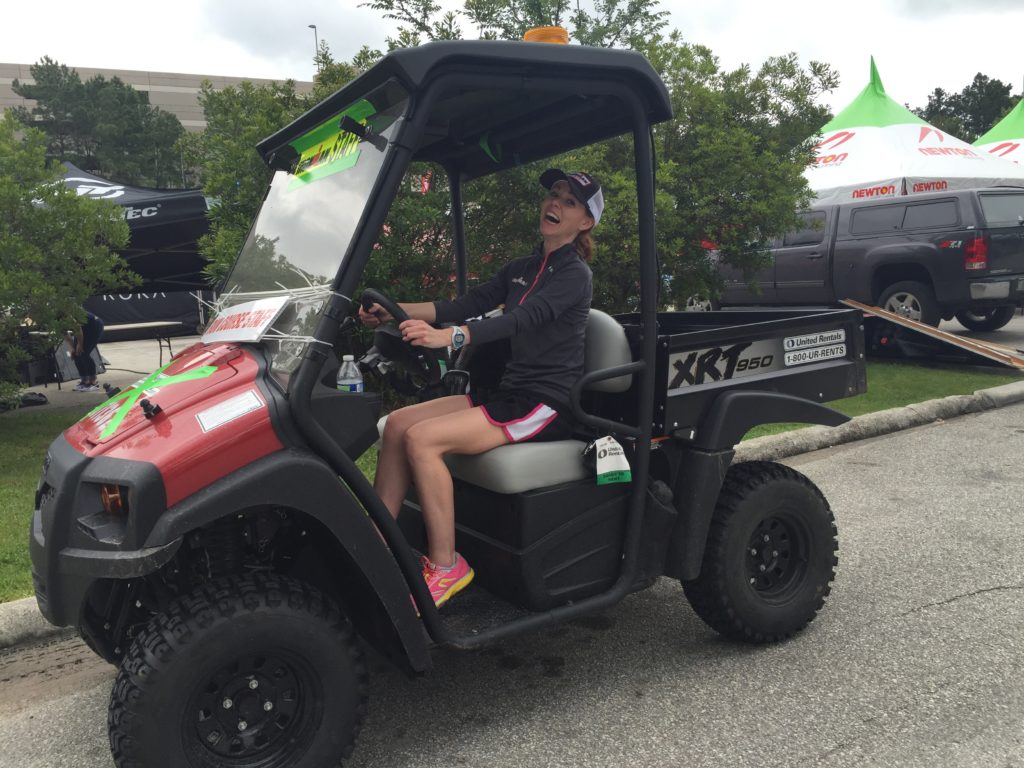 7) STEP OUTSIDE YOUR COMFORT ZONE
I thrive on order, excel spreadsheets, and to-do lists. I never jay-walk or enter through the exit doors of a supermarket. However, growth happens when we stretch ourselves out of our comfort zone and move past self-inflicted limitations. In the beginning of 2015, I told myself that this year was going to plop me into situations that I've never experienced before and that it would be tough. There were times when all I wanted to do was hide in a blanket burrito but I didn't; the temporary pain of testing moments is no match for the feeling of accomplishment.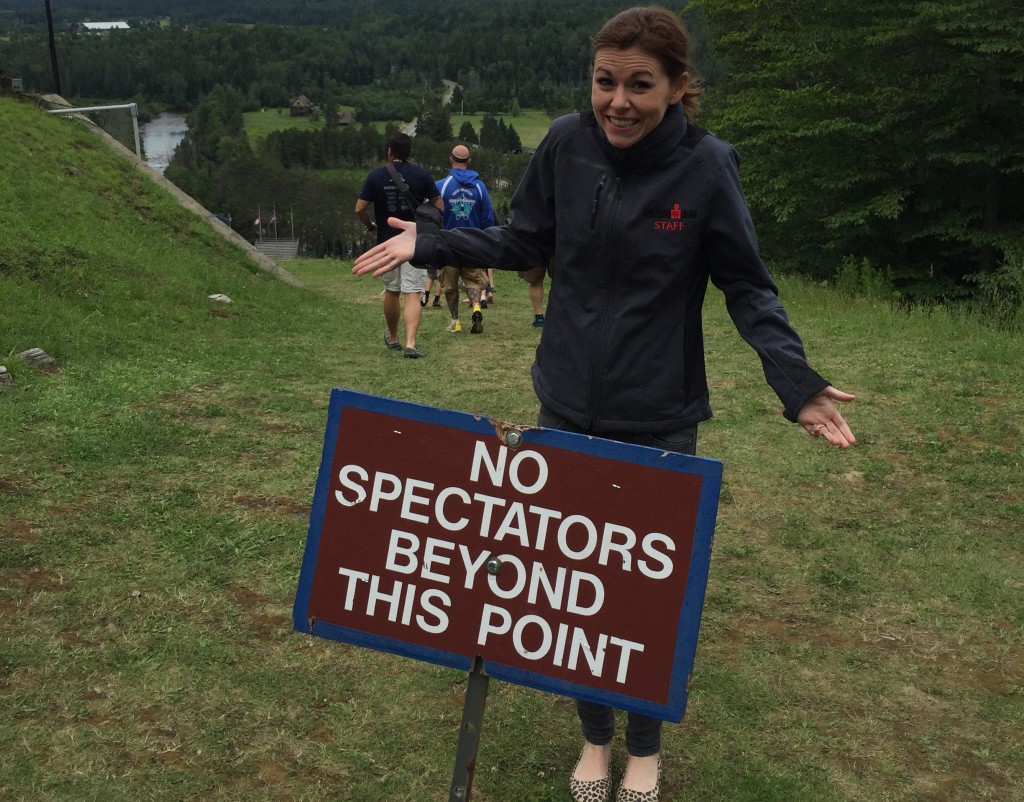 6) THE SOLUTION IS OFTEN SIMPLE
The IRONMAN Foundation launched a grassroots "Pay It Forward" campaign which included doing small Random Acts of Kindness around town. We tried to be inconspicuous as we hid in the background watching other patrons continue to "pay it forward" down the line. Our cover of anonymity was blown when we were spotted because of our IRONMAN Foundation shirts. In our panic, we brainstormed wild ideas on how to correct this which included everything from buying new shirts to hiding behind the counter. The winning idea was simple: just turn the shirt around. Sometimes the best ideas are the simplest.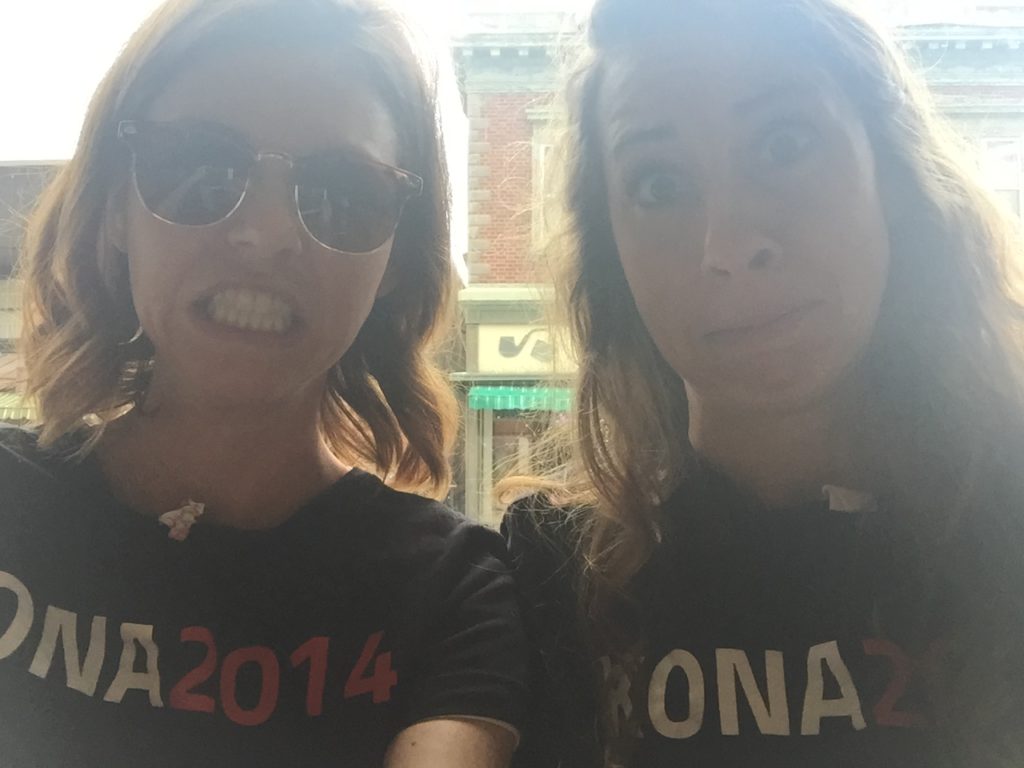 5) MY VISUALIZATION DOESN'T ALWAYS MATCH THE OUTCOME
This picture is what happens when I'm asked to show my "Game Face". At the time, I thought I was delivering a powerful and menacing stare that would intimidate even my biggest hypothetical hockey adversary. Although my stare may lack in intimidation it reminds me that it's okay to put it all on the line even when the results may not turn out exactly as imagined.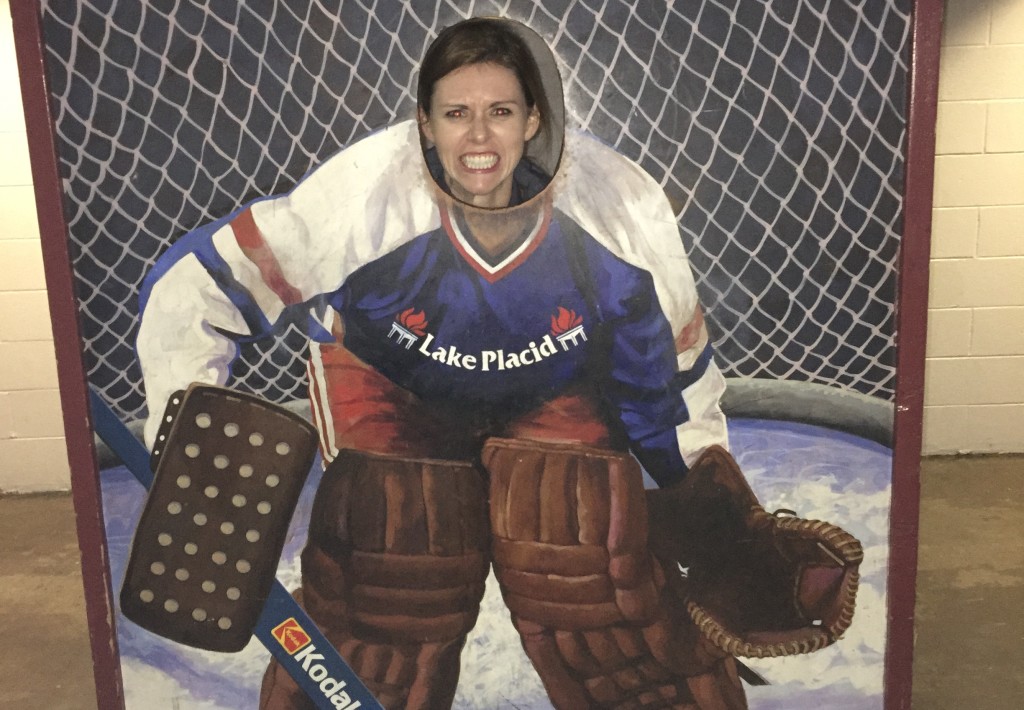 4) TAKE TIME TO ENJOY THE LITTLE THINGS
I'm notorious for staying hyper focused on a goal. It's the equivalent of getting to the marathon of an IRONMAN and focusing so much on the finish line that you miss your spectator crew cheering your name at mile 10. This year I reminded myself that it's okay to snap out of it, recharge, and indulge in that chocolate covered maple ice cream cone.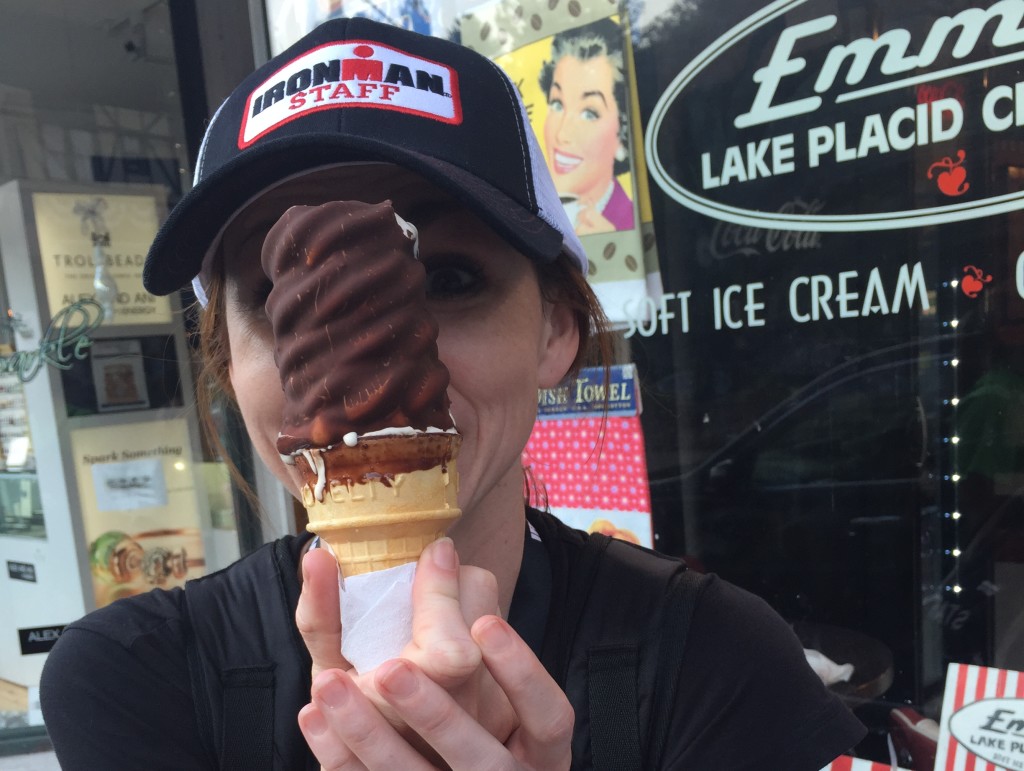 3) SOMETIMES YOU NEED A FRESH PAIR OF EYES
My family drove 7 hours round trip to visit me at IRONMAN Louisville. They had never experienced an IRONMAN race before and it was a special moment to witness their reactions to the spirit of IRONMAN for the first time. Seeing my family overcome with wonderment and excitement as they snaked through the large crowds, heard the cheers of spectators, and watched the choreographed dance of athletes and volunteers in T1 was a moment of reignited inspiration for me.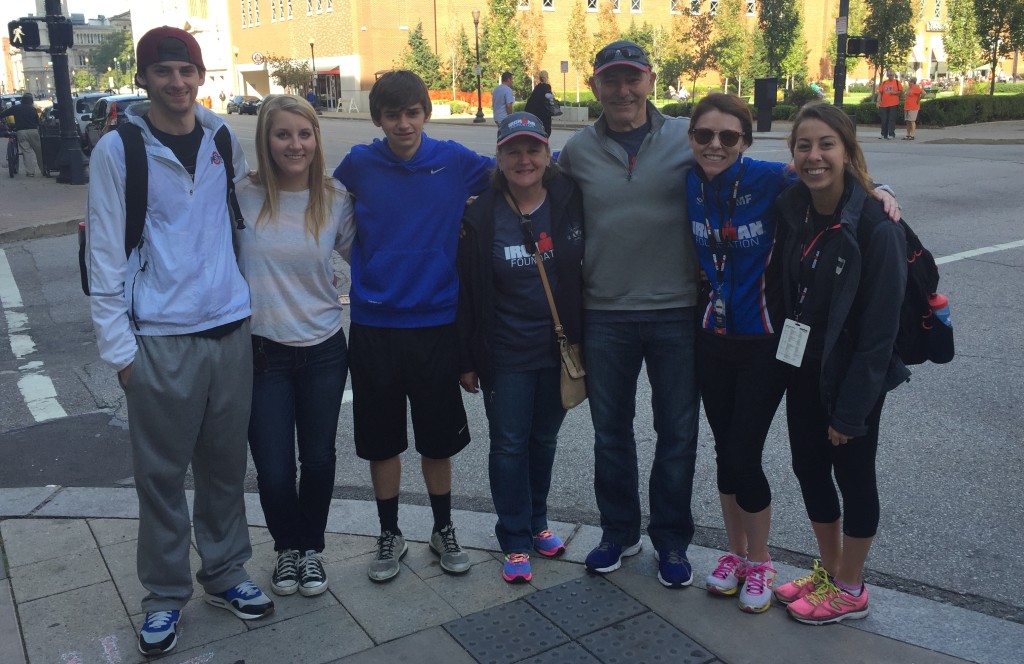 2) GREAT THINGS HAPPEN WHEN I FORGET ABOUT "ME"
I had been on the road for the past 2 weeks, I almost had to check the bags under my eyes as extra luggage, my email inbox was over flowing, our hotel room looked like a set from The Shining, and part of our shipment we needed for race week was missing. I was stuck in a "me" spiral as we headed to an IRONMAN Foundation service project at a center that cared for adults with special needs. Once we arrived, I stopped thinking about "me" and focused on listening to others. I heard excitement when the participants gushed over outfits for the formal dance they were attending the following night. I heard cheers when one of the participants hit a softball for the first time. I heard laughter and high-fives. When I forgot about me, I was present in the moment and could fully appreciate the gift of making another person smile.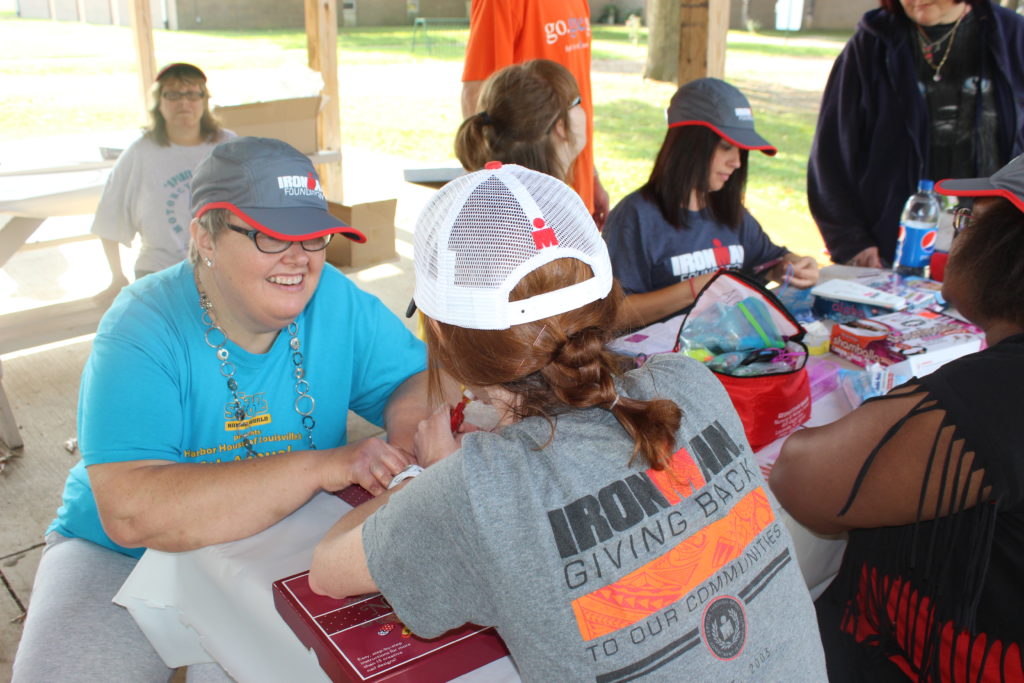 1) THIS FEELING NEVER GETS OLD
I have traveled to dozens of races and am still inspired by the energy of race morning and the excitement of a finish line. I still tear up when athletes are overcome with emotion as they accomplish a huge life goal and my heart hurts when an athlete's race day doesn't go as planned. I am humbled and in awe of everything that our TEAM IMF teammates have and will continue to accomplish and am appreciative for what they have taught me about IRONMAN, life, and resiliency in 2015.