Behind-The-Scenes: IRONMAN Texas


Rain. Wind. Hail. Twists & Turns.
You name it, 2016 IRONMAN Texas had it! Once again, IRONMAN Foundation Athletes have shown that true perseverance comes from much more than the individual journey. It is the journey together, as a team, which will get us across that finish line.
Take a peek inside IRONMAN Texas race week with our IRONMAN Foundation Athletes- it was a blast!
"Permanence, perseverance and persistence in spite of all obstacles, discouragements, and impossibilities: It is this, that in all things distinguishes the strong soul from the weak."
THE STATS:
25 TEAM IMF Athletes: These amazing athletes fundraised at least $3,500 to fuel life-changing grants in our IRONMAN Race communities. You can find them on the race course blazing by in "TEAM IMF Blue"!
8 TEAM IMF Ambassador Athletes: The true ambassadors for The IRONMAN Foundation, that make every race journey about giving back.  Experts on all things IRONMAN Foundation and IRONMAN, be sure to talk to these guys if you ever have any questions.
150 Community Fund Athletes: With a premium entry purchase of $1,400, Community Fund Athletes make a huge difference that goes a long way in IRONMAN race communities.
RACE WEEK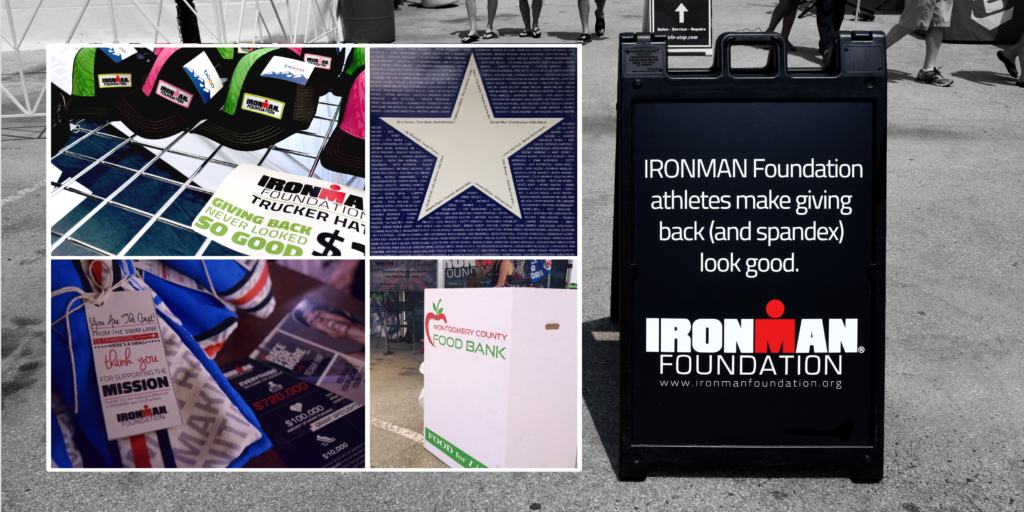 It was a busy week for IRONMAN Foundation Staff & Athletes. Two Service Projects, One Luncheon, One Food Drive, and One IRONMAN Race make for little downtime in The Woodlands, TX!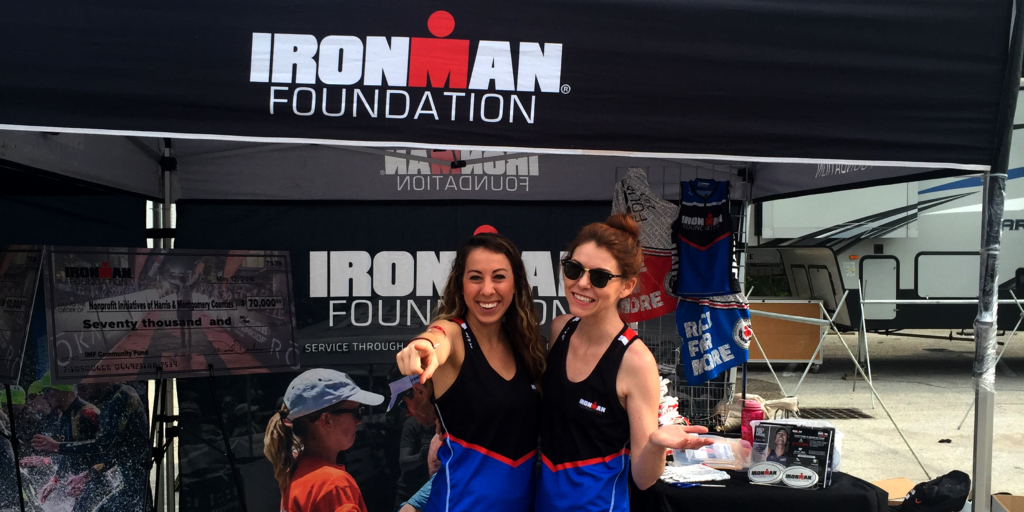 IRONMAN Foundation Staff, Whitney & Julianne, DEFINITELY did not plan to match at Expo…or did they?
WEDNESDAY
On Wednesday, IRONMAN Foundation Athletes and IRONMAN Texas Volunteers helped to rebuild flood-damaged homes with nonprofit partners, Race2Rebuild and Rebuilding Together Houston.



Through a $10,000 grant awarded by IRONMAN Foundation Athletes and some helping hands, the organizations were able to help fix multiple flood-damaged homes, including those of Miss Bernadine, and elderly and disabled homeowner, and Miss Rozena, an 80 year-old widow, who until very recently, was living without running water.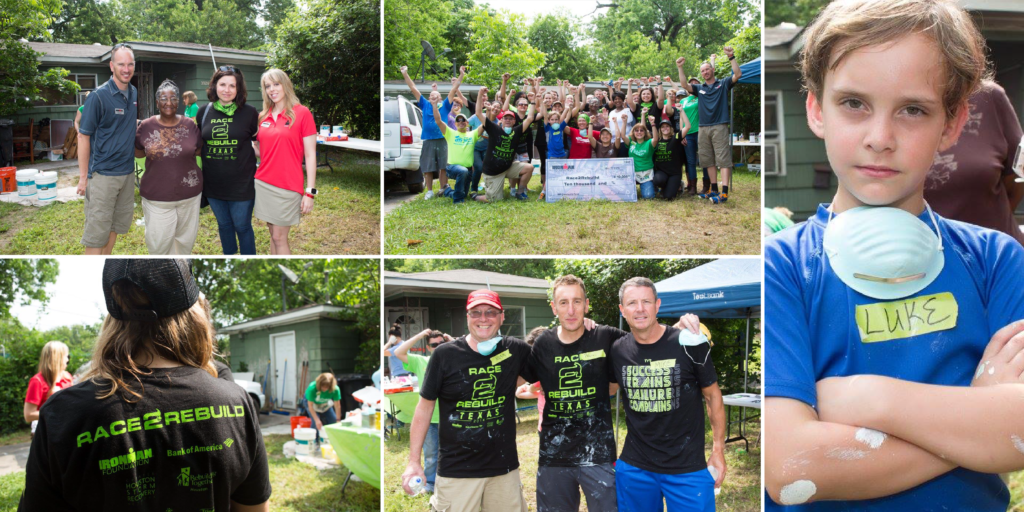 It was an incredible experience for our athletes to make such a tangible impact in a community that truly needed our help. Click the video link below to watch all the amazing athletes in action!

THURSDAY
On Thursday, TEAM IMF Athletes had the privilege of hosting a cookout for some incredibly amazing kids who live just steps away from the IRONMAN Texas race course.


As a youth shelter, Montgomery County Youth Services serves the county surrounding IRONMAN Texas, and makes sure that no child goes to bed without a place to sleep.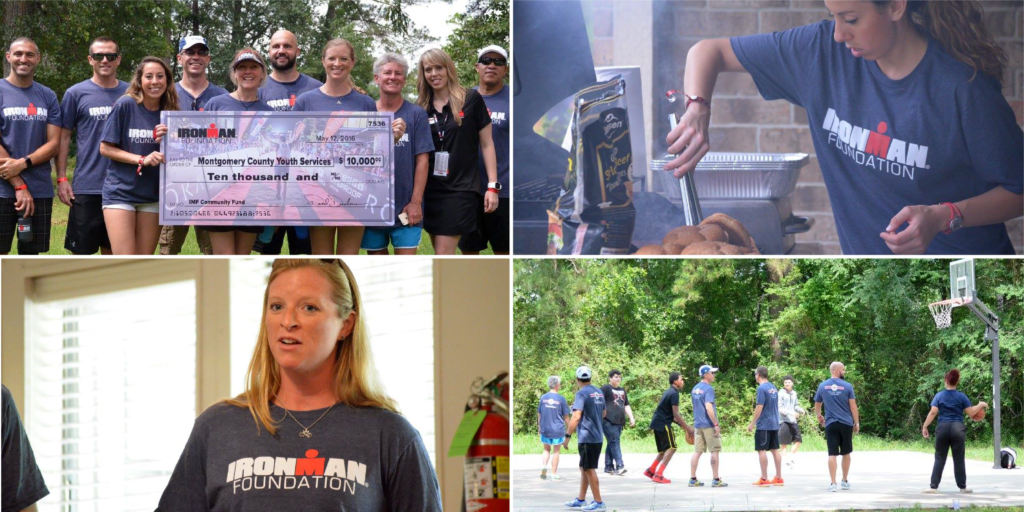 TEAM IMF athletes were able to share a few words of wisdom with the kids, as well as join in on some fun & games outside on the beautiful day. Because of these amazing athletes, we were able to make a surprise donation of $10,000 to MCYS in conjunction with the Service Project!
FRIDAY
It's time to celebrate all the fundraising successes by IRONMAN Foundation athletes racing IRONMAN Texas!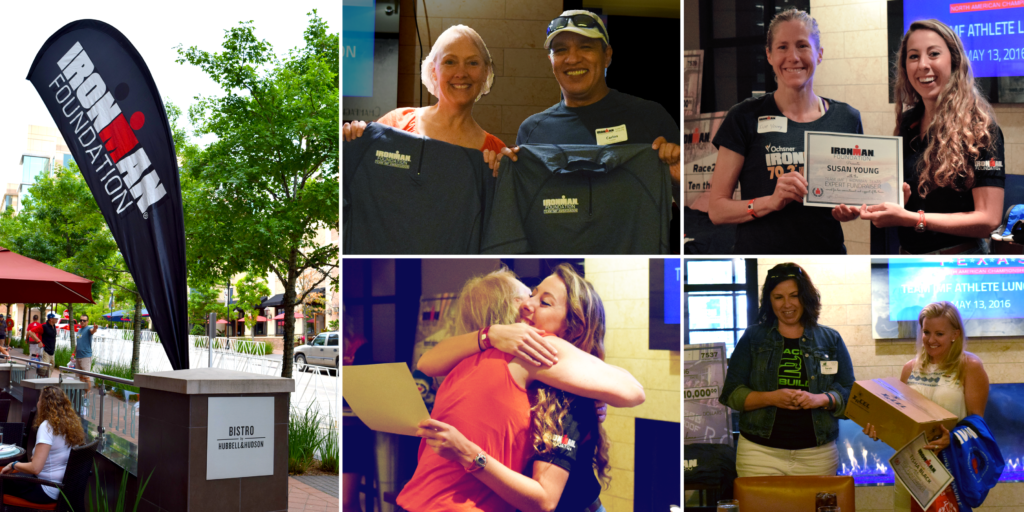 TEAM IMF Athletes had a blast at their race week luncheon, hosted by official TEAM IMF|IRONMAN Texas Luncheon Partner, Hubbell & Hudson Bistro. A huge THANK YOU to Race3Rebuild President, Sarah Hartmann for joining us and presenting a swag bag of goodies to TEAM IMF Top Fundraiser, Tisha! Many smiles, laughs, and happy cries were had when we got together to celebrate our success as a team.



With over $95,000 raised by IRONMAN Texas TEAM IMF Athletes, these athletes are truly making an impact in IRONMAN race communities.
SATURDAY
The big day is finally here!! IRONMAN Texas Race Day is upon us, and all of the athletes are excited to see their IRONMAN Journey continue across that IRONMAN Texas Finish Line.



TEAM IMF Athletes, first timers or 12x finishers, are excited and ready to tackle the big day. We were blown away by the sense of community & comradery these amazing athletes had for each other!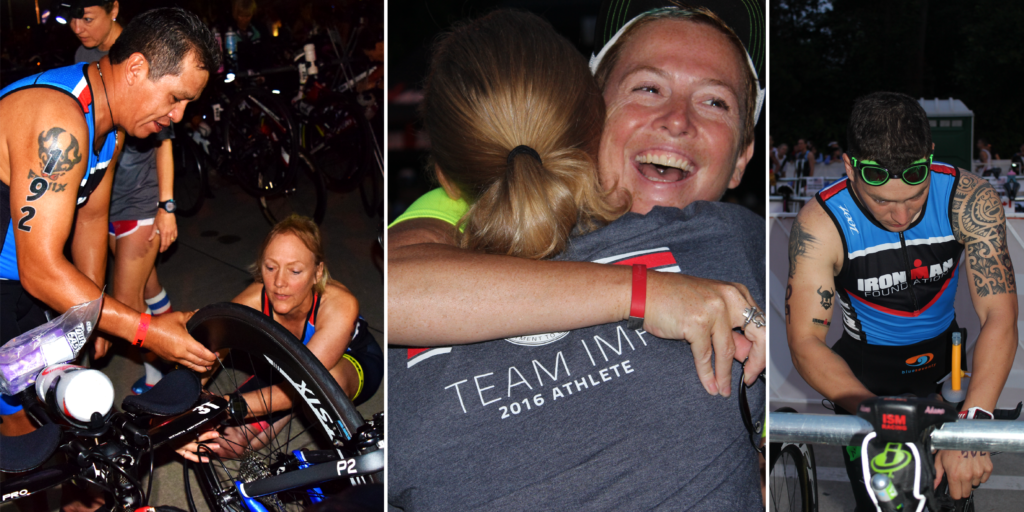 Pictured (left to right): Stephanie helping Carlos pump up his tires on race morning. Tara getting a thoughtful "Good Luck" hug from a volunteer friend. First-timer, Preston, checking to make sure he has everything on his bike ready to go.



TEAM IMF Athlete, Tisha, had her 3 young children write messages on her arms to read over the course of race day. Here, her 7 year-old wrote "No matter what happens, never give up".



TEAM IMF Athlete, Preston, followed by our commercial film crew. Nothing like being followed by people with cameras to bring on the race day nerves!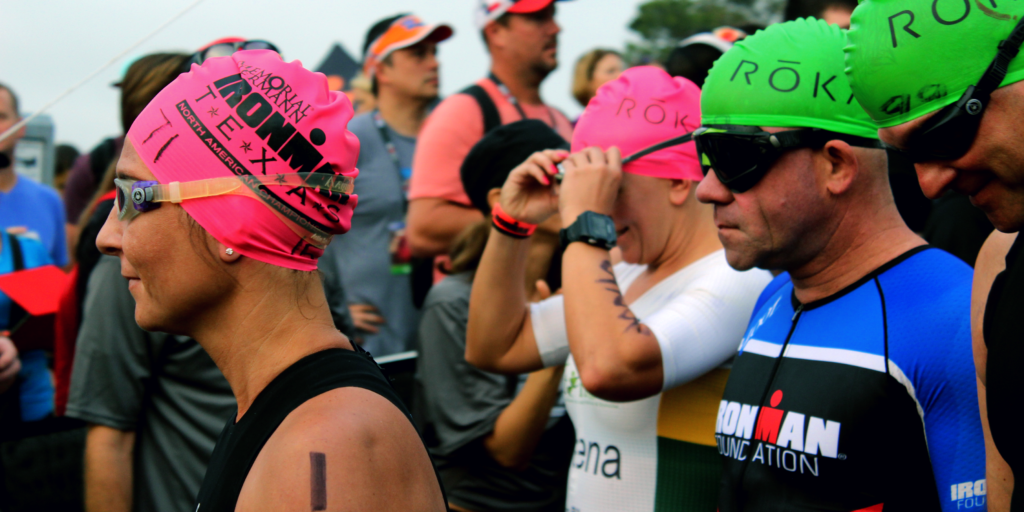 TEAM IMF Athlete, Mark, gets in the zone, moments before the swim start of IRONMAN Texas.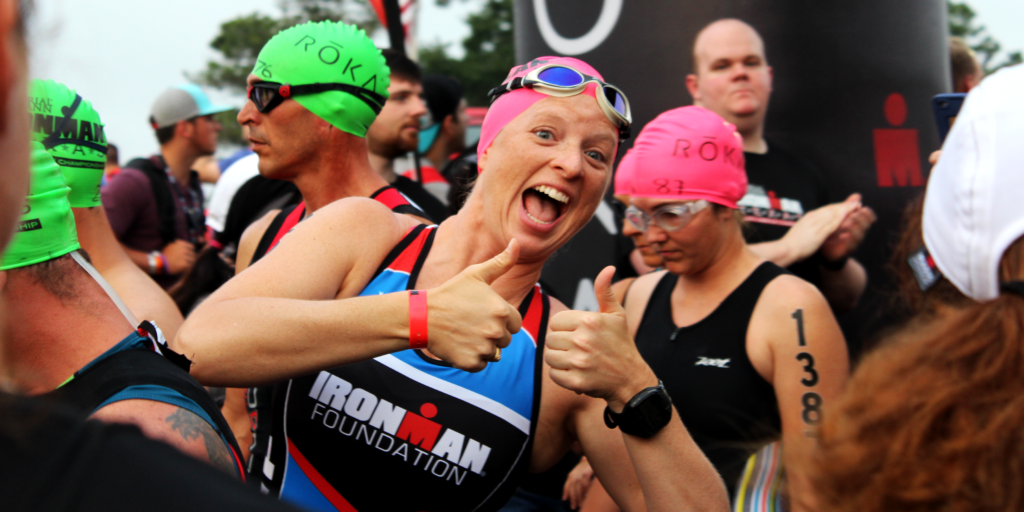 TEAM IMF Athlete, Tara, is all smiles before jumping into the water for her first IRONMAN race!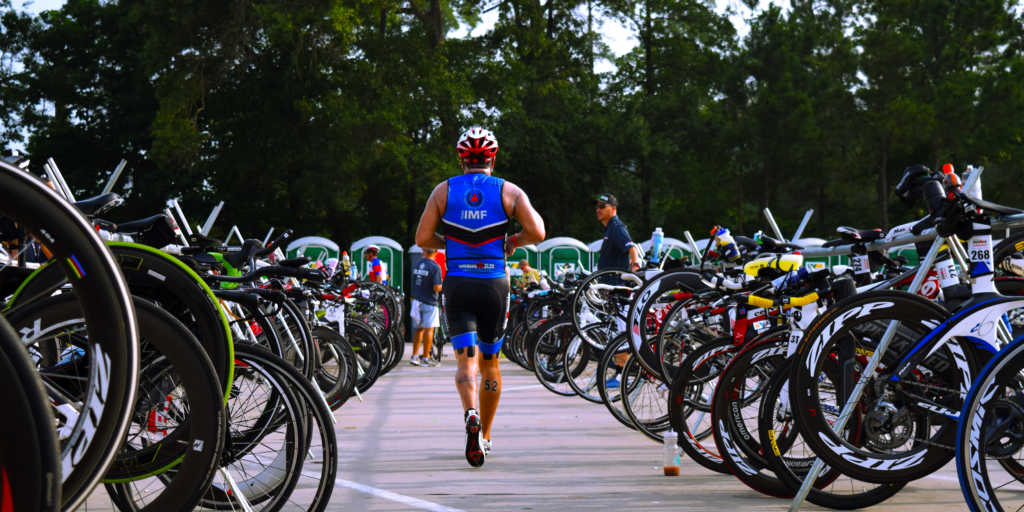 TEAM IMF Ambassador Athlete, Carlos, is out of the water and on his way to his bike in T1!



TEAM IMF Athlete, Kelly, is excited to tackle the shortened, but much more technical, bike course.



TEAM IMF Athlete, Preston, is on his way to the run- all 26.2 miles of it!



TEAM IMF Athlete, Kelly, hits his first lap of the 3 lap run course.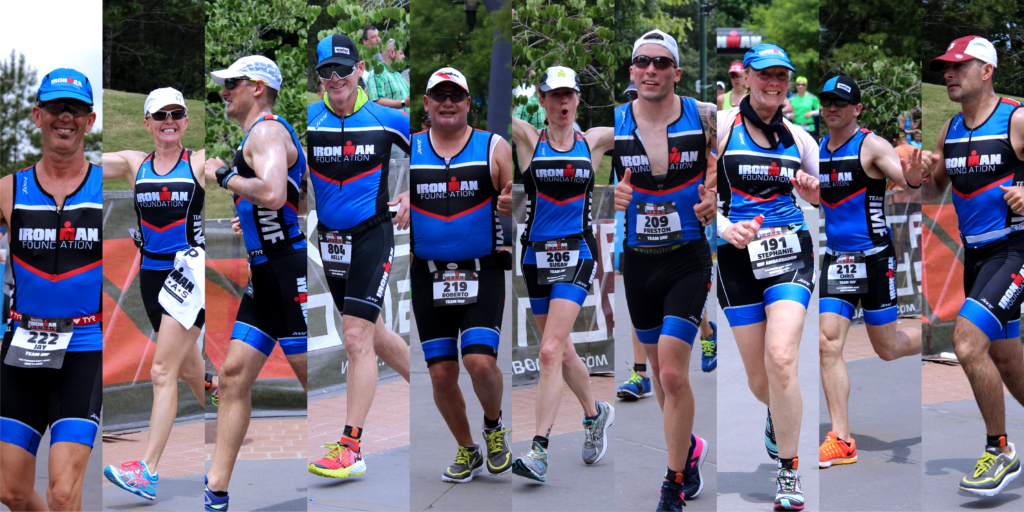 TEAM IMF athletes are natural models! We loved seeing all of their smiling faces on the run course!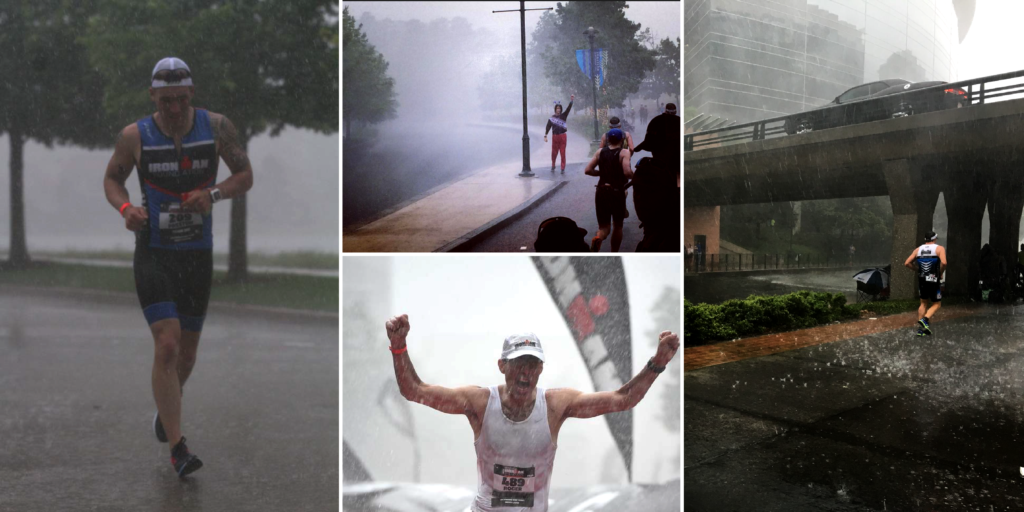 A little rain…and hail…and wind… Won't stop IRONMAN Athletes. They will get to that IRONMAN Finish Line- no matter what it takes.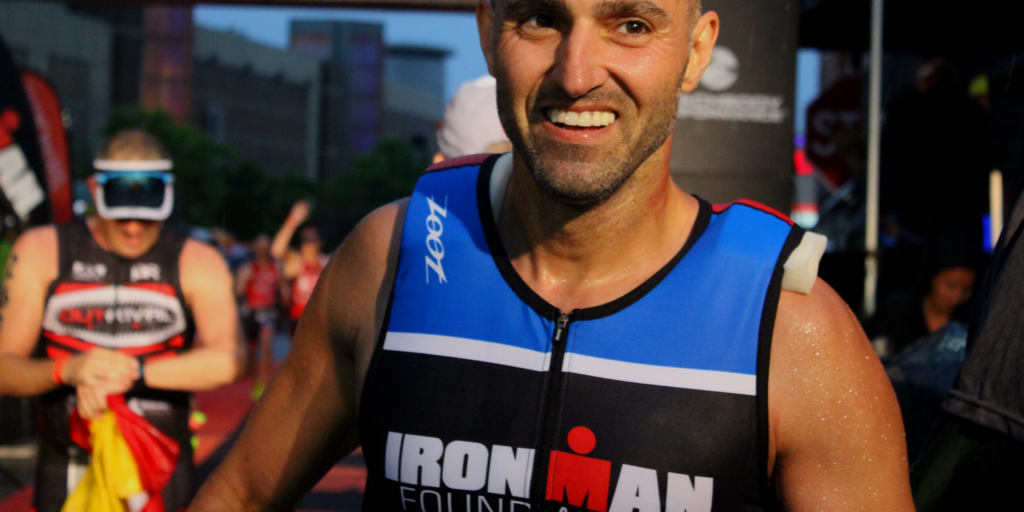 TEAM IMF Athlete, John, hardly looks tired after completing the challenging day and crossing the finish line!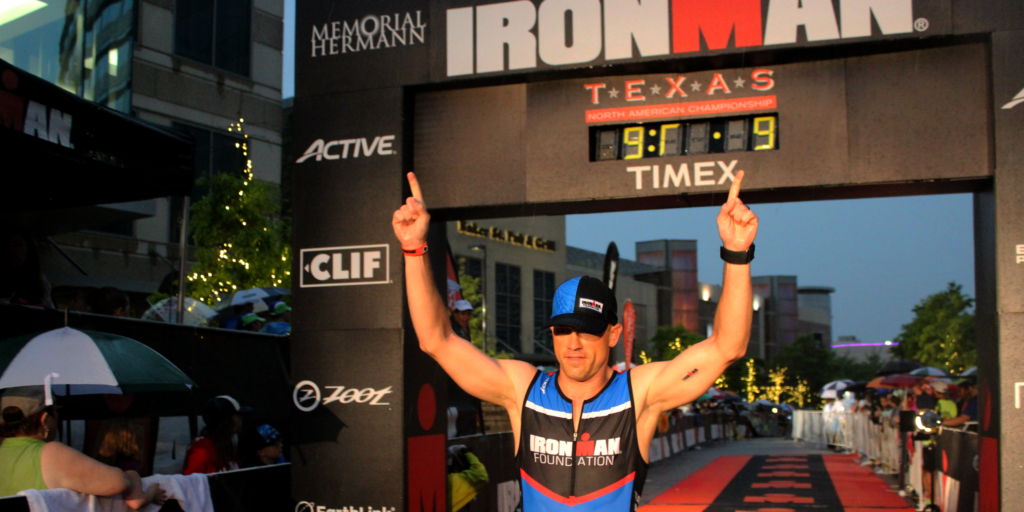 IRONMAN Texas First-timer, and TEAM IMF Athlete, Chris, walks proudly across the finish line. Congratulations, Chris, YOU ARE AN IRONMAN!
That's a wrap on the 2016 IRONMAN Texas y'all!
Although our tri gear may be wet & muddy, our spirits are still shining bright. What an incredible week spent with truly remarkable athletes making a difference in their IRONMAN race communities.