Behind The Scenes at IM Lake Placid
IRONMAN Lake Placid never fails to be a great race. The community, athletes, and volunteers all rally together to make an incredible atmosphere filled with inspiration and support. The race may be over but the impact from IRONMAN Foundation Athletes is still going strong! This year, IRONMAN Foundation Athletes gave back $66,000 in grant funding to local nonprofit groups within the Adirondack region.
244 Foundation Athletes toed the line at IRONMAN Lake Placid this past Sunday. These amazing triathletes purchased a community fund entry that provided a donation to The IRONMAN Foundation as part of their registration process.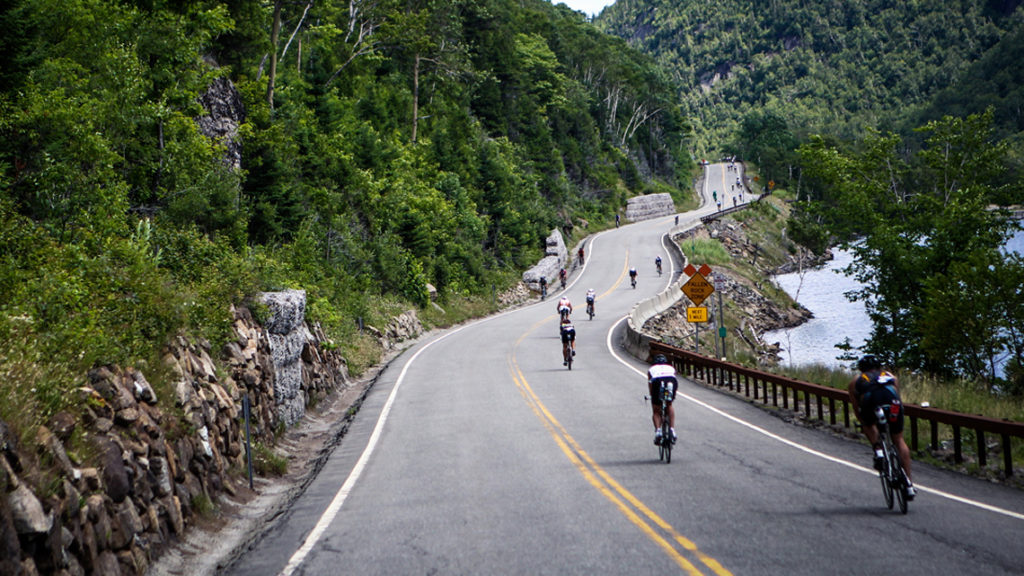 A Behind The Scenes Look At IRONMAN Lake Placid:
YOU GOT RAK'd!
The IRONMAN Foundation went rogue throughout the week leading up to IRONMAN Lake Placid. We started with small "pay-it-forward" initiatives like paying for the coffee/ice cream of a random stranger. Instead of getting a receipt they would receive a "RAK" card that encouraged them to extend the kindness to another.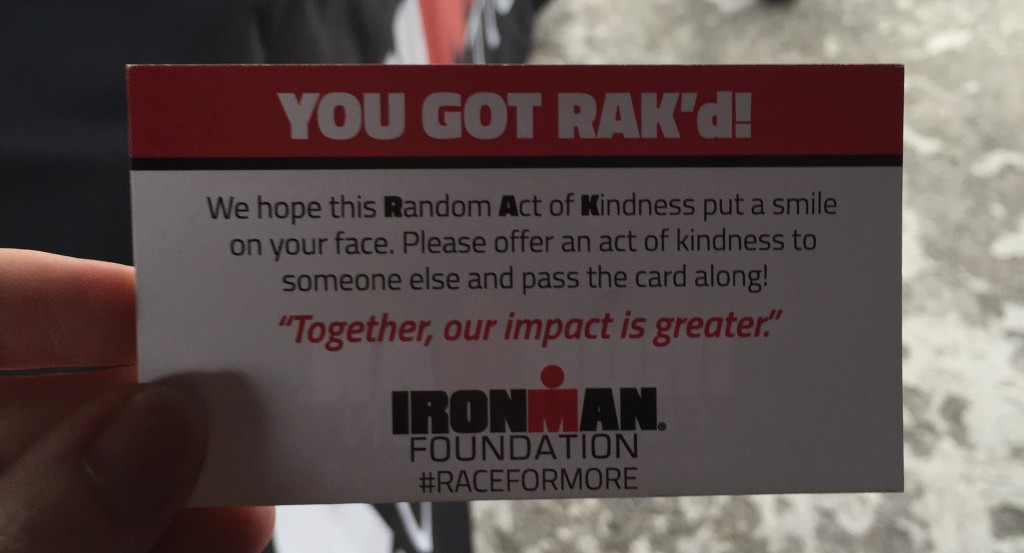 In addition to these small acts, athletes/volunteers/spectators who stopped by The IRONMAN Foundation booth in the IRONMAN Village were encouraged to jot handwritten "Thank You" cards to volunteers or "Good Luck" cards to athletes.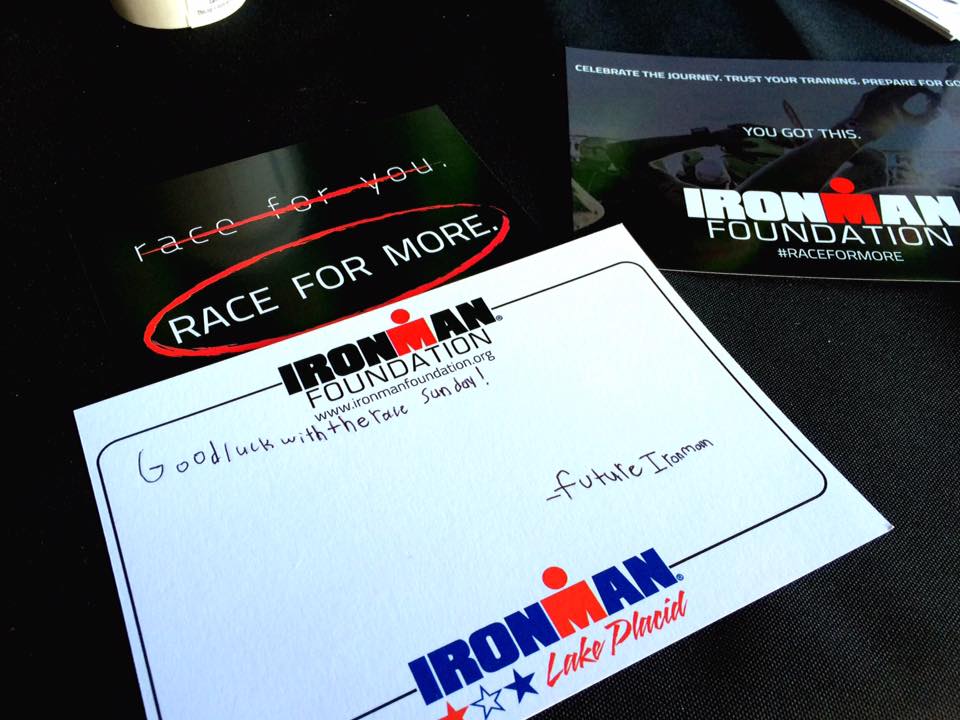 The "Good Luck" cards were then handed out randomly to athletes at bike check-in on Saturday.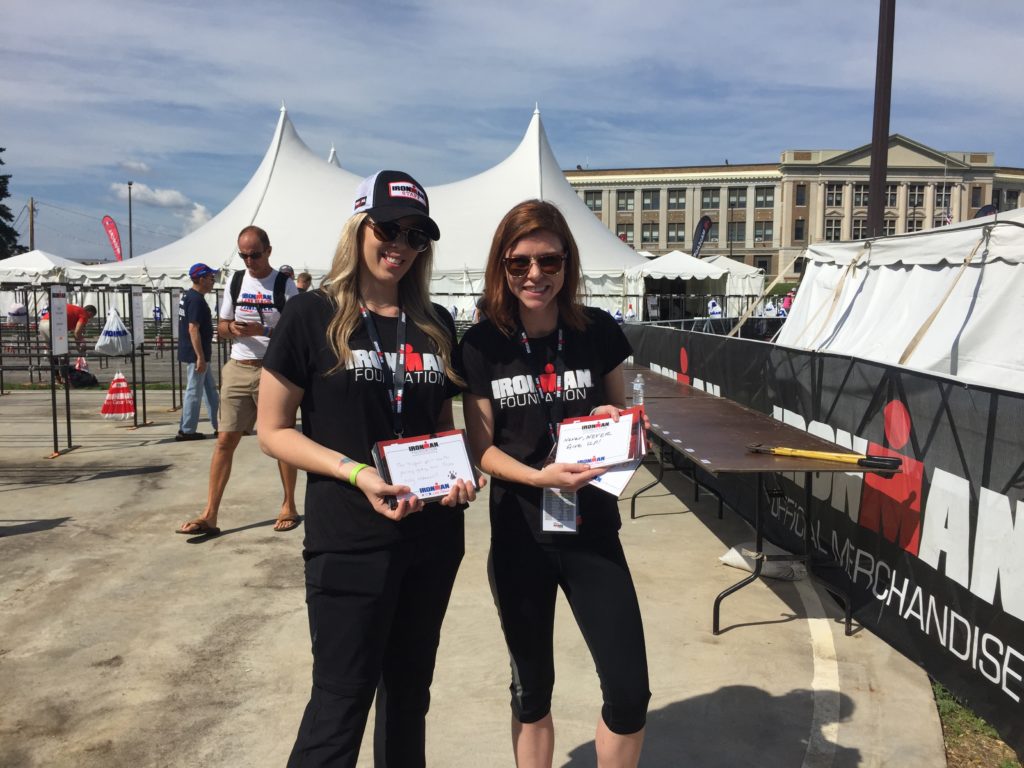 IMF staff members, Christine & Whitney, passing out athlete "Good Luck" cards.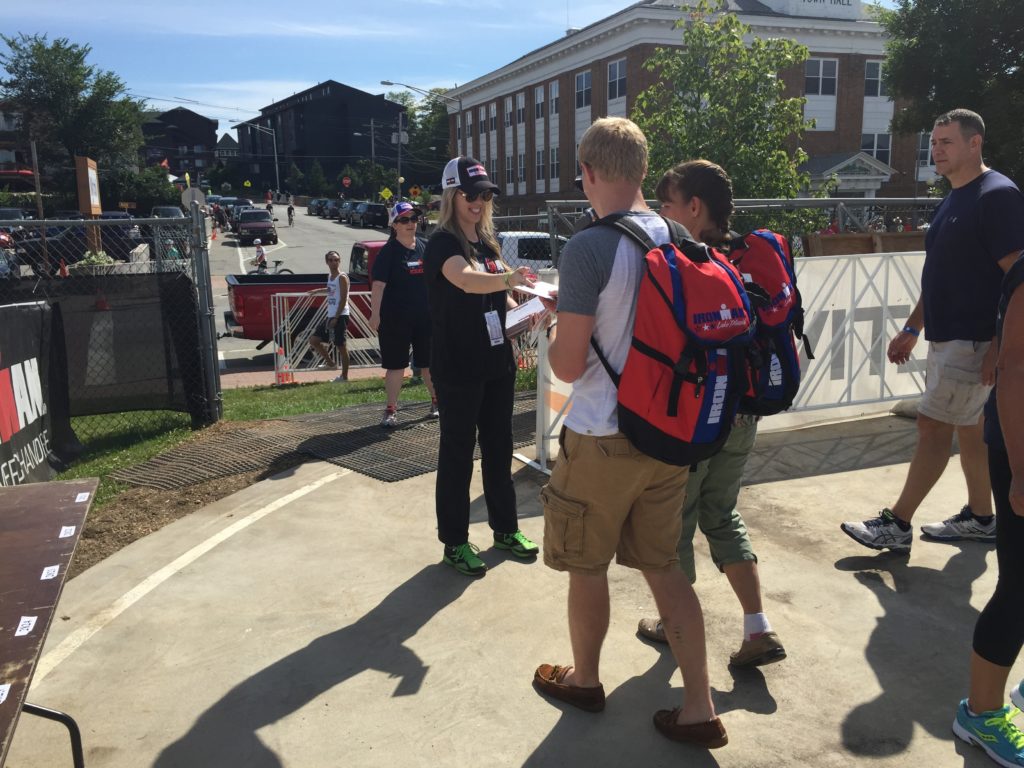 Seasoned triathletes & first timers loved the extra encouragement!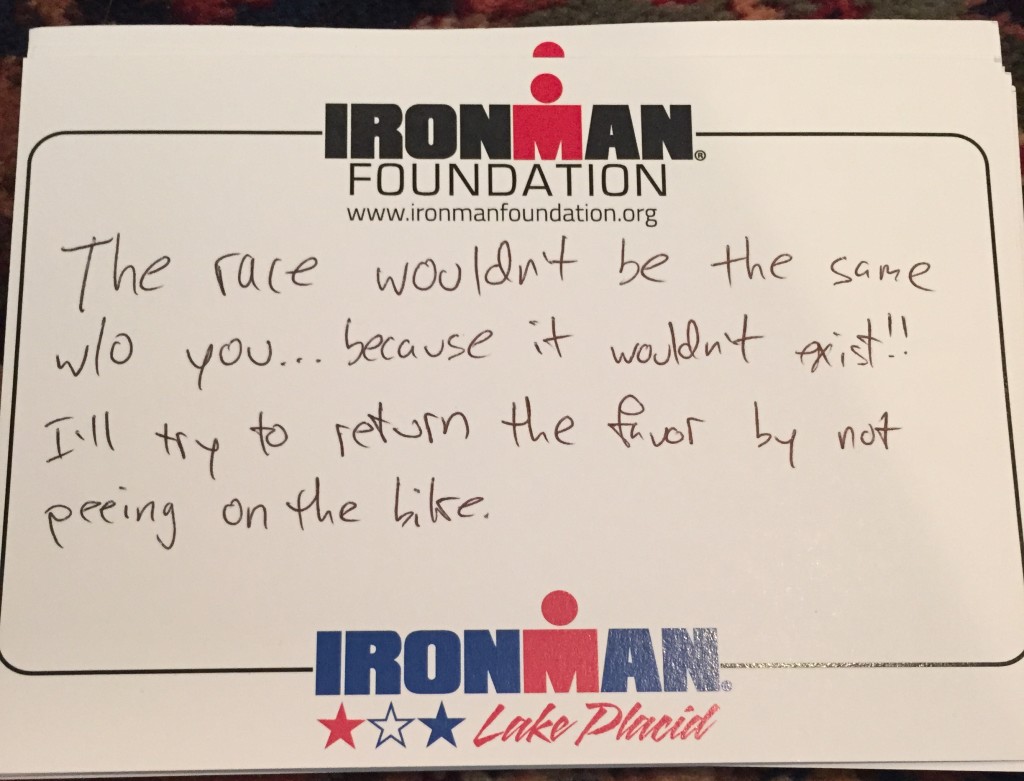 Thank you cards written by athletes were distributed on race day to various aid-stations all over the course. IRONMAN Volunteers are the best!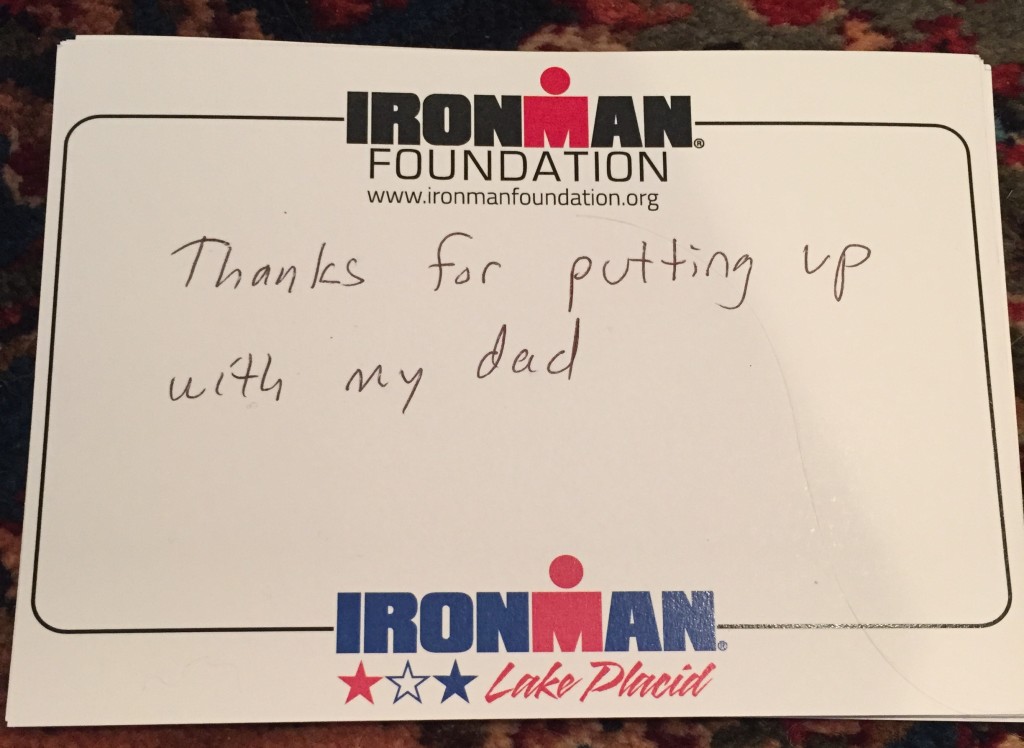 Even the funny ones were heartfelt!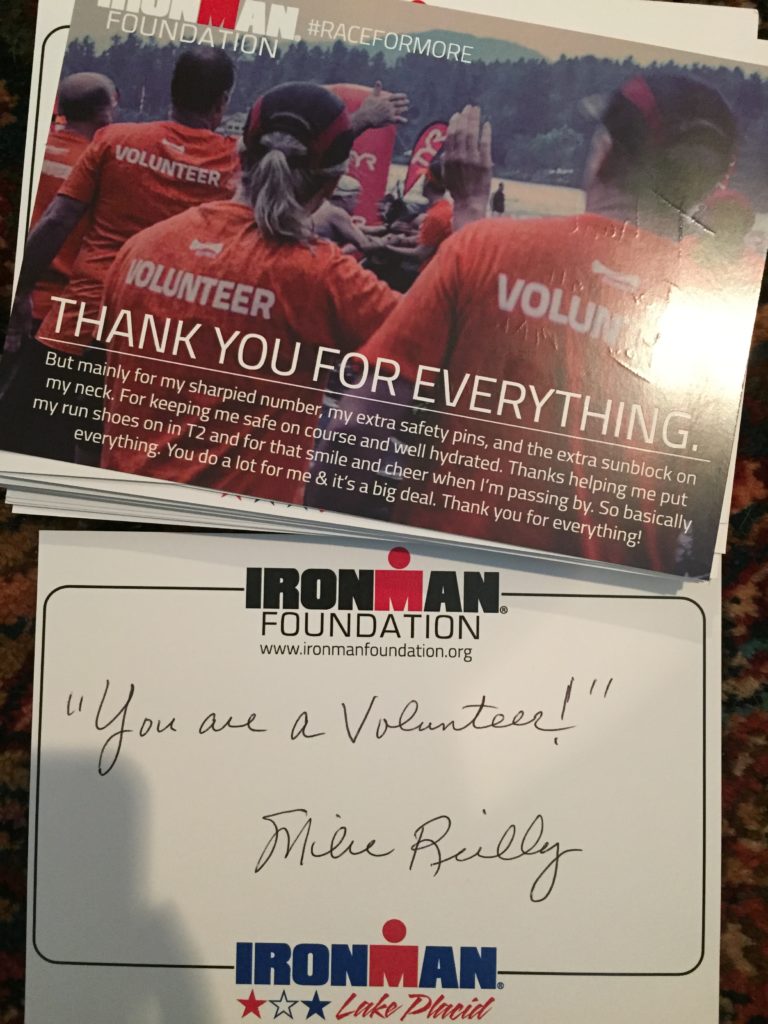 One lucky volunteer received a special note from the "Voice of IRONMAN", Mike Reilly!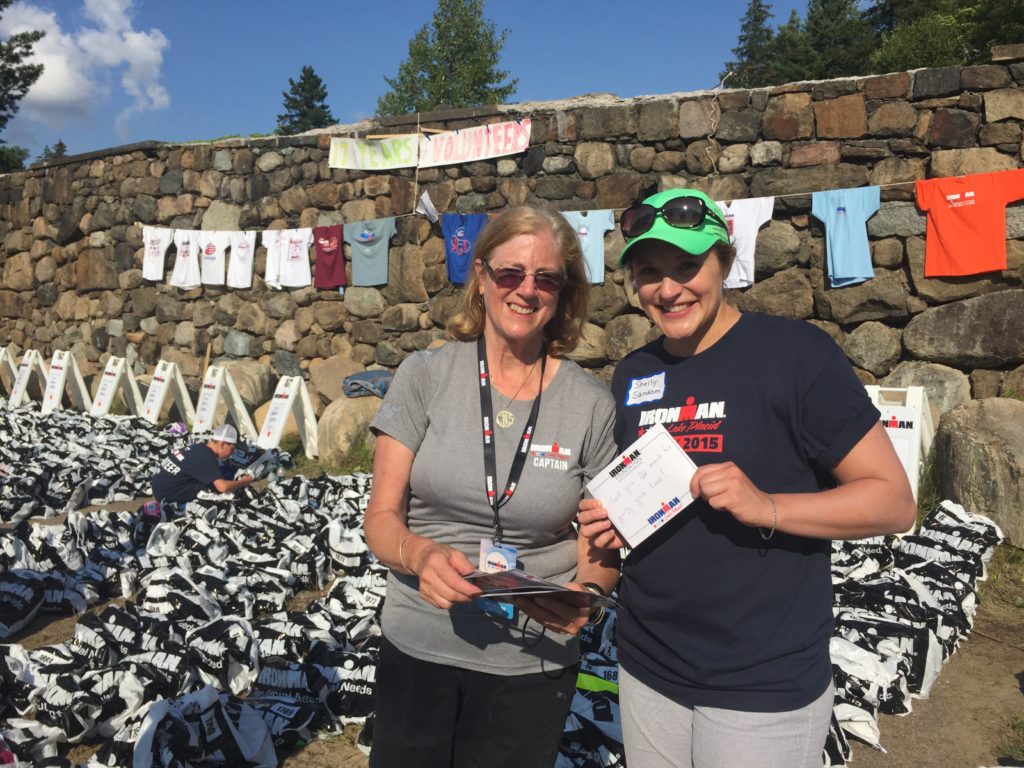 The husband/wife duo at Run Special Needs is in their 17th year of volunteering at IRONMAN Lake Placid! Behind Run Special Needs Captain, Connie, are all of the volunteer shirts from over the years. How cool!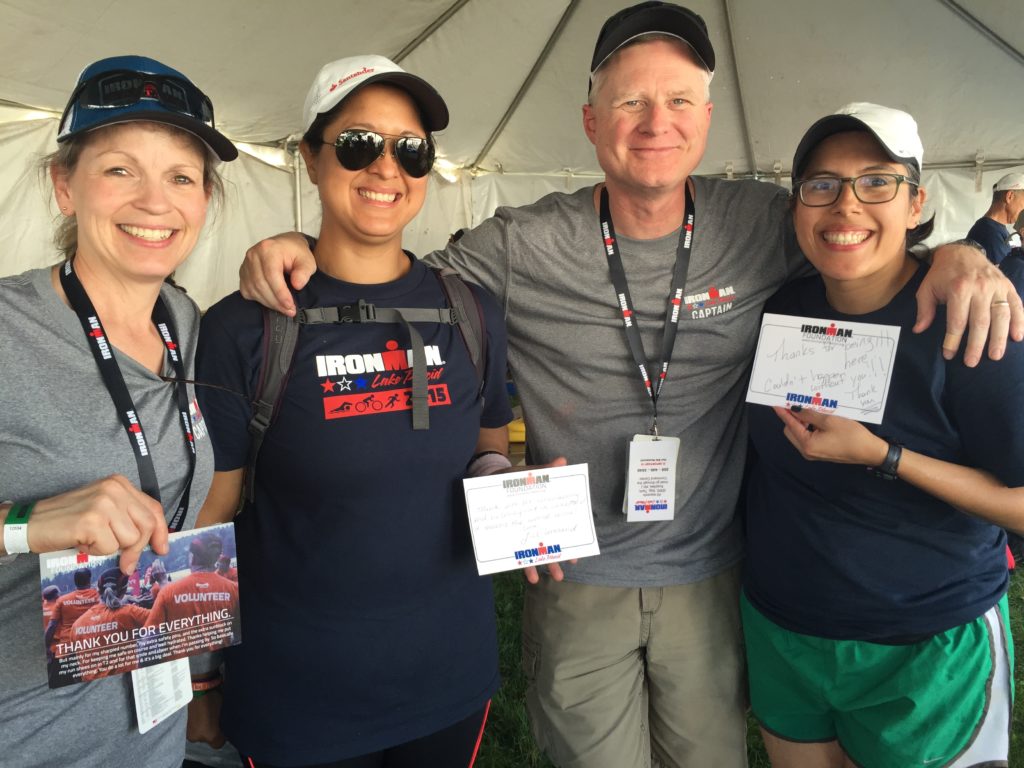 All of the volunteers were surprised and ecstatic about the "Thank You" notes. We're all ecstatic and appreciative for their hard work and dedication! 
IRONMAN Foundation Giveback Impact

This year, The IRONMAN Foundation Community Fund provided $66,000 in grant funding to initiatives and groups surrounding Lake Placid, New York. This is part of a $1.37 MILLION giveback in the region since 1999!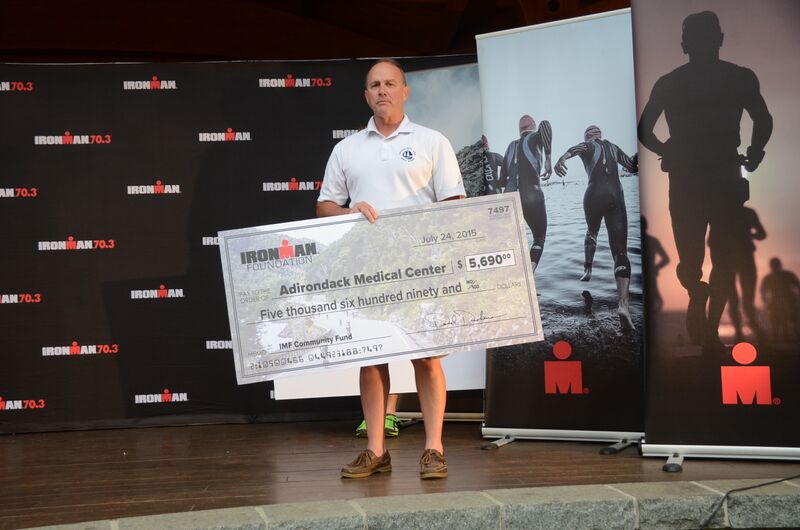 The Adirondack Medical Center received $5,690 to purchase a DartFish camera system that will be used to help athletes improve their abilities by gait analysis, biomechanical foot/ankle assessment, functional movement screening, and nutritional education. This grant will also allow for the establishment of a scholarship system for area high school running programs to be able to utilize this technology.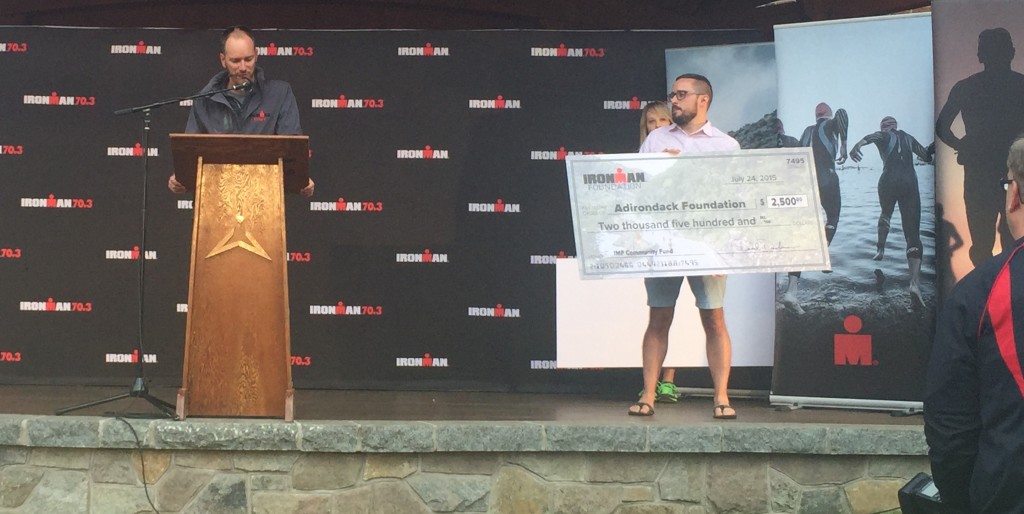 The Adirondack Foundation received $2,500 to support their "Birth-to-Three" (BT3) Initiative, whose mission is to promote high quality early care for all children in the Adirondack region from birth to age three through supplying grants to day care providers, especially those seeking training to ensure children get the best start in life.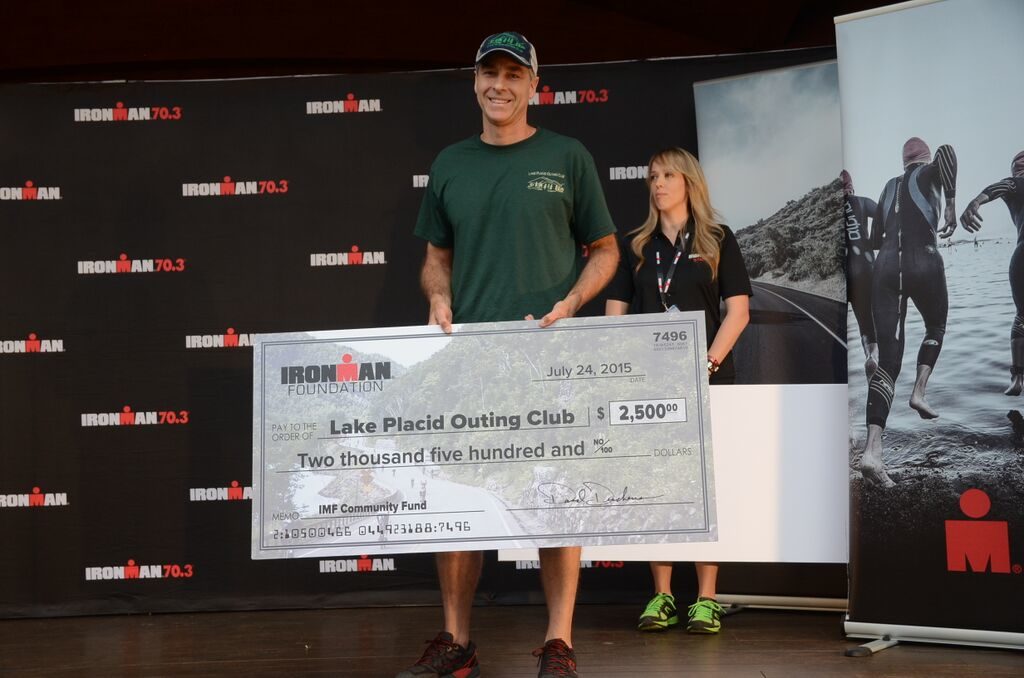 The Lake Placid Outing Club received $2,500 that will be used to increase the amount of scholarship funds available to disadvantaged area youth, train the next generation of outdoor leaders, as well as continue to upgrade and maintain their outdoor equipment.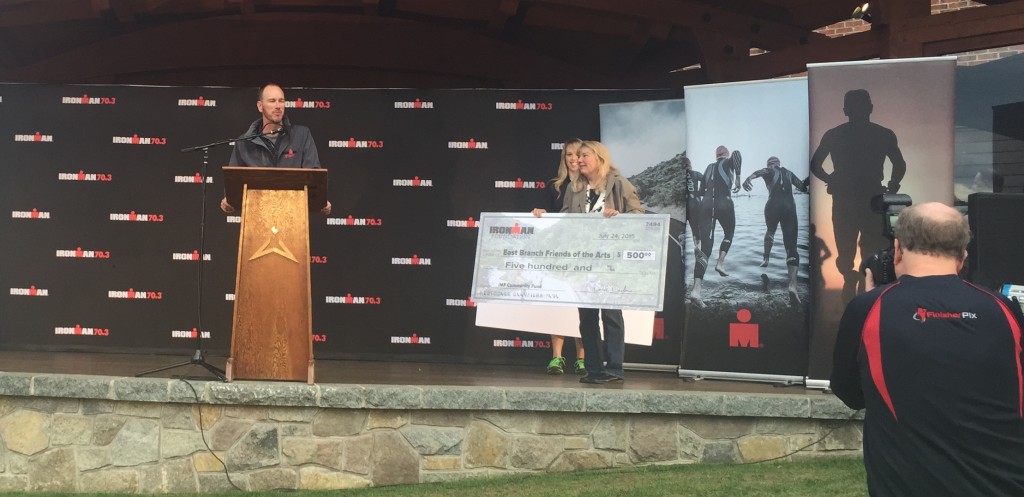 East Branch Friends of the Arts received $500 to help fund the production of their summer youth "Musical-in-a-Week" Theatre Workshop performance in which 25 North County children, ages 8 to 18, get together for a week to perform a full-length Broadway musical. The funding is used to cover production costs and professional musicians.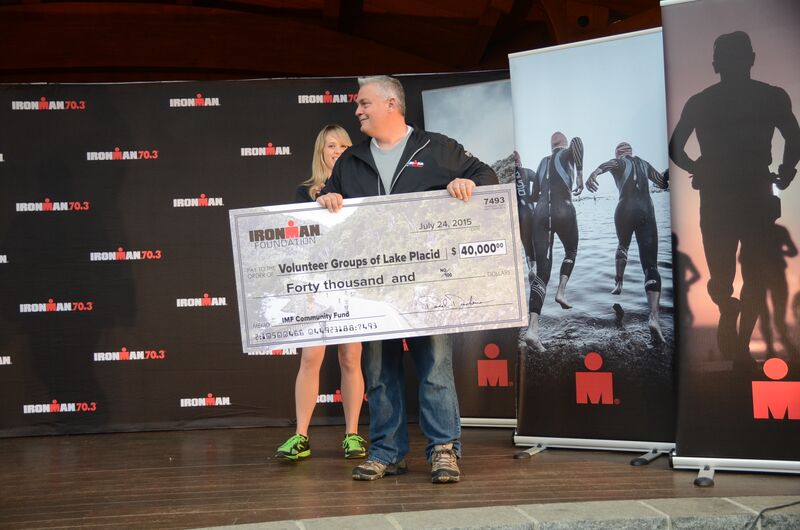 In addition to the funding above, 30 wonderful organizations with a volunteerism component will receive a total of $40,000 for their support of IRONMAN Lake Placid!
RACE DAY!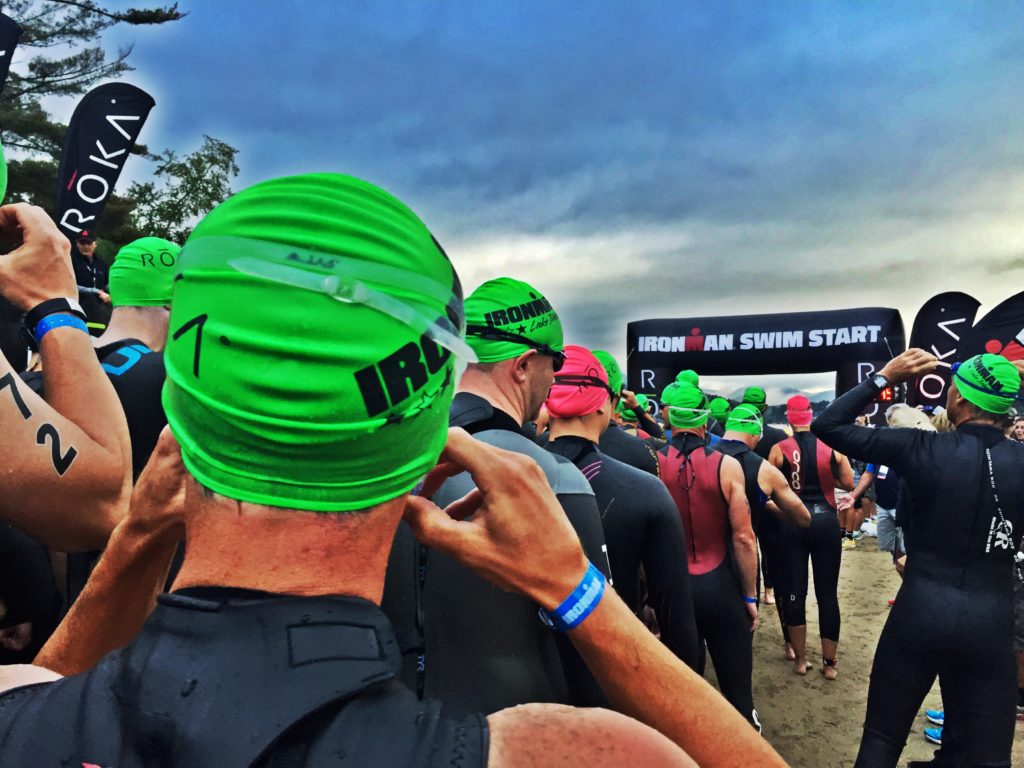 2,600 Athletes fill the air with nervous excitement as they wait to start their IRONMAN journey.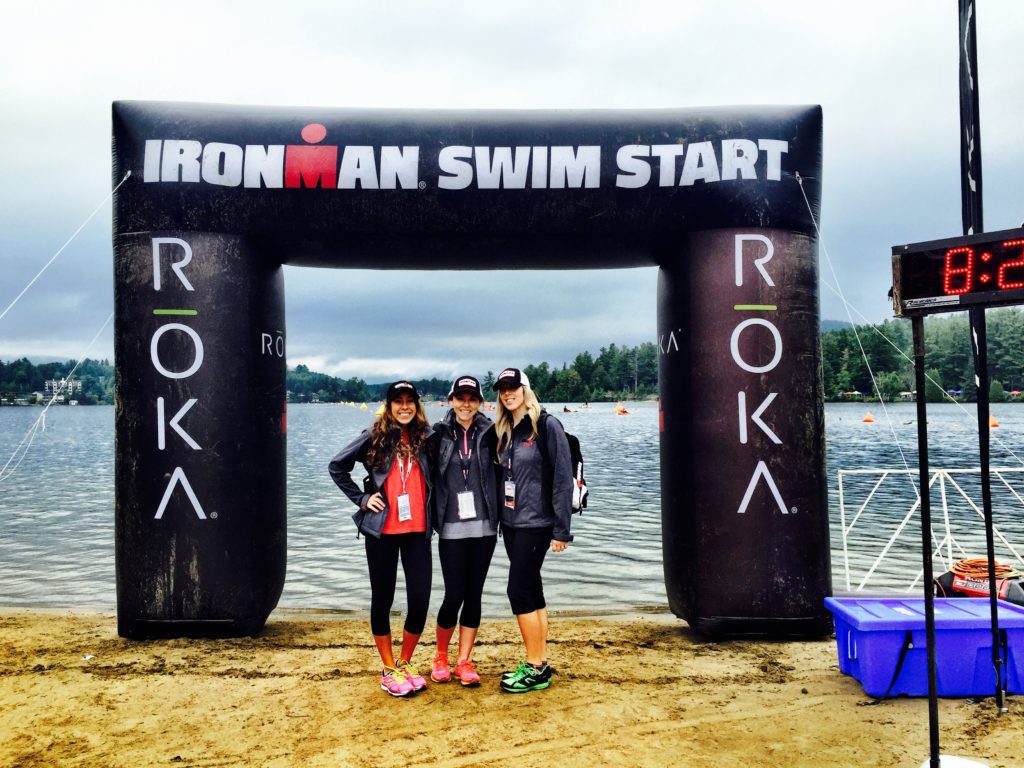 IMF staff members Julianne, Whitney, & Christine cheered on all athletes from first to last out of the water.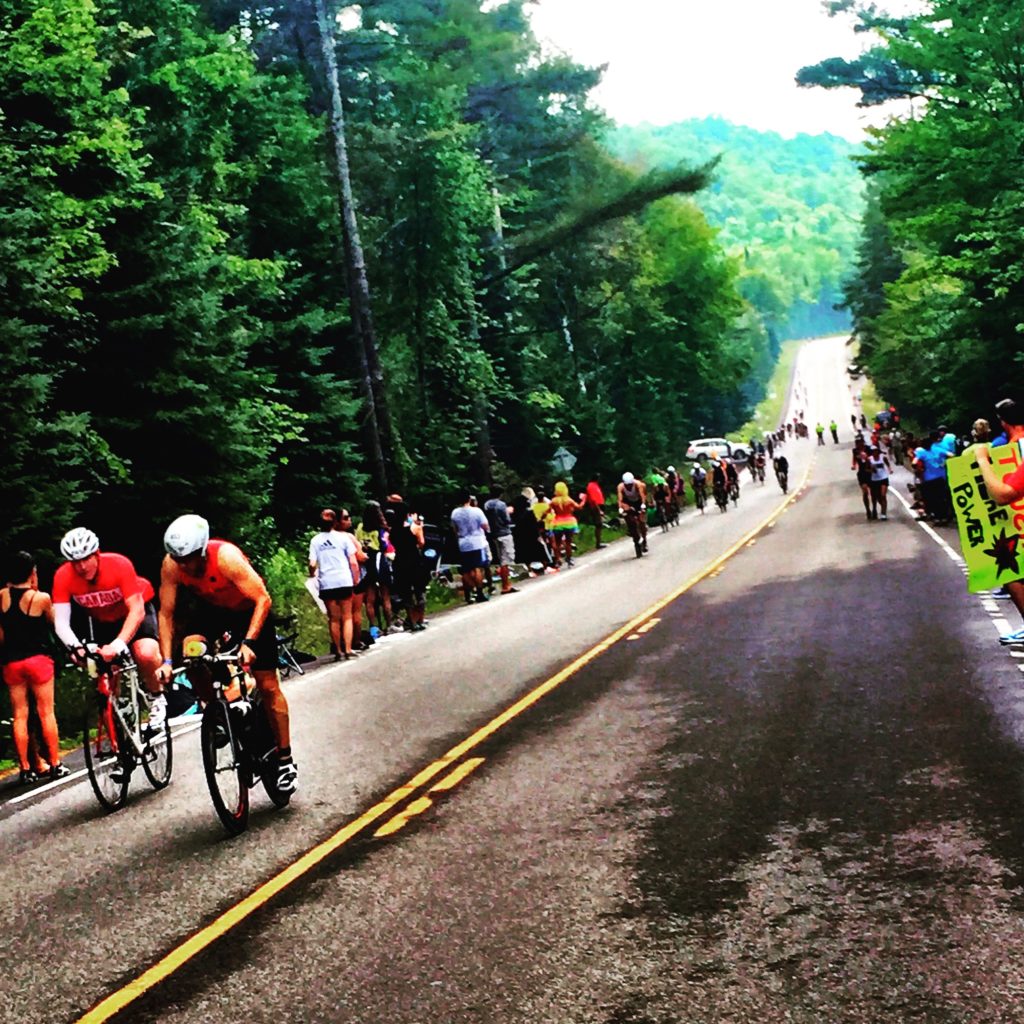 The "Papa Bear" climb has nothing on these IRONMAN athletes! The two loop bike proves to be a scenic and challenging course but the crowd support motivates the athletes to keep moving forward.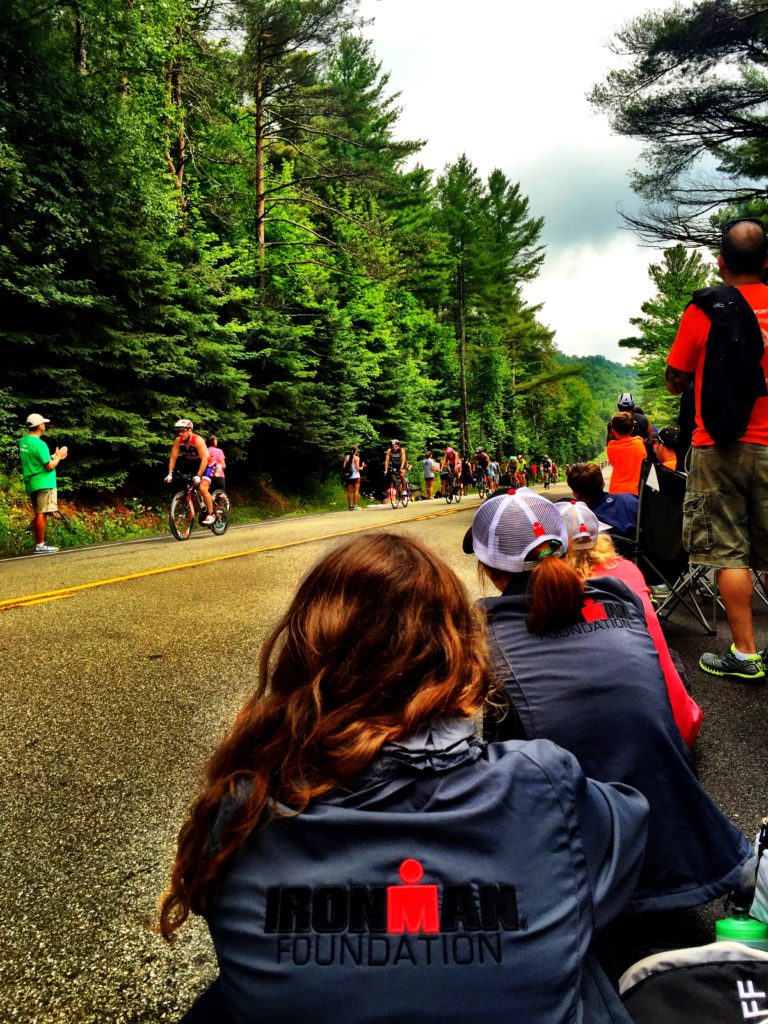 Spectating is hard work! Taking a breather but still yelling out motivation for the athletes climbing "Papa Bear".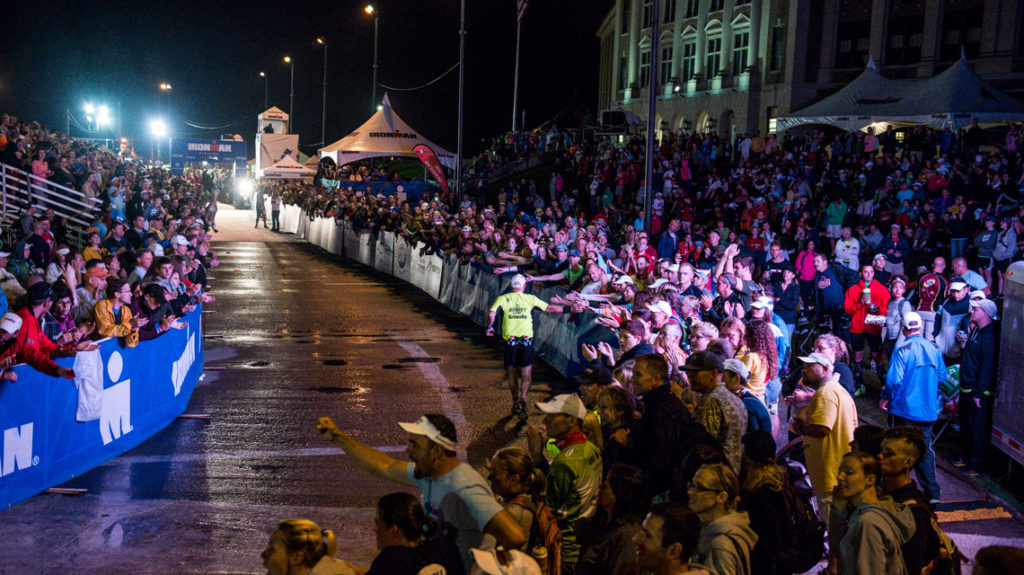 Congratulations IRONMAN Lake Placid Athletes and a HUGE THANK YOU to all Foundation Athletes who continue to support the community behind the course!