IMF Behind The Scenes: IRONMAN Florida
Situated on the breezy oasis of Panama City Beach, IRONMAN Florida is a favorite among many IRONMAN Athletes for its flat & fast course. The week leading up to race day brought higher than normal temperatures, as well as some intense humidity, which was a big turn-around from the freezing temps in 2014. But we didn't let a little dose of heat get in the way of us having a great time meeting all of our 375 amazing IRONMAN Foundation Athletes!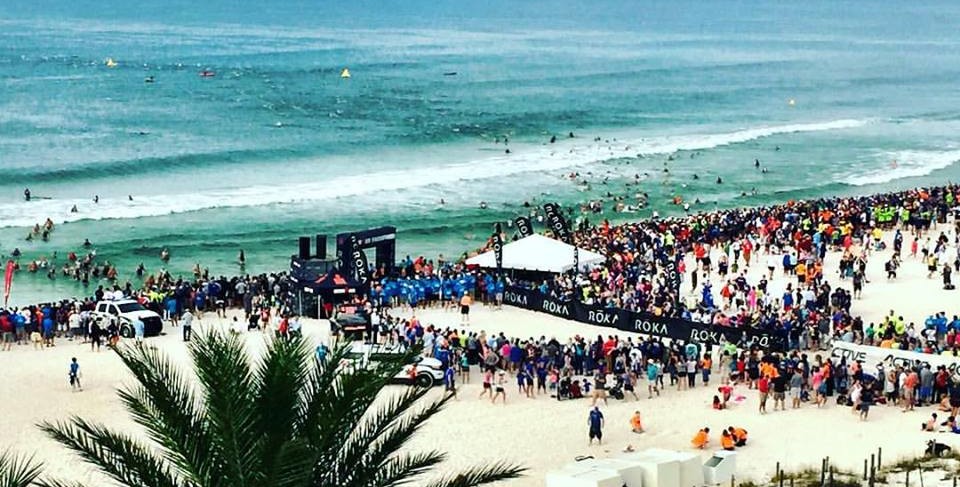 At IRONMAN Florida, we had a TEAM IMF presence of 25 athletes strong that helped raise over $85,000 in support of The IRONMAN Foundation and our race communties. Now THAT is awesome. These philanthropic athletes wanted to dedicate their race to giving back, and supporting the communities that support us on race day. With a commitment to raise $3,000, TEAM IMF Athletes received a free entry into IRONMAN Florida, as well as some super cool custom swag, a team luncheon, and other great perks!
Also present at IRONMAN Florida were over 350 Foundation Athletes that supported The IRONMAN Foundation and IRONMAN race communities through their purchase of a Community Fund entry into IRONMAN Florida. Theses Community Fund Entries are double the typical registration fee. Half of this registration is then given to The IRONMAN Foundation as a tax-deductible donation, and the other half is kept for your race fees.
Keep reading for some insight into what went on behind the scenes with our IRONMAN Foundation Staff and Athletes during race week in PCB!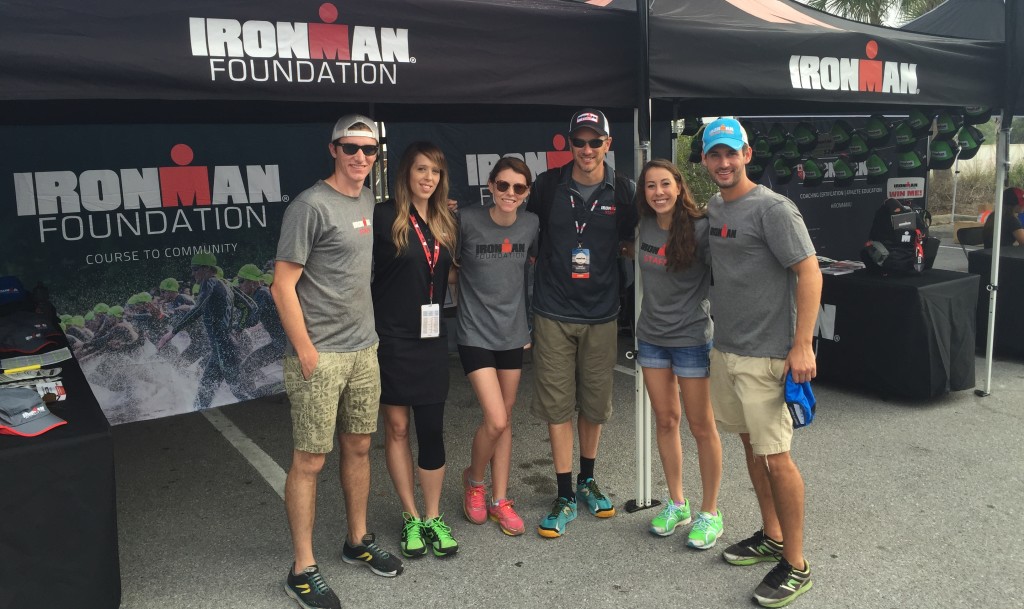 The IRONMAN Foundation Staff "Dream Team" together again in Panama City!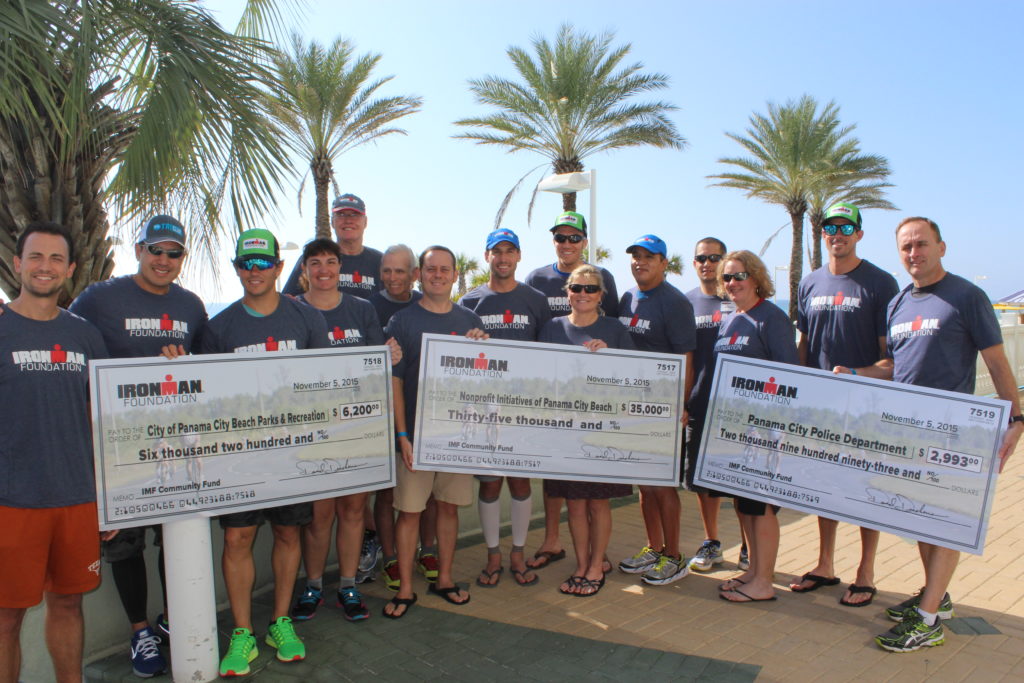 On Thursday of race week, we held a luncheon for our amazing TEAM IMF Athletes that dedicated their IRONMAN Journey to giving back to our race communities. We had a blast getting to meet everyone!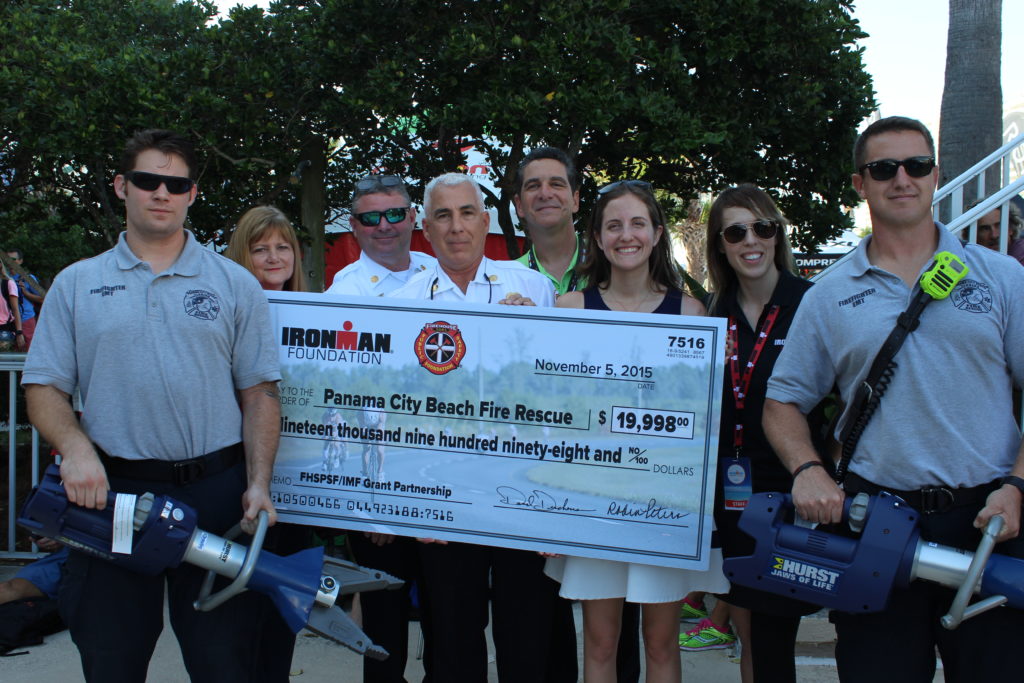 The IRONMAN Foundation, in conjunction with The Firehouse Subs Public Safety Foundation, presented the Panama City Beach Fire Rescue Team with a $20,000 grant check to buy 2 Jaws of Life that will help save many lives in the region. Prior to this grant, PCB had no Jaws of Life in the area.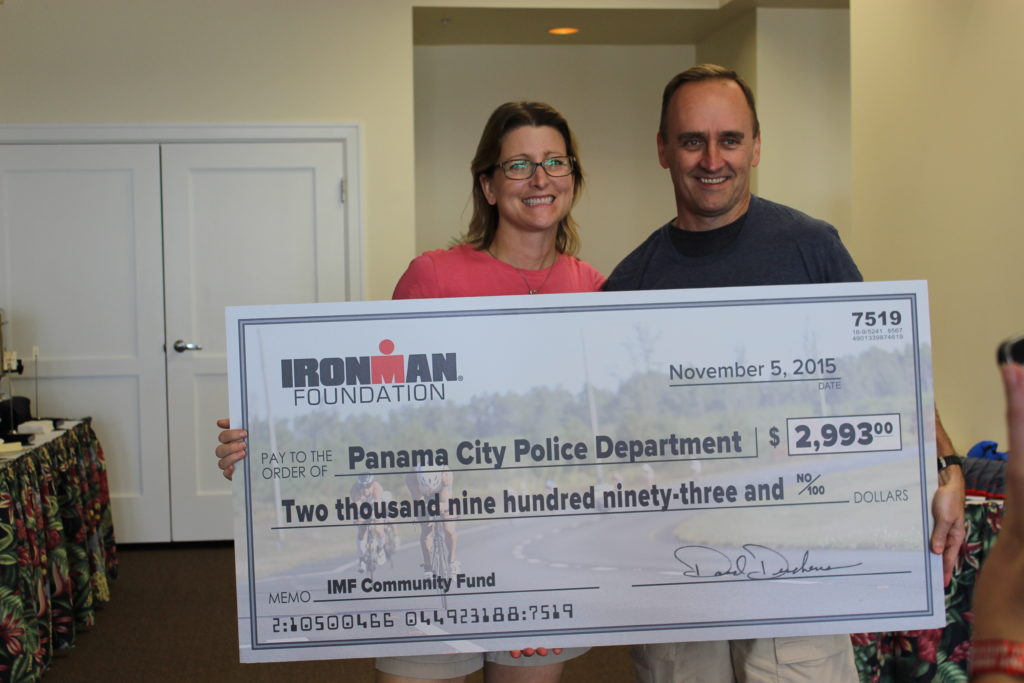 Our TEAM IMF Top Fundraiser for IRONMAN Florida, Rodney Middleton, loved getting to see exactly where his funds were going. He was an especially big fan of the donation we made to the Panama City Police Department that helped buy 100 life-saving tourniquets.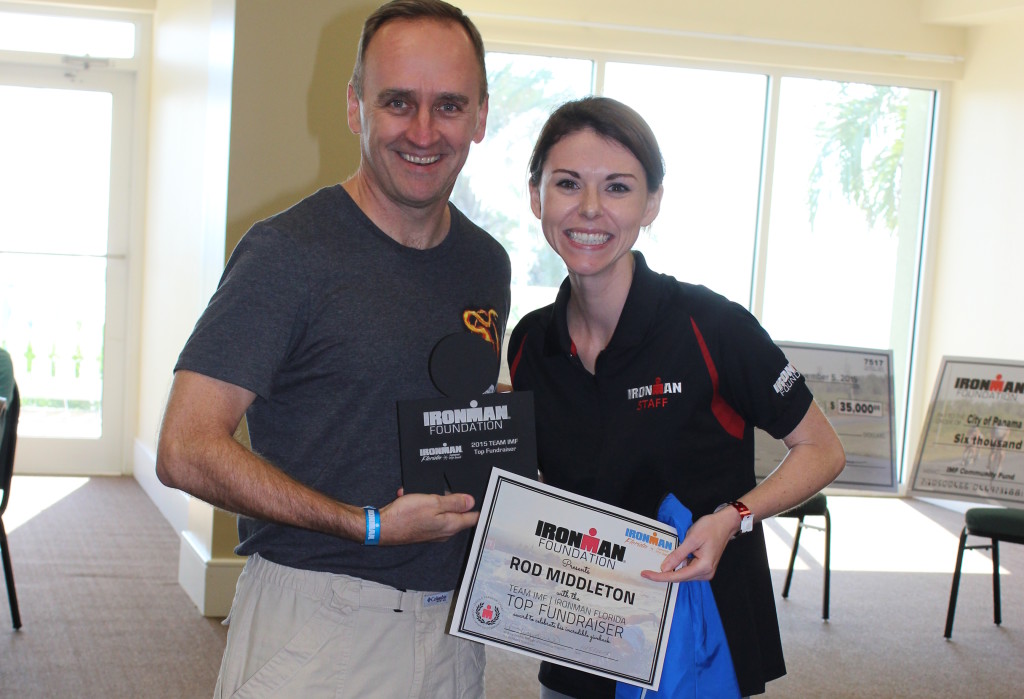 Our Fundraising Programs Manager, Whitney, presenting TEAM IMF Top Fundraiser, Rodney Middleton, with his Top Fundraising Trophy and certificate!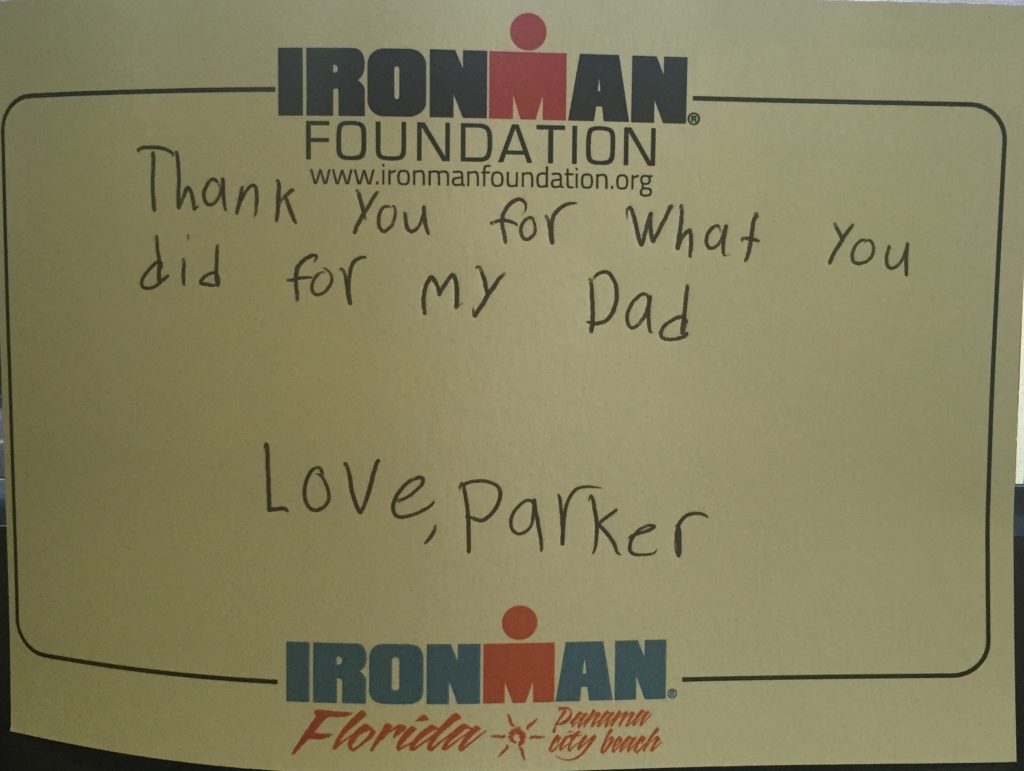 Athletes, spectators, and kids alike were writing our IMFL volunteers some "Thank-You" cards in our booth during race week. These were passed out to volunteers on race day and they LOVED them!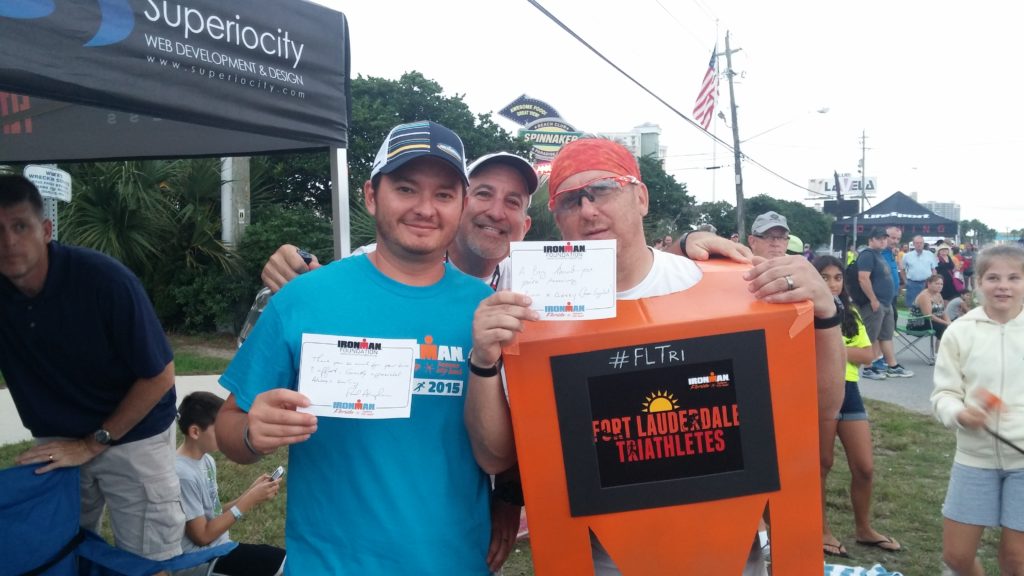 Dedicated IRONMAN Volunteers receiving the awesome handwritten Thank You Cards from IRONMAN Athletes. Race day wouldn't happen without these guys!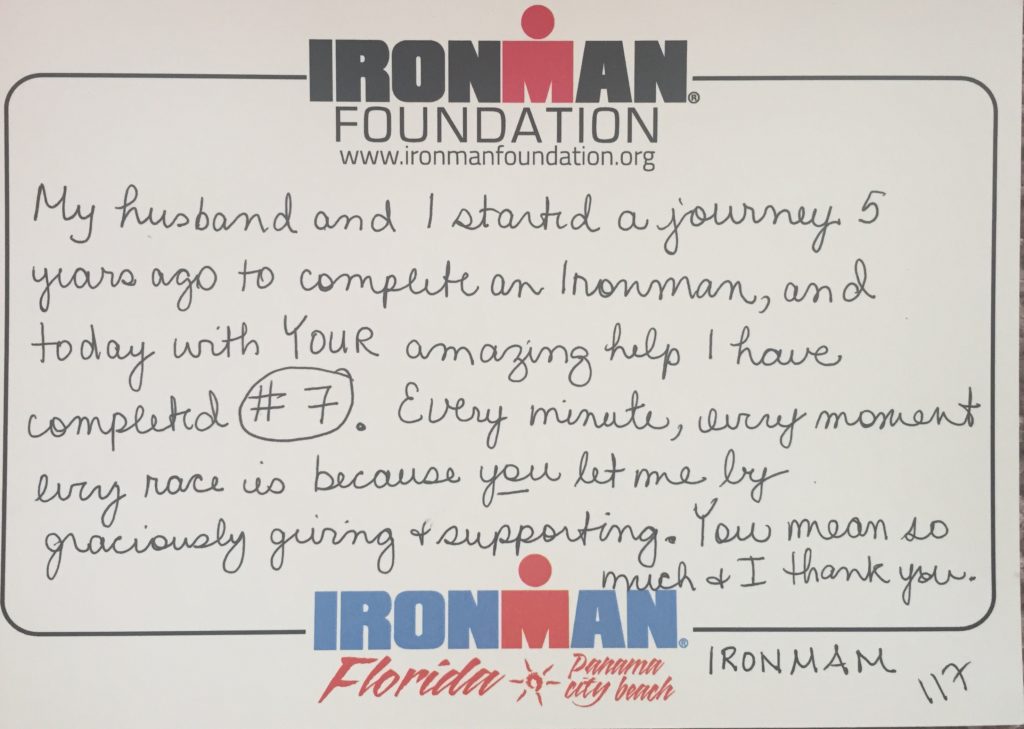 We loved seeing such heartfelt notes written by athletes to our IRONMAN Volunteers. Race day is all about the athletes, but it wouldn't ever happen without our AMAZING volunteers!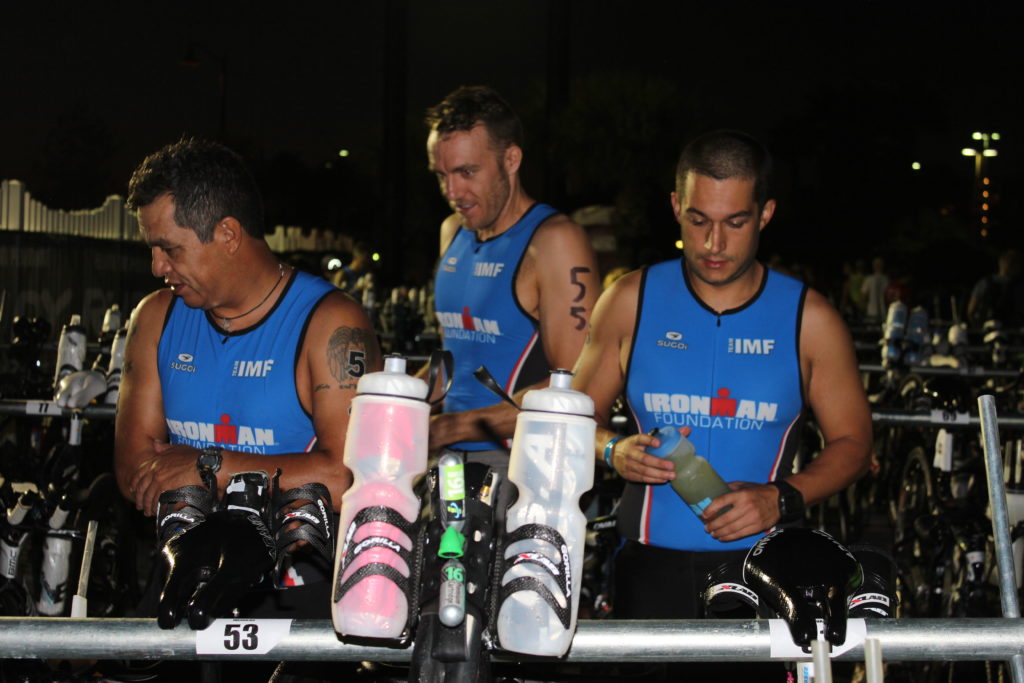 TEAM IMF Athletes enjoying their low bib numbers on race morning- they didn't have to walk too far to reach their rack!
Our TEAM IMF Athletes make giving back (and spandex) look GOOD! They can also rock some awesome IMF tattoos.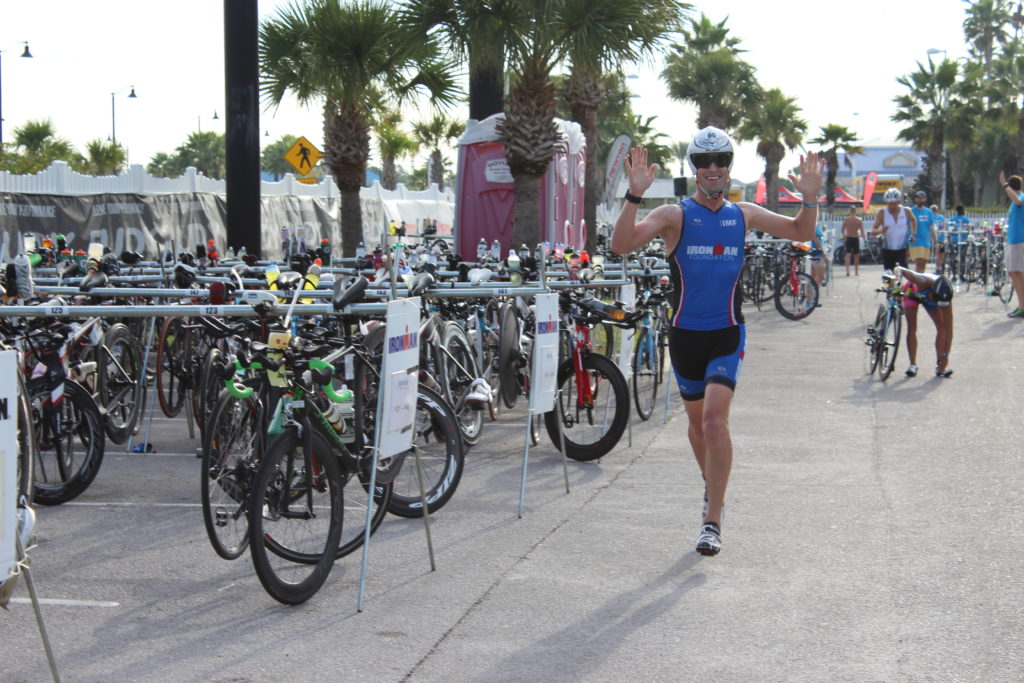 TEAM IMF Athlete, Ben Hess, super pumped to make it out of the ocean swim.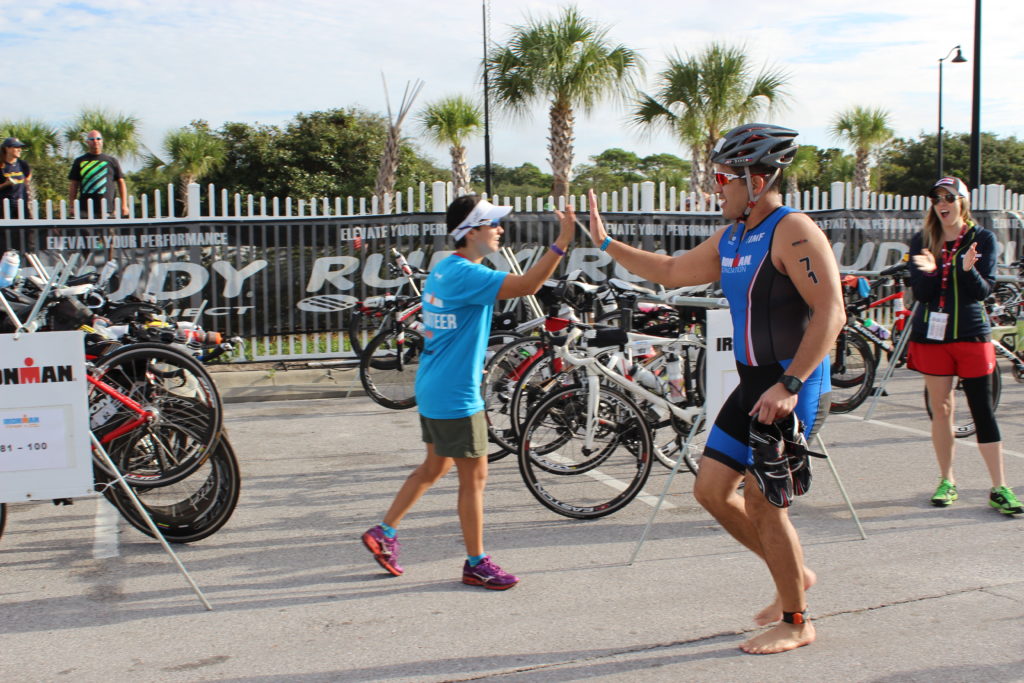 TEAM IMF Athlete, Paris Sunio, is ready to tackle the 112 mile bike ride.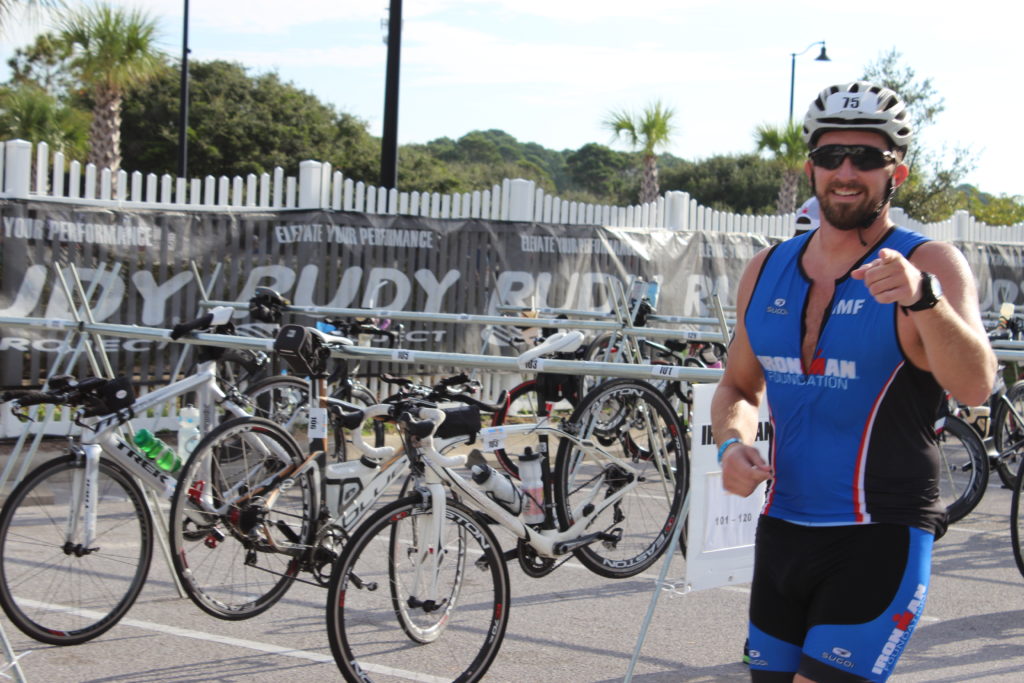 TEAM IMF Athlete, Phillip Pizzuti, looking fresh after the 2.4 mile ocean swim.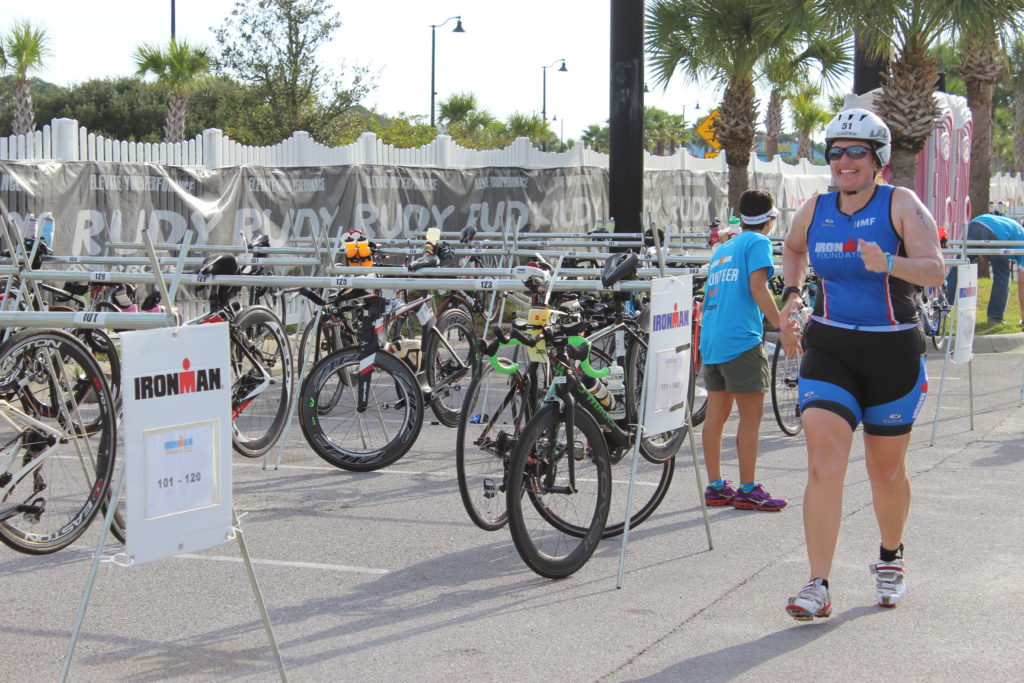 Maria Antocci, a TEAM IMF Athlete, spotted staff member Whitney and immediately broke into a jog to give her a hug.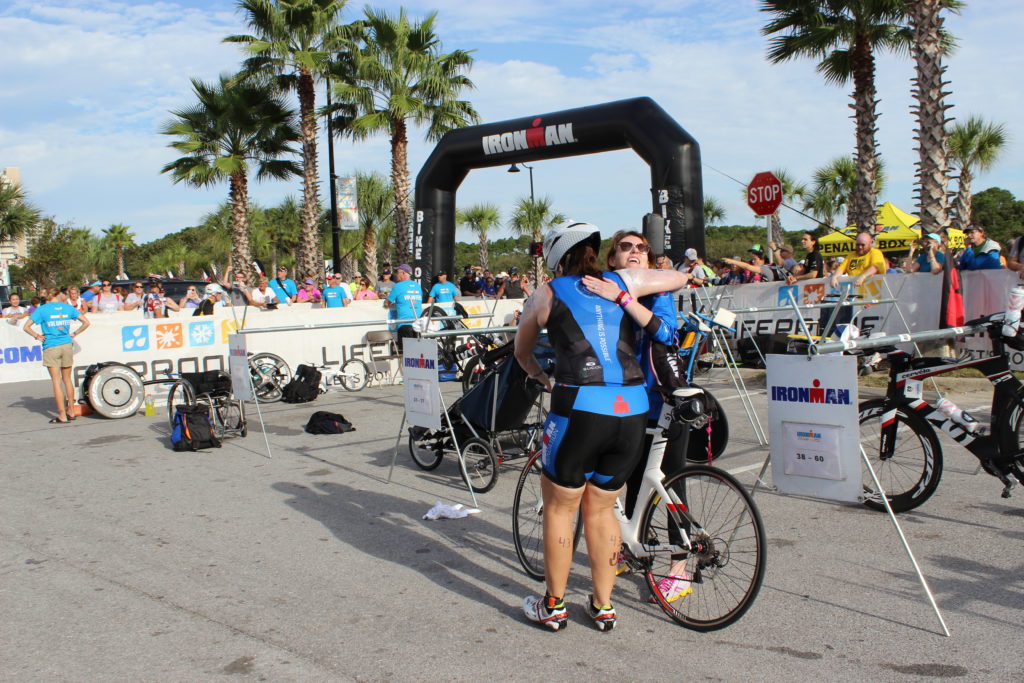 The Hug captured on camera!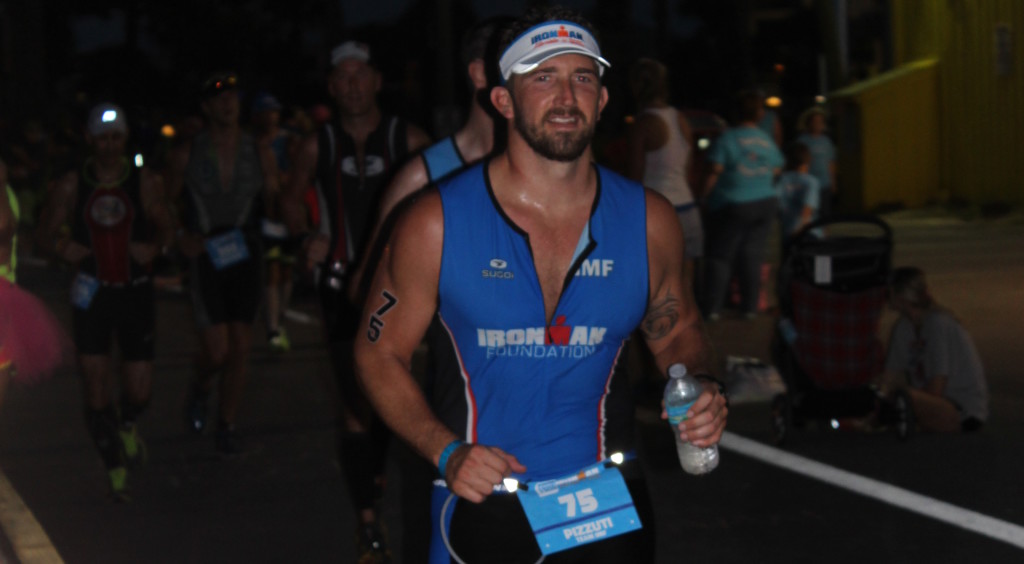 Athletes were greeted with an early sunset (not typical for IMFL) which made for a darker run than usual.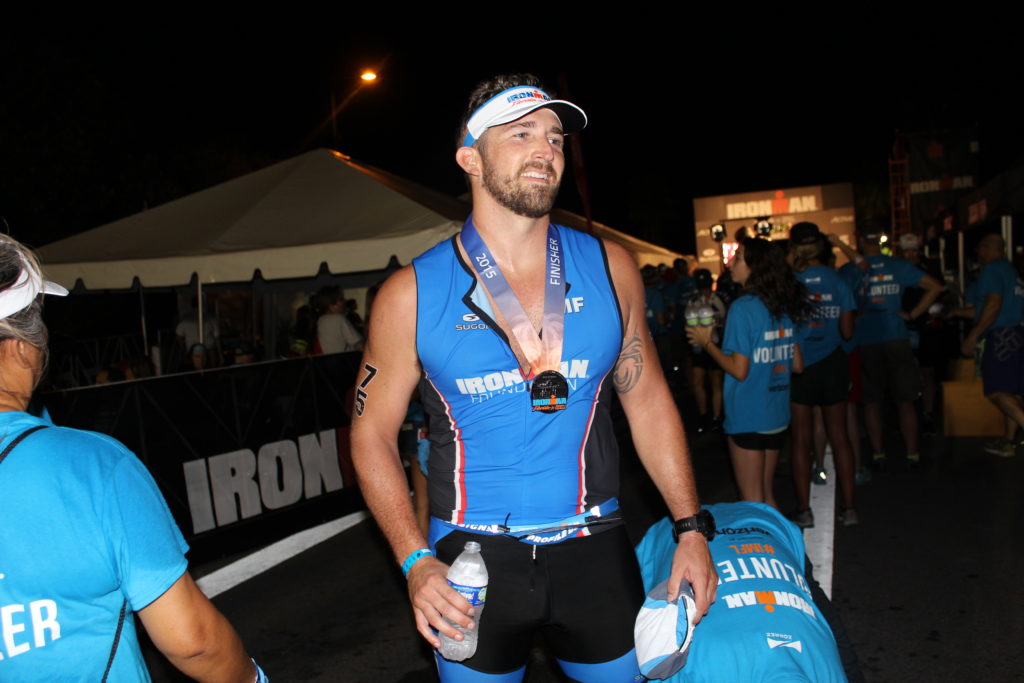 Phillip- YOU ARE AN IRONMAN!!!!!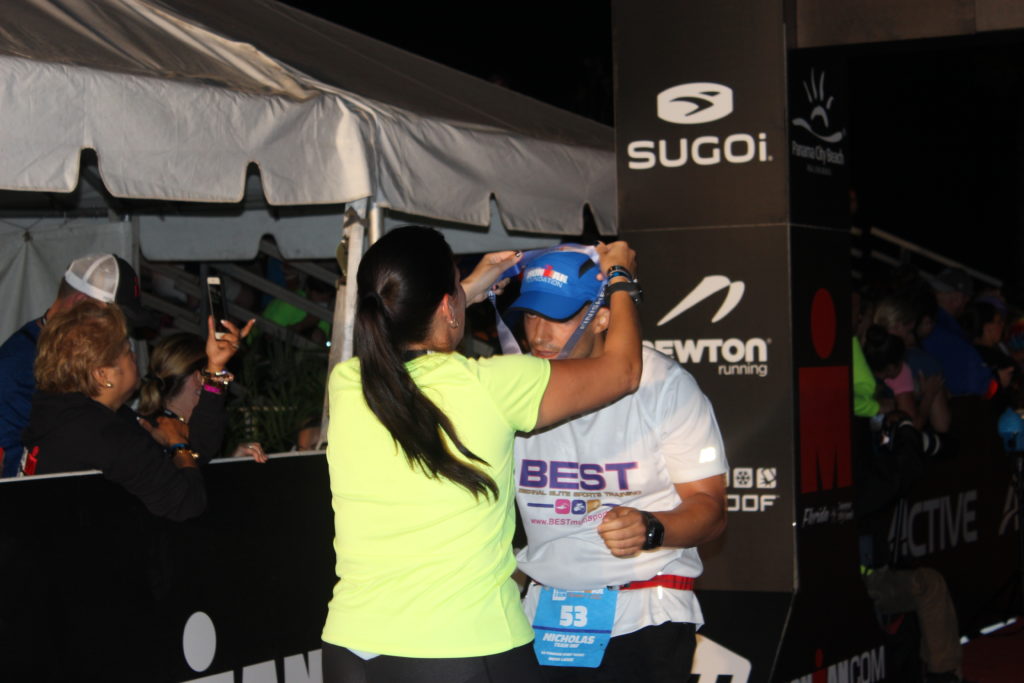 Nicholas- YOU ARE AN IRONMAN!!!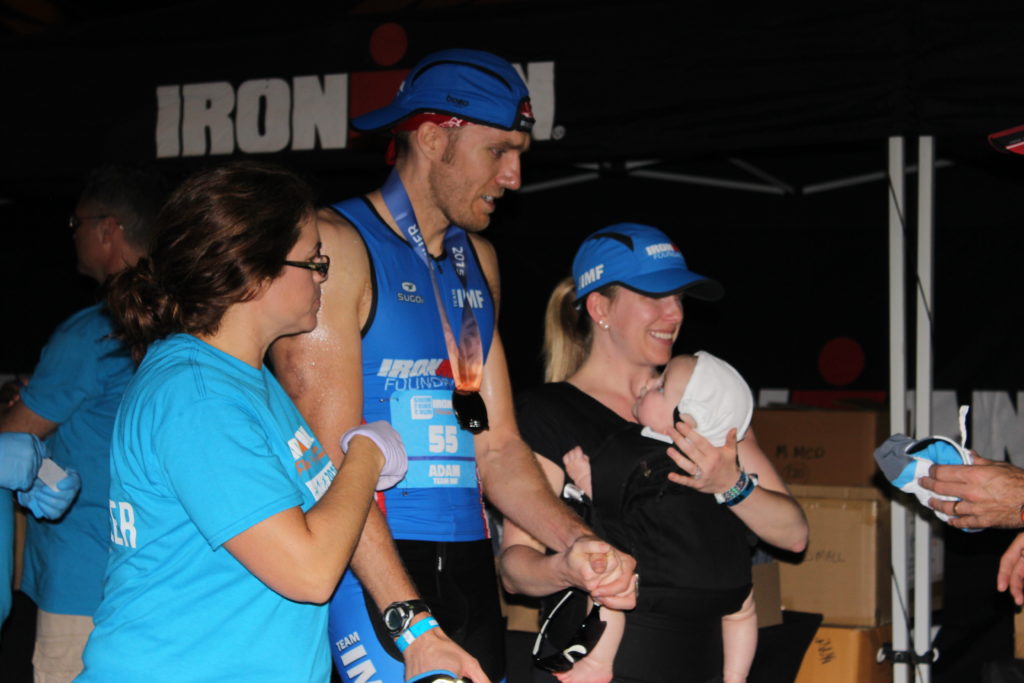 Adam- YOU ARE AN IRONMAN!!!!