IMF Behind The Scenes: IRONMAN Louisville
KENTUCKY – The state known for its Bourbon & BBQ proudly claims Louisville as its own. An eclectic, bustling city with southern roots, beautiful fall weather, and a love for IRONMAN Athletes, Louisville proved that October really is the perfect time for an IRONMAN in Kentucky. On an idealic Sunday in October, over 100 IRONMAN Foundation Athletes persevered through one of the most grueling endurance sports to hear their name, and the words "You are an IRONMAN!", called out as they crossed the finish line.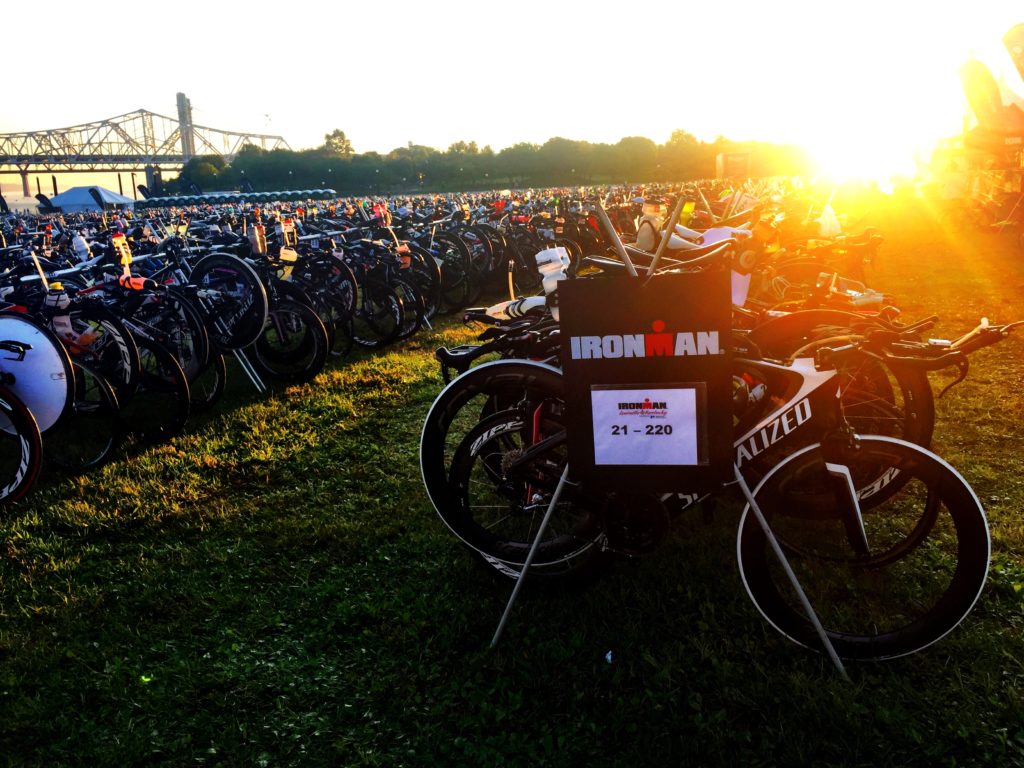 60 of these athletes were TEAM IMF Athletes, who committed to fundraising for The IRONMAN Foundation in exchange for their guaranteed race entry into IRONMAN Louisville. Collectively, these teammates raised almost $215,000 that will be donated back into IRONMAN race communities!
Another 50 Foundation Athletes racing at IRONMAN Louisville purchase a Community Fund Entry at registration for double the registration fee, in which half of that registration is a tax-deductible donation to The IRONMAN Foundation. These donations also help to provide the over $1.5 Million that will be distributed to various non-profits and charitable organizations throughout 51 race communities in 2015.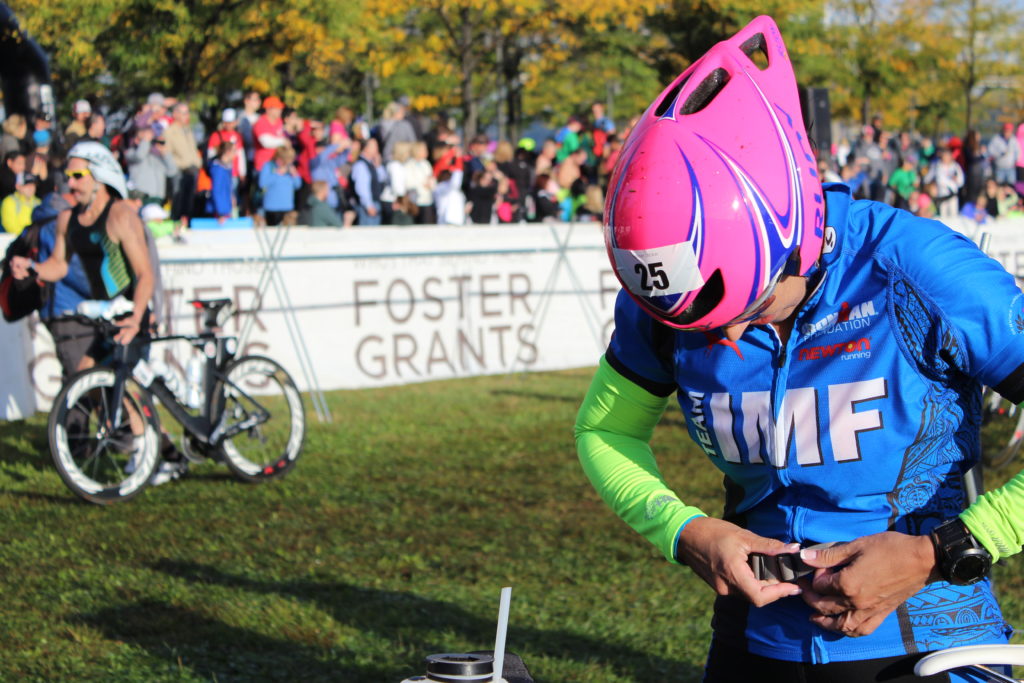 Check out our "Behind-The-Scenes" Picture Blog Post below to see what a race week in the life of an IRONMAN Foundation Staff & Foundation Athlete looks like!
With $65,00 being donated back to the IRONMAN Louisville community this year, the total give-back to Louisville adds to a staggering $540,000!
Service Through Sport, Commitment To Community
Not only was The IRONMAN Foundation able to provide monetary support to dozens of non-profits and charitable organizations, but Foundation Athletes were able to visit one beneficiary, The Harbor House of Louisville, where they could physically see the positive impact they were making. The Harbor House provides daily programming for adults with physical and mental disabilities.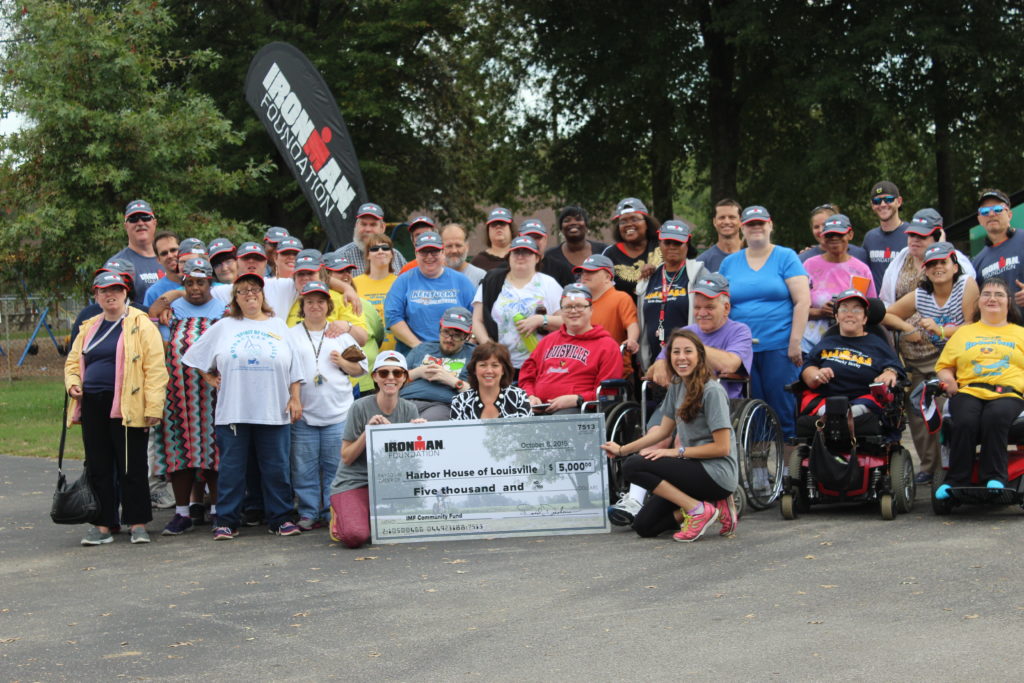 The IRONMAN Foundation presented a SURPRISE donation to The Harbor House during a service project performed on Thursday morning of race week- they were absolutely shocked and so HAPPY!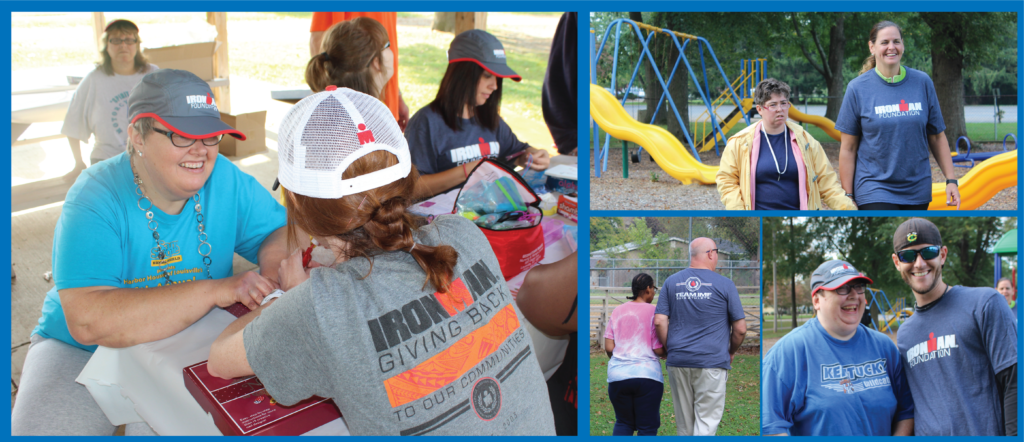 Summary of the service project: The IRONMAN Athletes admitted they may have had more fun that the folks from The Harbor House did. With a dance coming up the next night, many of The Harbor House ladies wanted their nails painted. Whitney stepped up to the challenge! Our Foundation Athletes showed such amazing compassion throughout our time at The Harbor House.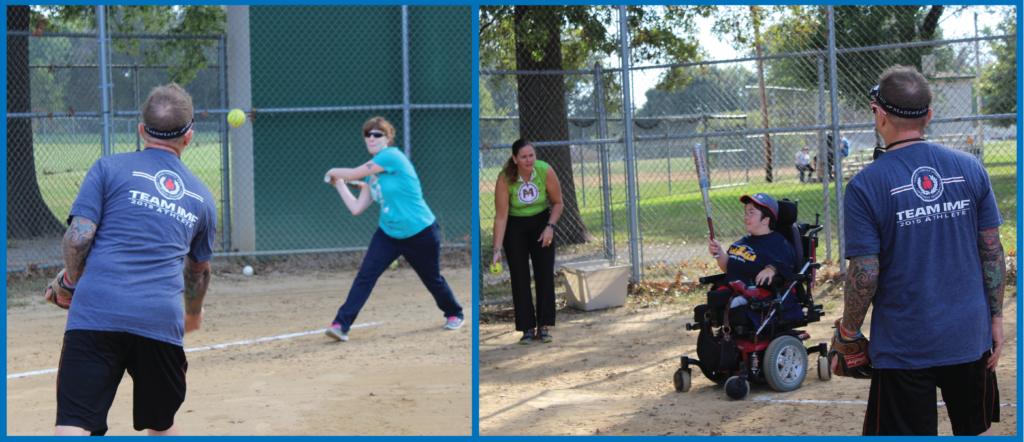 In true IRONMAN athletic spirit, the athletes got a fun game of baseball going. Sabrina (on the right) had never played baseball before, but she was a natural and hit it out of the park!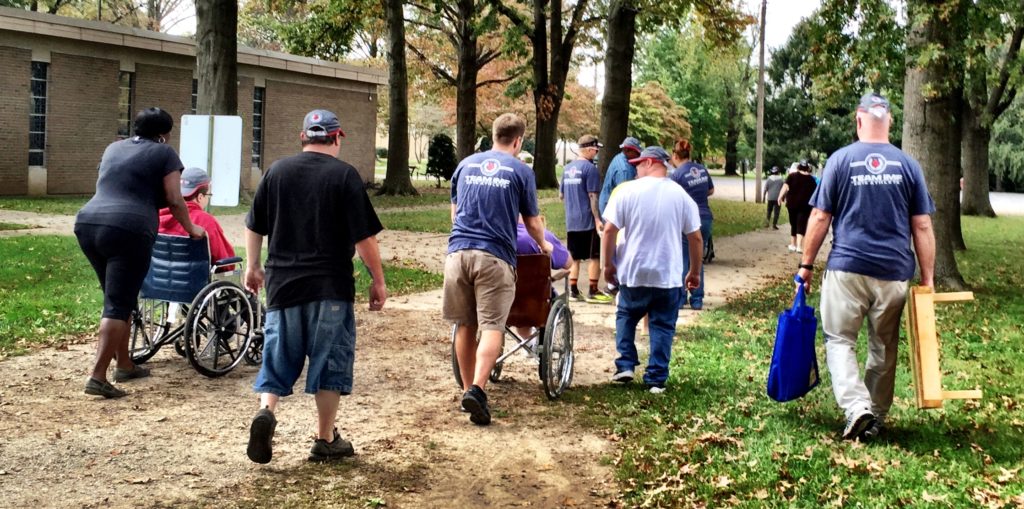 With the service project coming to a close, many of the athletes were reluctant to leave.
Sharing Our Story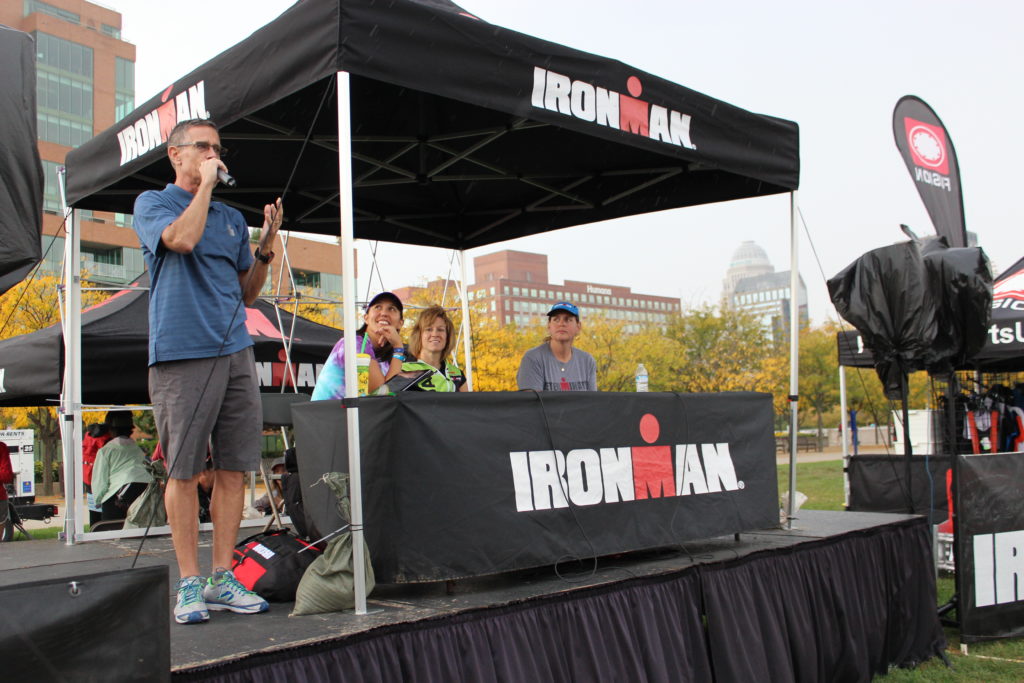 Dave Ragsdale hosted The IRONMAN Athlete Panel on Friday morning, where we had a Your Journey, Your Cause Athlete, a TEAM IMF Athlete, and an IRONMAN Foundation-Newton Running Ambassador Team Athlete, representing The Foundation.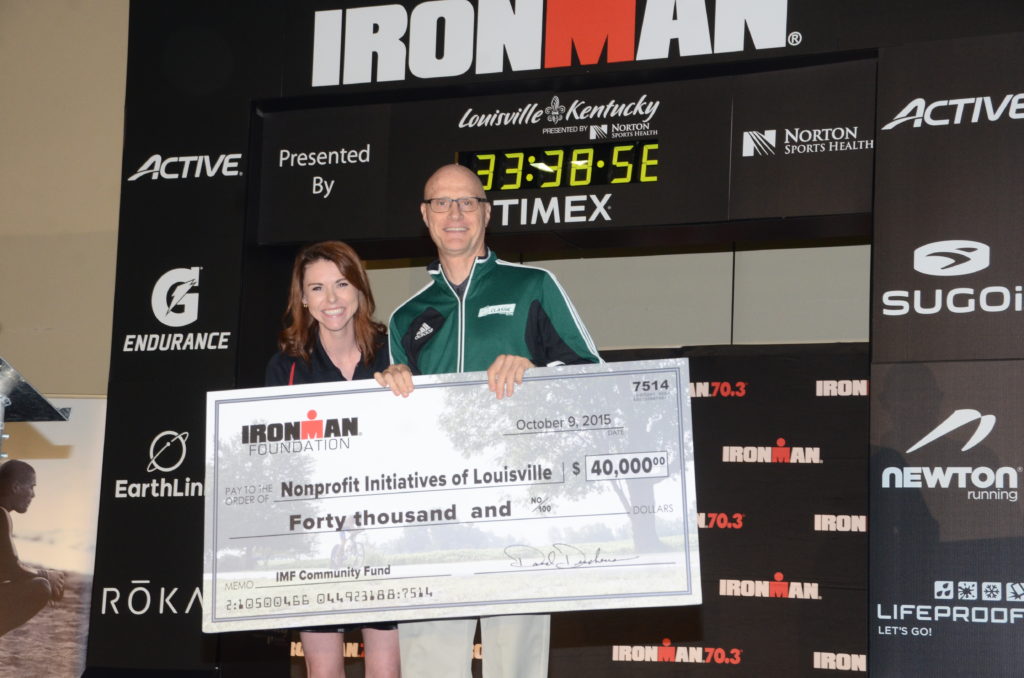 President & CEO of the Louisville Sports Commission, Karl Schmitt, accepted an IRONMAN Foundation check of $40,000 on behalf of several nonprofit groups with a volunteerism component.
THANK YOU
Throughout race week, athletes stopped by The IRONMAN Foundation booth in IRONMAN Village and wrote heart-felt Thank You Cards for the amazing volunteers!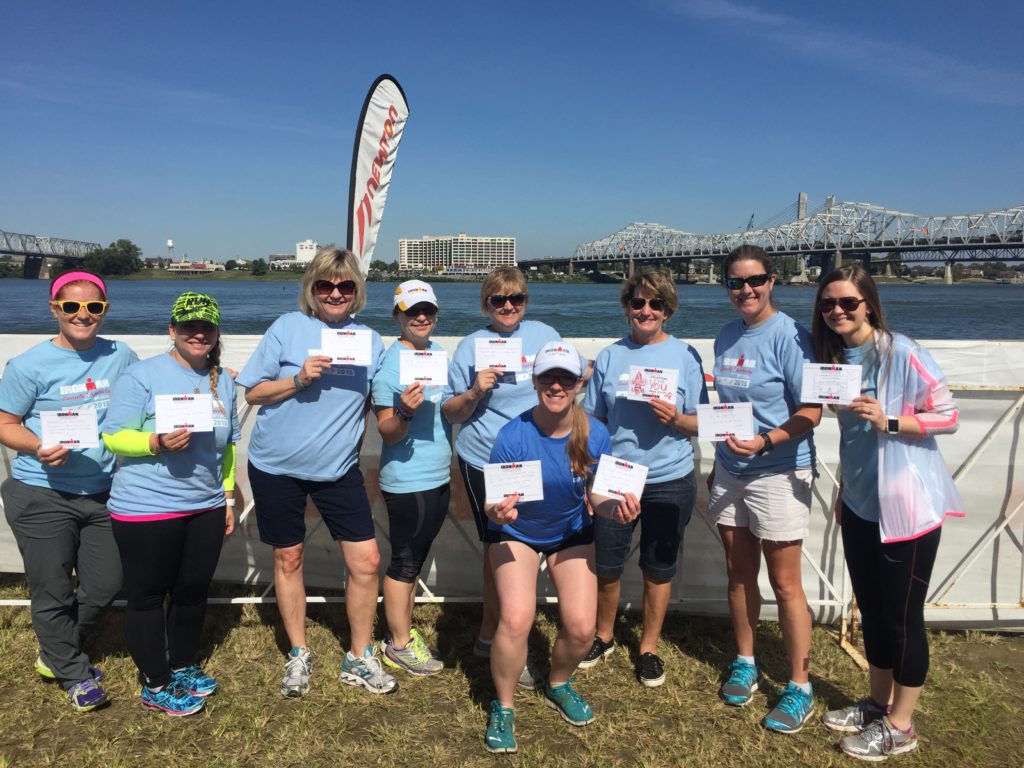 On race day, IRONMAN Foundation staff spent the afternoon passing out the athlete Thank You Cards at different aid stations all over town.

Volunteers LOVED the Thank-You Cards written by IRONMAN Louisville Athletes

Pictured (Left to Right): Transition, Gear Bags, Men's Change Tent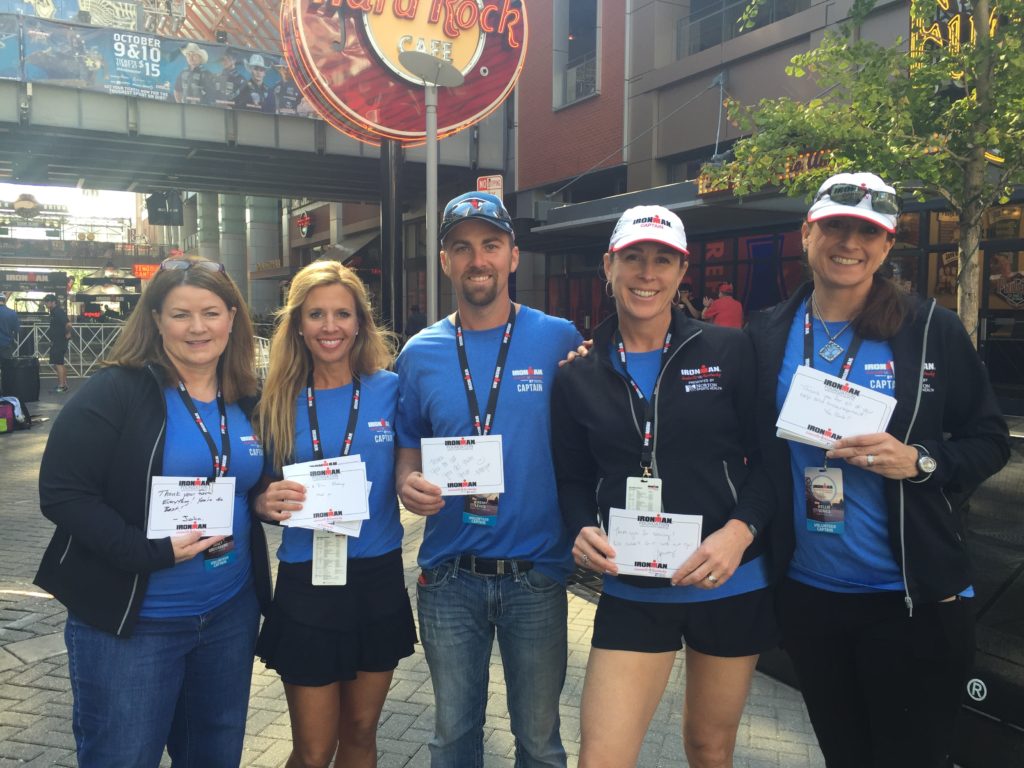 The Finish Line Crew getting ready for a big night on 4th Street Live (with the Volunteer Thank-You Cards)
Foundation Athletes in Action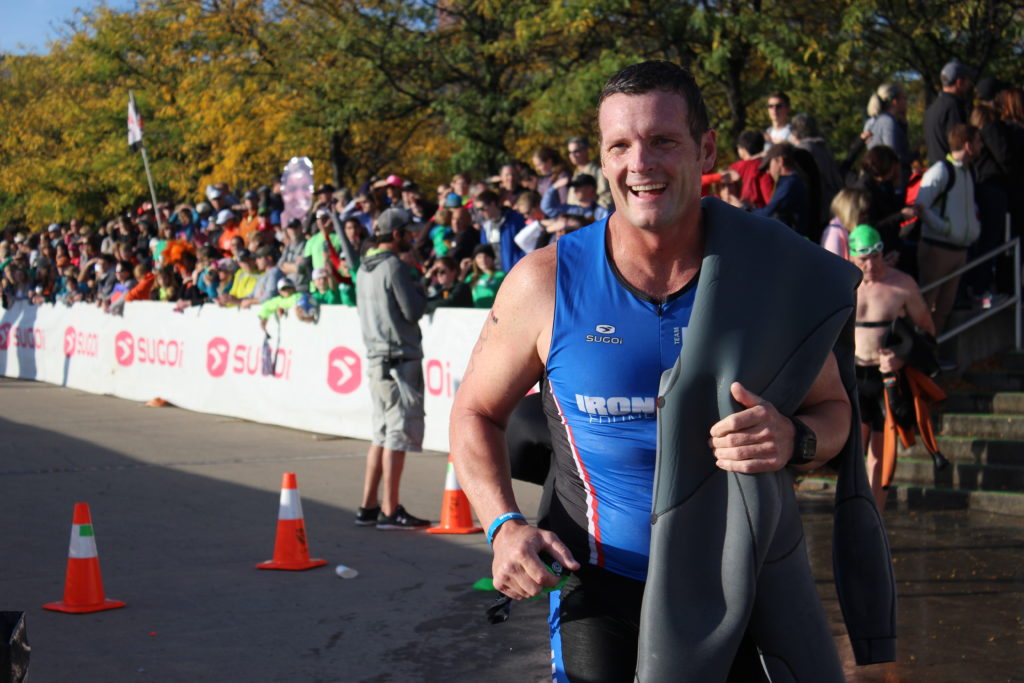 The Ohio River was wet-suit legal which resulted in a great swim for our TEAM IMF athletes.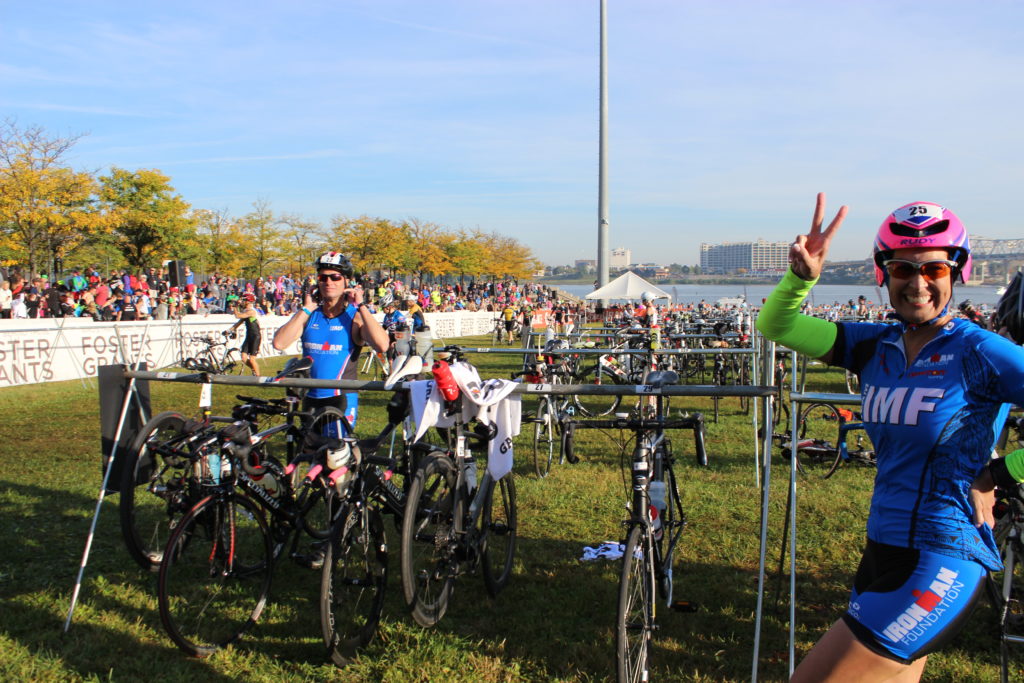 TEAM IMF Athletes looking ready & excited for a 112 mile bike ride through the rolling hills of Kentucky.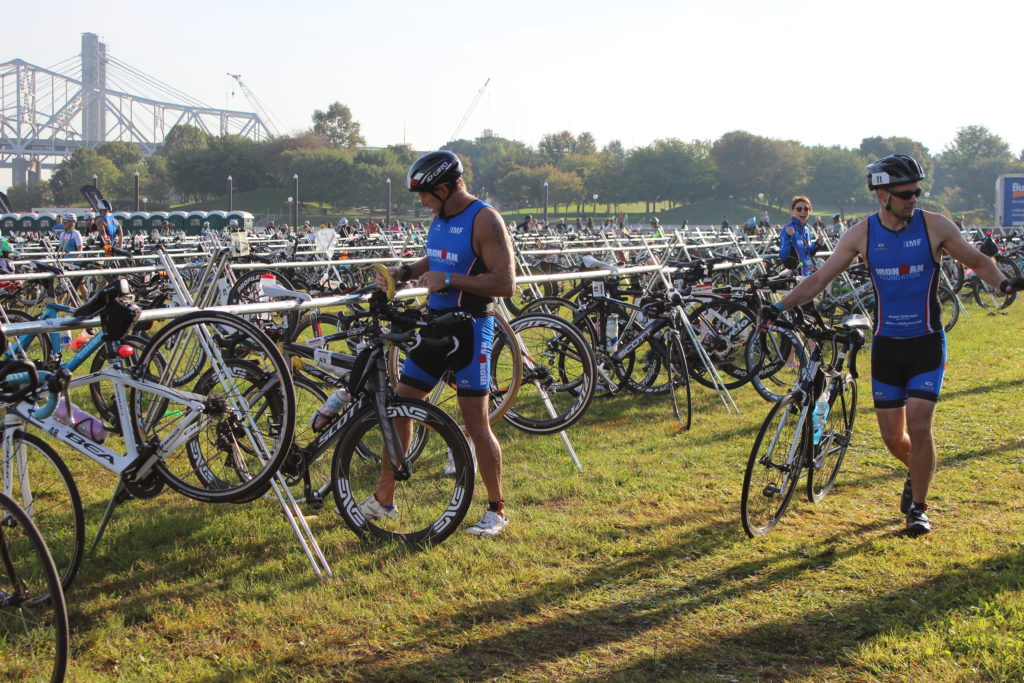 TEAM IMF Perks: Low Bib Numbers & the FIRST bike rack in transition; how cool!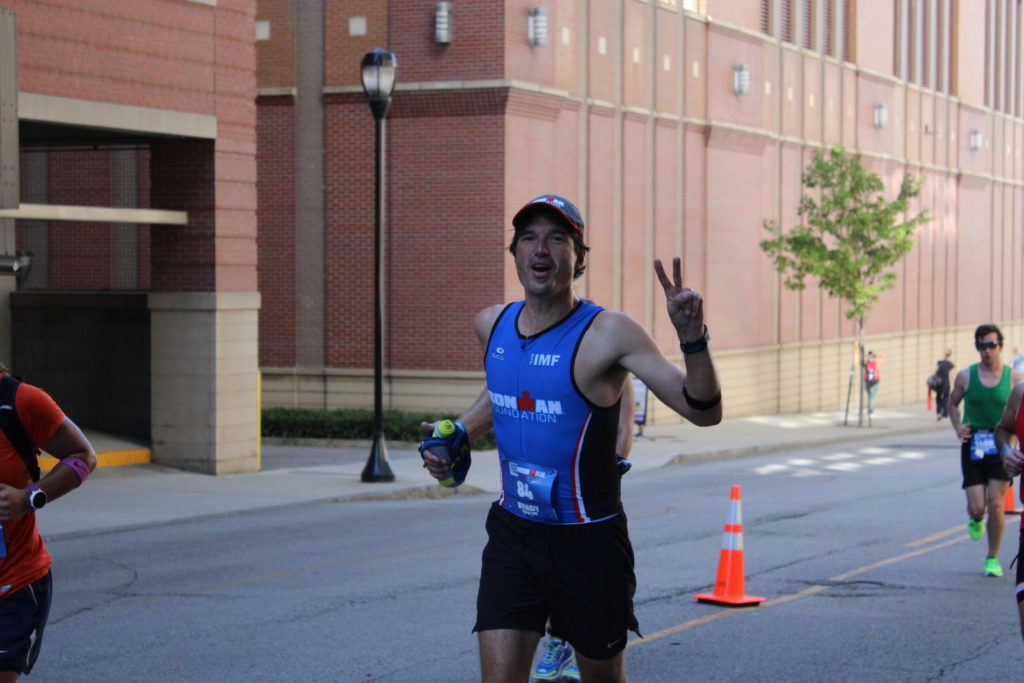 We loved spotting our TEAM IMF athletes on the race course throughout the day. IRONMAN Louisville winds through downtown Louisville and has an outstanding finish on 4th Street Live!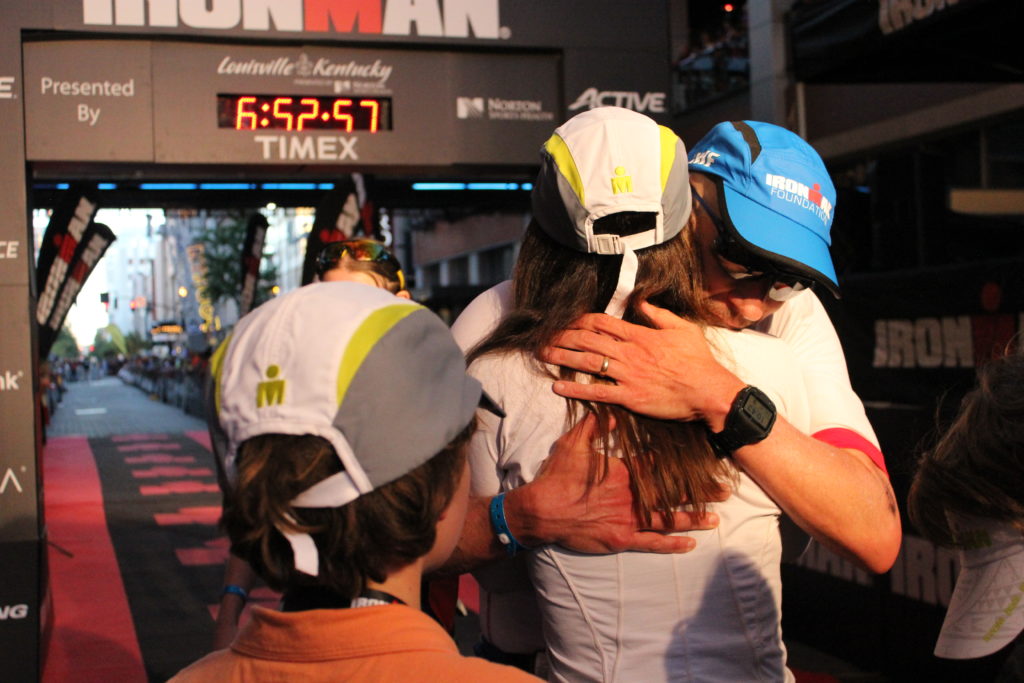 TEAM IMF Athlete, David, getting medalled by his loved ones after becoming an IRONMAN for the first time.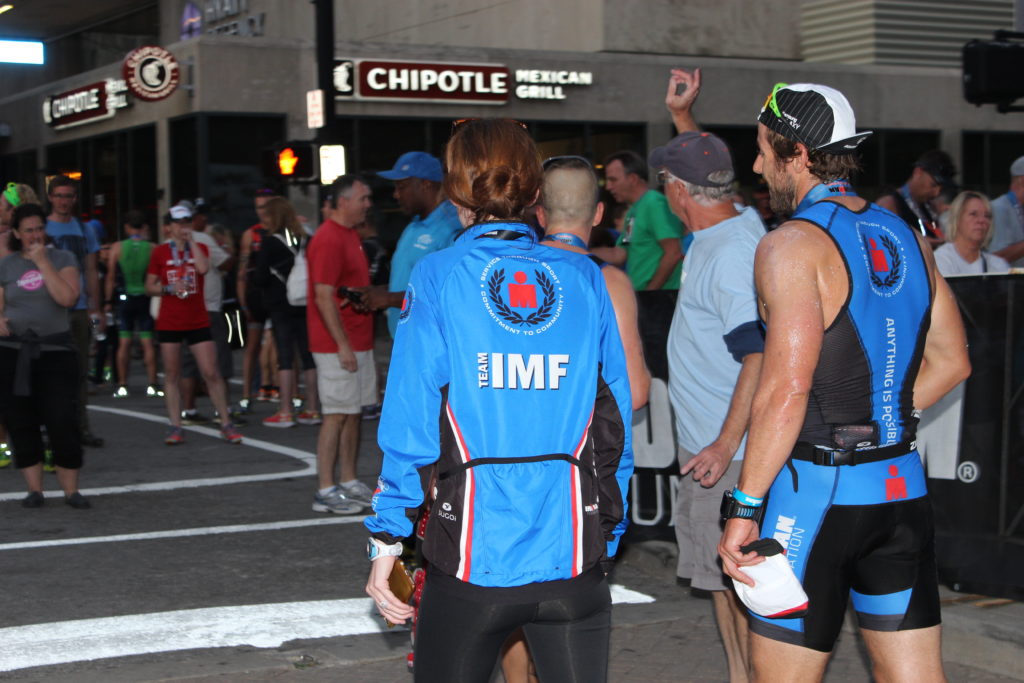 TEAM IMF Athlete's were greeted at the finish line by our IRONMAN Foundation staff after they conquered 140.6 miles!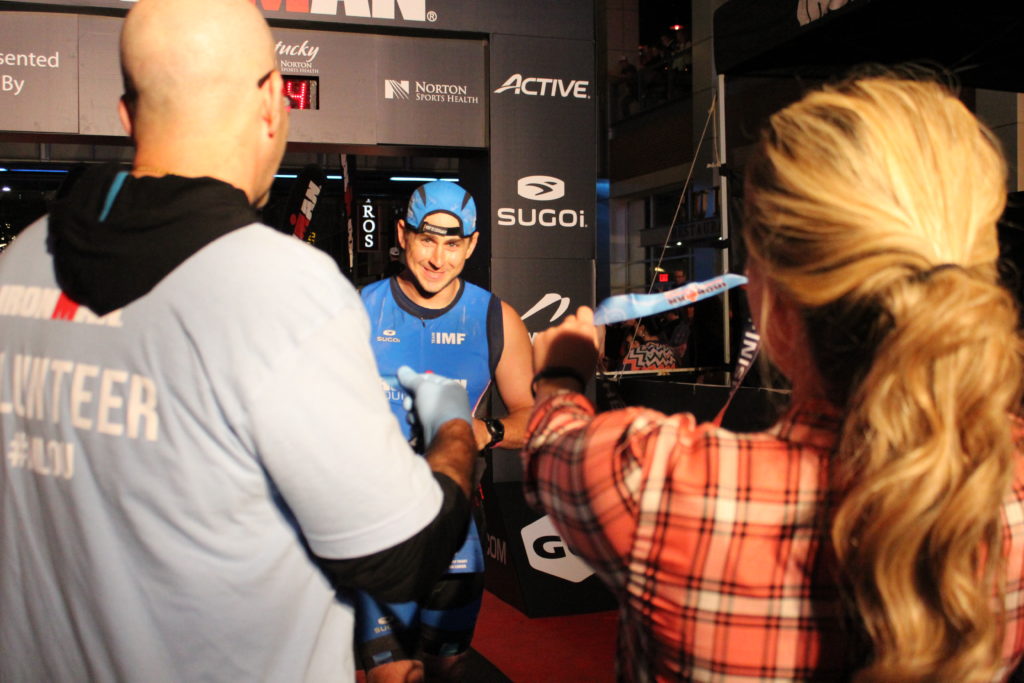 TEAM IMF Athlete, Cory, being medalled by his girlfriend, Colleen after crossing the finish line at IRONMAN Louisville.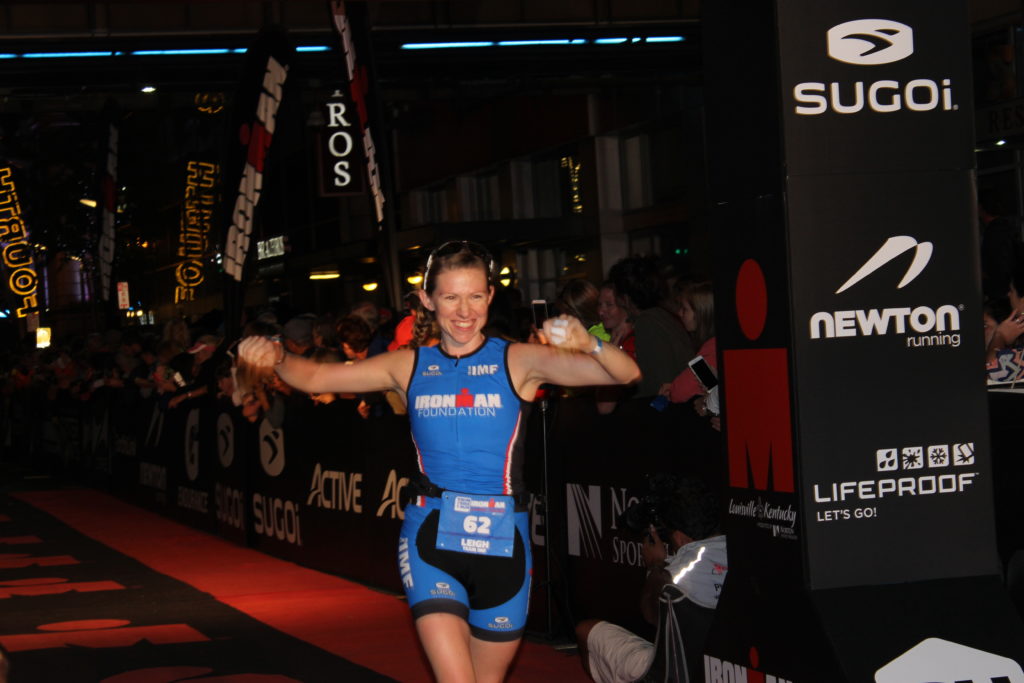 TEAM IMF Athlete, Leigh, is all smiles after becoming an IRONMAN!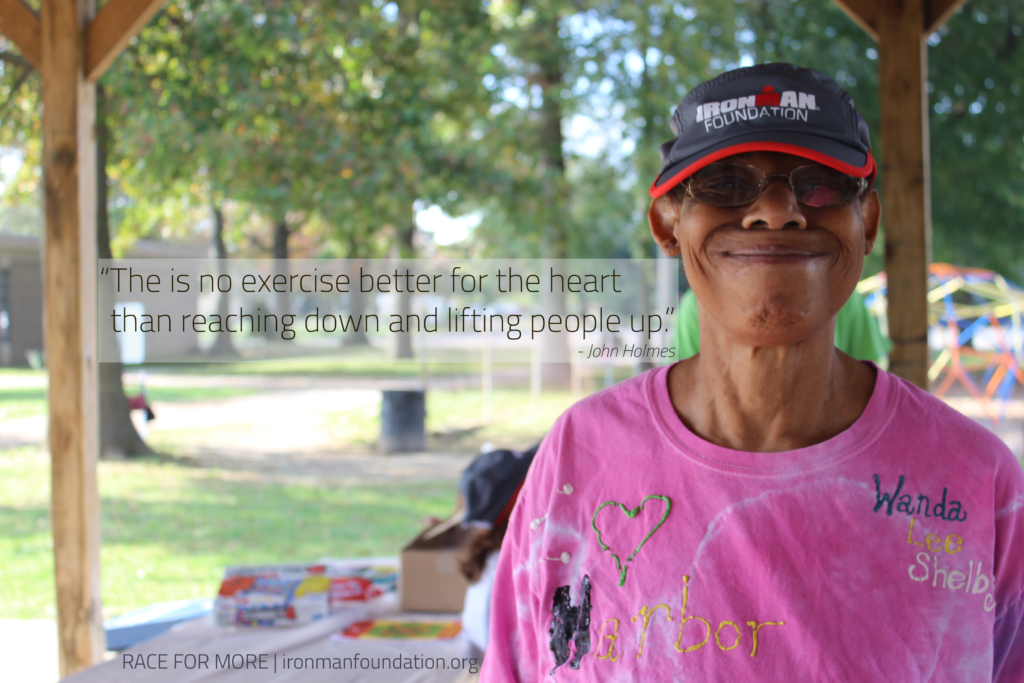 Thanks for everything and we'll see you next year, Louisville!