IRONMAN BOULDER | TEAMING UP WITH PARADOX SPORTS
The IRONMAN Foundation will partner with Paradox Sports for a service project to fix erosion damage on the hiking trails of Eldorado Springs State Park followed by an adaptive rock climbing clinic. In addition, The IRONMAN Foundation will distribute $55,000 in charitable giveback to non-profit initiatives and groups in the Boulder region in conjunction with the 2017 IRONMAN Boulder triathlon taking place on Sunday, June 11, bringing the total giveback to more than $525,000.
"The IRONMAN Foundation has been an absolute game-changer for our organization," said Mike Neustedter, Executive Director of Paradox Sports. "We are best known for helping people with disabilities climb America's most iconic peaks, but multi-year support by The IRONMAN Foundation has empowered us to make our backyard in beautiful Boulder more accessible for people with disabilities. Our community has been requesting more local services for years and we are now able to lead local participants up Boulder's famous Flatirons and host rock climbing programs in both Boulder and Eldorado Canyons thanks to the support of The IRONMAN Foundation."
The service project on Thursday, June 8 will bring together Paradox Sports and IRONMAN athletes, D3 Multisport TriClub and volunteers, including three-time IRONMAN World Champion Mirinda Carfrae and "Voice of IRONMAN" Mike Reilly – both members of the IRONMAN Foundation Ambassador Team.
Rebecca and Dan are part of the Paradox Sports team. Here is their story.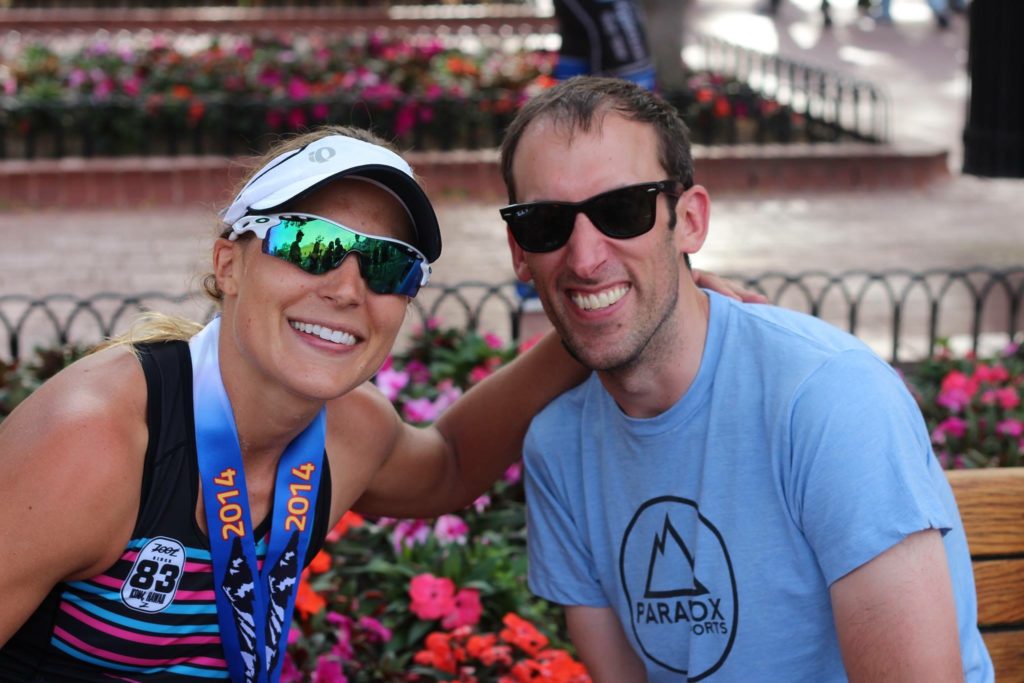 On March 20, 2011, Rebecca received a message that her twin brother, Dan, had been in a cycling accident and was in the trauma unit at Scottsdale Memorial Hospital in critical condition. They weren't sure he was going to make it. As Dan lay in a coma fighting for his life, a meeting with the doctor revealed the extent of nerve damage—a brachial plexus injury—resulting from the accident. Dan's right arm, hand, and most of his right lung were paralyzed.
She broke down. She felt that she'd wake up soon from this nightmare. The reality, though, was that Dan continued to fight for his life and she began the process of ensuring Dan would have the best care possible if he could pull through.
After a month, Dan was stable enough to be transferred to Craig Hospital in Colorado, an incredible hospital specializing in brain and spinal cord injuries. After a couple of months at Craig, Dan moved in with Rebecca in Boulder, where she became his caregiver. Though he moved forward in his recovery slowly but surely, depression crept in—something so common with trauma. Their relationship became strained during that period of recovery, also very common when a family member is the caregiver.
A couple of years later, Dan learned of a local organization that creates physically adaptive sports communities, called Paradox Sports. Dan's interest was piqued. When her brother found Paradox Sports he "found his people" as well as a new outlook on life. Once an avid cyclist, Dan was now compelled to find new hobbies. Through Paradox, he discovered his love for climbing. "And," said Rebecca, "I finally saw a glimpse of the brother I once knew come back to life."
Over time they repaired their relationship and formed a deeper bond than ever before. For their 33rd birthday, Dan considered going on a trip to climb the Grand Teton offered by Paradox Sports. Dan wasn't sure if he could make it; Rebecca had no doubt that he could.
Dan went on the trip and successfully climbed the Grand. He was also part of the film that documented the trip, A Grand Pursuit. As a result of this trip, Dan now serves as an ambassador for Paradox, is a gear reviewer, and is pursuing a business degree. He has regained his passion for life. "If it wasn't for Paradox I don't think he would have found that passion as quickly or as fully. And without Paradox, I don't think we would have the brother-sister bond we have regained."