IRONMAN Foundation Announces IRONAID COVID-19 Support Fund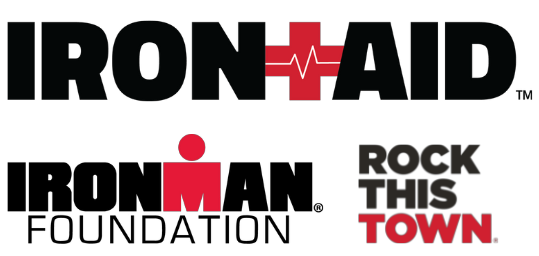 – IRONAID program to focus on serving event communities in the wake of COVID-19
– IRONMAN Foundation kicks off campaign with over $50,000 committed thanks to private and partner donations
– Operation IRONAID Face Masks created to repurpose new, unused event shirts into non-sterile face masks
TAMPA, Fla. (March 27, 2020) – The IRONMAN Foundation® has announced that in 2020, its existing IRONAID™ program will expand its resources to specifically focus on serving event communities in relation to the COVID-19 pandemic. IRONAID engages athletes in the healthcare industry who race IRONMAN® and IRONMAN 70.3® events, with the goal of raising funds and awareness for health-related causes. This year, all athletes will have the opportunity to support IRONAID, including Rock 'n' Roll Marathon Series® participants through Rock This Town®, a program of the IRONMAN Foundation and the charitable program for the Rock 'n' Roll Marathon Series.
"At The IRONMAN Group, we are committed to supporting people impacted by this global crisis, especially in the communities where we operate," said Andrew Messick, President & Chief Executive Officer for The IRONMAN Group. "We know that we can do much more together than we can alone, which is why we are working to provide essential resources to health-related nonprofit organizations around the world to help those who need it most."
To kick-off the campaign, over $50,000 has already been committed to IRONAID through private and partner donations. Additionally, for the first IRONMAN® Virtual Racing™(VR) Pro Challenge scheduled for April 4 and 5, 2020, the IRONMAN Foundation will match all donations made during the race up to USD $10,000.
Community members that would like to join us in supporting IRONAID's commitment can make donations at any time through the IRONAID website – www.ironmanfoundation.org/ironaid.
Additionally, recognizing that the immediate needs of communities will be different than those that will emerge in the months ahead, the IRONMAN Foundation has also established Operation IRONAID Face Masks, a program that repurposes new and unused event shirts into non-sterile face masks. The masks will be provided to COVID-19 patients upon discharge from the hospital to help keep others safe.
"As the world is faced with the unprecedented impact of the COVID-19 pandemic, the IRONMAN Foundation stands with the global community and recognizes the ability to make a positive difference in these uncertain times with IRONAID," said Sarah Hartmann, Executive Director for the IRONMAN Foundation. "Thanks to generous private and partner donations, we are pleased to kick off the campaign with over $50,000 USD already committed to IRONAID in addition to a matching donation campaign of $10,000 from the IRONMAN Foundation during the first IRONMAN VR Pro Challenge. To further amplify these important efforts, a portion of the fundraising efforts by TEAM IMF Athletes will also be dedicated to the IRONAID support fund in 2020. We are also looking forward to working with race operators and organizations around the world to help with the creation of non-sterile face masks from new and unused event shirts. We recognize that this is a challenging time, but our community is committed to working together to continue to create a lasting and tangible impact."
IRONAID funds will be available for grant applications by health-related nonprofit organizations around the world. Organizations who fit the criteria are invited to apply for funding. Potential projects include:
Providing personal, protective equipment (PPE) and supplies such as ventilators, CT/x-ray machines, etc.
Supporting programs in the areas of housing/homelessness, healthcare, nutrition/food support, mental health, domestic violence, care for seniors, etc.
Funding to support vulnerable individuals in quarantine.
Funding organizations that are working in areas with poor access to regular medical services. 
Supporting groups that are focused on WASH (Water, Sanitation and Hygiene).
Supporting the research into SARS-CoV-2 and COVID-19.
For full details on the IRONAID COVID-19 Support Fund and how to donate, apply for grant funding or participate in Operation IRONAID Face Masks, visit www.ironmanfoundation.org/ironaid. Race operators and organizations that wish to assist Operation IRONAID Face Mask with shirts that meet the criteria are requested to reach out to info@ironmanfoundation.org.
For more information on IRONMAN and the IRONMAN Foundation, please visit www.ironman.com and www.ironmanfoundation.org. Media related inquiries should be directed to press@ironman.com.
###
About the IRONMAN Foundation
The IRONMAN Foundation creates positive, tangible change in race communities by engaging athletes and volunteers to participate in programs that demonstrate service through sport and commitment to community. Since 2003, over $50,000,000 has been provided through giveback programs led by the IRONMAN Foundation to more than 9,500 local, regional, national and global nonprofit initiatives. Through these partnerships, IRONMAN and Rock 'n' Roll Marathon Series participants are powerfully linked to the community and together help leave a positive legacy behind in race communities long after event day. For more information on IRONMAN Foundation programs, including TEAM IMF, Community Fund, Rock This Town®, Your Journey Your Cause, and Women For Tri, visit www.ironmanfoundation.org.
About Rock 'n' Roll Marathon Series
The Rock 'n' Roll Marathon Series® is the world's largest running series taking part in over 30 destination events around the world every year. Established in 1998, the Rock 'n' Roll Marathon Series simple idea of making running fun has transformed both the U.S. and global running landscape by infusing the course with live bands, cheer teams and entertaining water stations, creating a block-party atmosphere for participants and spectators alike. Focused on running, music and community, race weekend kicks off with a free Health & Fitness Expo showcasing the latest in running gear, sports apparel, health and nutritional information and much more. Events culminate with an entertaining finish-line festival featuring some of the biggest names in music, with past performances including Macklemore & Ryan Lewis, O.A.R. Aloe Blacc, Pitbull, Flo Rida, The Band Perry, Fitz and the Tantrums, the Goo Goo Dolls and Bret Michaels. Further information about the Rock 'n' Roll Marathon Series can be found online at www.RunRocknRoll.com and follow @RunRocknRoll on all social platforms.
About The IRONMAN Group
The IRONMAN Group operates a global portfolio of events that includes the IRONMAN® Triathlon Series, the IRONMAN® 70.3® Triathlon Series, the IRONMAN® Virtual Racing™ (VR) Series, 5150™ Triathlon Series, the Rock 'n' Roll Marathon Series®, IRONKIDS®, ITU World Triathlon Series, premier running events including the Standard Chartered Singapore Marathon™ and The Sun-Herald City2Surf® presented by Westpac, Ultra-Trail® World Tour events including Tarawera Ultra and Ultra-Trail Australia™, mountain bike races including the Absa Cape Epic®, road cycling events, and other multisport races. The IRONMAN Group is the largest operator of mass participation sports in the world and provides more than a million participants annually the benefits of endurance sports through the company's vast offerings. Since the inception of the iconic IRONMAN® brand and its first event in 1978, athletes have proven that ANYTHING IS POSSIBLE® by crossing finish lines around the world. Beginning as a single race, The IRONMAN Group has grown to become a global sensation with more than 235 events across 55+ countries.  On March 26, 2020, Wanda Sports Group (Nasdaq: WSG) entered into an agreement to sell The IRONMAN Group to Advance; closing is anticipated in mid-2020.  For more information, visit www.ironman.com.
About Wanda Sports Group
Wanda Sports Group (Nasdaq: WSG) is a leading global sports events, media and marketing platform with a mission to unite people in sports and enable athletes and fans to live their passions and dreams. Through our businesses, including Infront and The IRONMAN Group, we have significant intellectual property rights, long-term relationships and broad execution capabilities, enabling us to deliver unrivalled sports event experiences, creating access to engaging content and building inclusive communities. We offer a comprehensive array of events, marketing and media services through three primary segments: Mass Participation, Spectator Sports and Digital, Production, Sports Solutions (DPSS). Our full-service platform creates value for our partners and clients as well as other stakeholders in the sports ecosystem, from rights owners, to brands and advertisers, and to fans and athletes. Headquartered in Beijing, China, Wanda Sports Group has more than 60 offices and 1,600 employees around the world.