IRONMAN Foundation Donates $90,000 to the Navy SEAL Foundation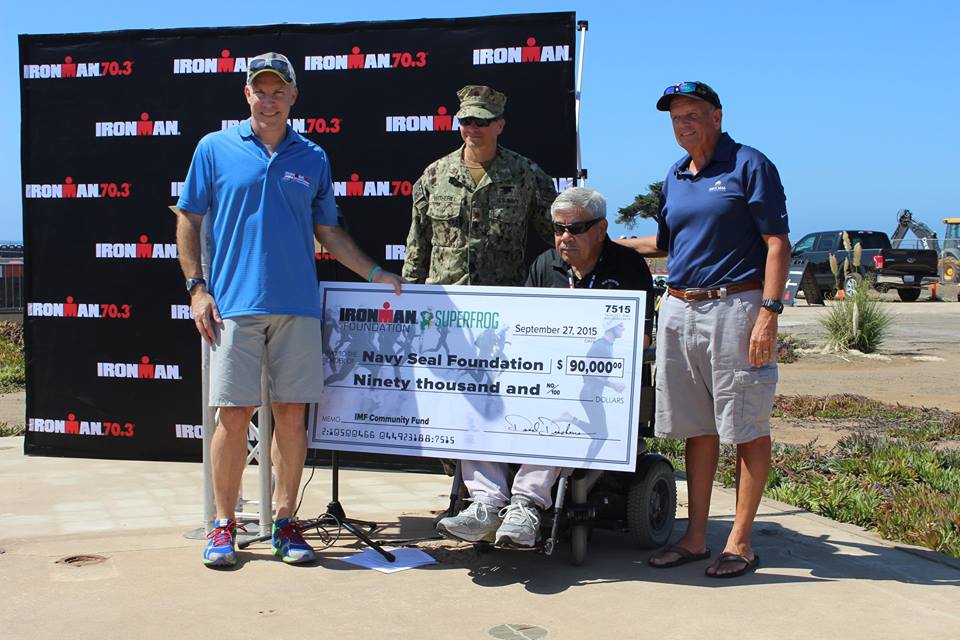 The IRONMAN Foundation® Community Fund provided a $90,000 donation to the Navy SEAL Foundation this past weekend as part of the IRONMAN® 70.3® SUPERFROG triathlon in Coronado, California that served as a charity fundraising race. The IRONMAN Foundation race entries were available to athletes participating in the event, with $200 from each of those entries serving as a tax-deductible donation towards The IRONMAN Foundation Community Fund.
"The birth of IRONMAN started with U.S. Naval Commander John Collins and wife, Judy, issuing a challenge to combine the 2.4-mile Waikiki Roughwater Swim with 112 miles of the Around-O'ahu Bike Race, followed by a 26.2-mile run on the same course as the Honolulu Marathon. In 1978, 15 competitors embraced the challenge and the world's most demanding and iconic endurance race began," said Andrew Messick, Chief Executive Officer for IRONMAN. "We are humbled to go back to our military roots with this incredible event and are honored to have The IRONMAN Foundation make this donation to the Navy SEAL Foundation and give back to those who serve our nation every day."
The Navy SEAL Foundation's mission is to provide immediate and ongoing support and assistance to the Naval Special Warfare (NSW) community, their families, and the families of the fallen, wounded and also transitioning NSW veterans. U.S. Navy SEALs have been in sustained combat for over 13 years, performing hazardous work in unforgiving environments at an unrelenting pace. SEALs are currently deployed in over 35 countries across the globe and spend up to 270 days each year in harm's way. The Navy SEAL Foundation stands behind these warriors and their families by delivering comprehensive, world-class programs that specifically address the community's unique needs.
"Intense training, physical strength, mental toughness and the desire to finish — IRONMAN athletes and Navy SEALs share a natural kinship," said Robin King, CEO, Navy SEAL Foundation.  "IRONMAN continues to be an inspiring partner committed to supporting Navy SEAL warriors and their families. This contribution has a direct impact on our capacity to serve our community in times of achievement, adversity and greatest sacrifice."
"The IRONMAN Foundation is able to provide givebacks to support causes in communities where we hold our IRONMAN and IRONMAN 70.3 events. We are able to do so through the generosity of our athletes who contribute to our community fund," said David Deschenes, Executive Director of The IRONMAN Foundation.
To learn more about the Navy SEAL Foundation and the incredible work that they do, please click here.