IRONMAN Foundation, Framebridge and Good360 Team Up for Operation IRONAID Face Masks to Support Communities Throughout the Country During COVID-19 Pandemic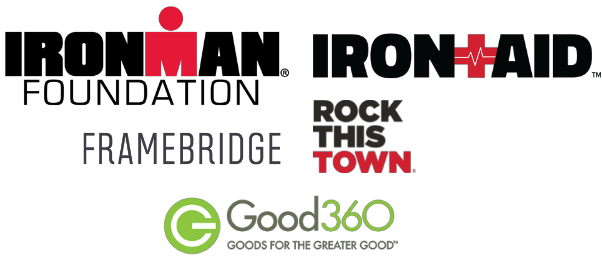 – More than 50,000 new and unused shirts will be turned into 500,000 non-sterile face masks and supporting the production of 100,000 acrylic face shields
– First batch distributed to Professional Firefighters of Arizona and to City of San Francisco for distribution to the city's most vulnerable populations
TAMPA, Fla. (April 27, 2020) – The IRONMAN Foundation®, Framebridge and Good360 have announced that they have partnered for Operation IRONAID® Face Masks, a program that will bring non-sterile face masks and other Personal Protective Equipment (PPE) to first responders, hospitals and other organizations in need across the nation.
Together, these brands are joining forces to repurpose more than 50,000 new and unused shirts into 500,000 non-sterile face masks and supporting the production of 100,000 acrylic face shields.
This past weekend, during the IRONMAN® VRTM Challenge Facebook Live broadcast, the IRONMAN Foundation announced the first round of Operation IRONAID Face Masks donations. With the support of United States Senior Senator Kyrsten Sinema, 7,500 non-sterile masks and 7,500 acrylic face shields will be distributed to the Professional Firefighters of Arizona. In addition, the IRONMAN Foundation announced on Sunday that the City of San Francisco will receive 5,000 non-sterile face masks for distribution to the city's vulnerable populations.
Members of the IRONMAN® community like Michael Kane, Senior Vice President Operations and Supply Chain at Framebridge, stepped up to the plate to offer support in the form of production capabilities, and Good360 joined in to manage logistics and transport raw materials and finished products to the first responders and hospitals who need them most. IRONMAN Foundation ambassador Bethany Smith also assisted with elevating the collaboration and found an opportunity with her employer, Beam Suntory, a world leader in premium spirits, to provide 18,624 new and unused shirts to be made into non-sterile and non-branded face masks.
"During this dynamic time, our greatest strength is in coming together, combining our resources and talents to make a positive difference in these uncertain times," expressed Sarah Hartmann, Executive Director of the IRONMAN Foundation. "With a shortage of protective masks throughout the world, we recognize the ability to make a positive difference with Operation IRONAID Face Masks. We are also looking forward to working with race operators and organizations around the world to help with the creation of non-sterile face masks from new and unused shirts. We recognize that this is a challenging time, but our community is committed to working together to continue to create a lasting impact." 
Framebridge, a company known for making easy and affordable custom frames, transformed its manufacturing facility in Lexington, Ky. from making frames to producing non-sterile face masks with new and unused race shirts provided by the IRONMAN Foundation, as well as acrylic face shields for those on the front lines of the COVID-19 pandemic. Framebridge will produce more than 15,000 non-sterile face masks a week.
"At Framebridge, we are honored to support frontline workers in the fight against COVID-19 pandemic through the manufacturing of PPE. We're proud to have quickly pivoted our custom framing operation and team to produce droplet masks and acrylic face shields when the need emerged. We are excited to work with the IRONMAN Foundation on Operation IRONAID Face Masks to make a positive impact together," shared Mike Kane, Senior VP Operations and Supply Chain.
Good360 is the global leader in product philanthropy and purposeful giving. The organization is committed to its mission of helping transform the lives of those in need through the distribution of essential goods during the COVID-19 pandemic. Good360 will manage logistics and transportation of the new and unused race shirts to Framebridge's facility in Lexington, Ky., and the finished non-sterile face masks to first responders, hospitals and others who are combating the pandemic.
"Being part of this collaboration to provide face masks and other PPE to first responders during this crisis makes us exceptionally proud," said Matt Connelly, CEO of Good360. "Our proven track record as a humanitarian supply chain, delivering goods to those in critical need, enables us to be part of this creative cross-sector solution. By leveraging each of our organization's individual strengths, we are more effective together in supporting those on the frontlines doing great work." 
The IRONMAN Foundation is also accepting donations of sterile masks to be used as PPE for distribution through the Operation IRONAID Face Masks program. Race operators and organizations with new and unused race shirts are encouraged to donate these items to the IRONMAN Foundation to be made into non-sterile face masks and distributed to help keep at-risk individuals safe.
In addition to Operation IRONAID Face Masks, the IRONMAN Foundation has expanded its IRONAID® program to include the IRONAID COVID-19 pandemic Support Fund. To date, over $160,000 has been raised and will go towards providing grants to health-related nonprofit organizations around the world who have launched COVID-19 pandemic response programs.
For additional information on Operation IRONAID Face Masks in partnership with Framebridge and Good360, as well as the IRONAID COVID-19 pandemic Support Fund and how to donate, visit www.ironmanfoundation.org/ironaid. Race operators and organizations that wish to assist Operation IRONAID Face Masks with shirts that meet the criteria are asked to reach out to info@ironmanfoundation.org.
###
About the IRONMAN Foundation
The IRONMAN Foundation creates positive, tangible change in race communities by engaging athletes and volunteers to participate in programs that demonstrate service through sport and commitment to community. Since 2003, over $50,000,000 has been provided through giveback programs led by the IRONMAN Foundation to more than 9,500 local, regional, national and global nonprofit initiatives. Through these partnerships, IRONMAN and Rock 'n' Roll Marathon Series participants are powerfully linked to the community and together help leave a positive legacy behind in race communities long after event day. For more information on IRONMAN Foundation programs, including TEAM IMF, Community Fund, Rock This Town®, Your Journey Your Cause, and Women For Tri, visit www.ironmanfoundation.org.
About Framebridge
Framebridge has revolutionized custom framing, recreating the traditional framing experience by offering high-quality, affordable, and fast custom framing direct to consumer. We started online with an easy and fun design interface, and recently brought the same slick, simple concept to brick and mortar retail. After almost six years of record growth and nearly one million unique items framed, Framebridge is positioned to take off from here. Founded in 2014 by Susan Tynan, Framebridge has 450 employees. Framebridge is headquartered in Washington DC and operates a state-of-the-art manufacturing facility in Richmond, Kentucky.
About Good360
Good360's mission is to transform lives by providing hope, dignity, and a sense of renewed possibility to individuals, families, and communities impacted by disasters or other challenging life circumstances who, without us, would struggle to find that hope. As the global leader in product philanthropy and purposeful giving, we partner with socially responsible companies to source highly needed goods and distribute them through our network of diverse nonprofits that support people in need. Good360 has distributed more than $9 billion in donated goods around the world, helping its network of more than 90,000 prequalified nonprofits strengthen communities and improve the lives of millions. Good360 is proud to partner with corporate donors such as Walmart, UPS, CVS Health Foundation, Amazon, Advance Auto Parts, RH, American Eagle Outfitters, Tempur Sealy International, Mattel, Gap, Inc., Levi Strauss & Company, and JPMorganChase. Good360 is a registered 501(c)(3) organization. Learn more at https://www.good360.org. 
About The IRONMAN Group
The IRONMAN Group operates a global portfolio of events that includes the IRONMAN® Triathlon Series, the IRONMAN® 70.3® Triathlon Series, the IRONMAN® Virtual Racing™ (VR™) Series, 5150™ Triathlon Series, the Rock 'n' Roll Marathon Series®, the Rock 'n' Roll Virtual Running™ Series, IRONKIDS®, ITU World Triathlon Series, premier running events including the Standard Chartered Singapore Marathon™ and The Sun-Herald City2Surf® presented by Westpac, Ultra-Trail® World Tour events including Tarawera Ultra and Ultra-Trail Australia™, mountain bike races including the Absa Cape Epic®, road cycling events, and other multisport races. The IRONMAN Group is the largest operator of mass participation sports in the world and provides more than a million participants annually the benefits of endurance sports through the company's vast offerings. Since the inception of the iconic IRONMAN® brand and its first event in 1978, athletes have proven that ANYTHING IS POSSIBLE® by crossing finish lines around the world. Beginning as a single race, The IRONMAN Group has grown to become a global sensation with more than 235 events across 55+ countries. On March 26, 2020, Wanda Sports Group (Nasdaq: WSG) entered into an agreement to sell The IRONMAN Group to Advance; closing is anticipated in mid-2020. For more information, visit www.ironman.com.