IRONMAN Foundation, HOKA ONE ONE, Firehouse Subs Public Safety Foundation Join Forces to Support California Wildfire Relief Efforts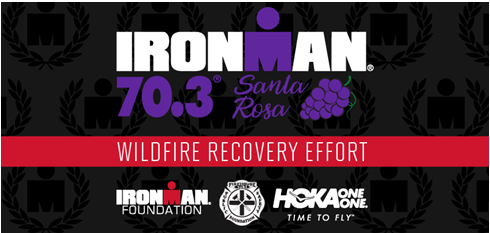 Service project with Rebuilding Together Petaluma and Community 5K for Santa Rosa Parks Foundation part of over $111,000 in charitable giveback at IRONMAN and IRONMAN 70.3 Santa Rosa Triathlons
TAMPA, Fla. (July 24, 2018) – In conjunction with the IRONMAN® 70.3® Santa Rosa triathlon, the IRONMAN Foundation® will continue its mission of creating tangible impact in IRONMAN race communities this week in Santa Rosa. Presented by HOKA ONE ONE and in partnership with Firehouse Subs Public Safety Foundation, the IRONMAN Foundation will be conducting a hands-on service project with Rebuilding Together Petaluma to assist in the construction of "tiny houses" for Santa Rosa residents who continue to be displaced by the Tubbs Wildfires that ripped through the region last October. The service project will take place on Sunday, July 29 at 10:00 a.m. and bring together IRONMAN staff, athletes, ambassadors and partners as well as employees from HOKA ONE ONE and CLIF Bar.
"Rebuilding Together Petaluma is thrilled to have the support of the IRONMAN Foundation and IRONMAN volunteers to construct new homes for fire survivors," said Jane Hamilton, Executive Director of Rebuilding Together Petaluma. "This gives our fire recovery work a significant boost towards success."
"HOKA ONE ONE is honored to be able to support IRONMAN, the IRONMAN Foundation, and the process of rebuilding together," said Wendy Yang, President of HOKA ONE ONE. "Our connection to the IRONMAN community, especially in our home state of California, goes well beyond the race itself, and it is humbling to see everyone come together to provide relief to our neighbors and friends."
Highlighted service project volunteers include:
Three-time IRONMAN World Champion triathlete Mirinda Carfrae and her husband and fellow professional triathlete, Timothy O'Donnell, multiple IRONMAN World Championship top-ten finisher. Both are also IRONMAN Foundation Ambassadors.
FOX Sports anchor and reporter and IRONMAN Foundation Ambassador Shannon Spake. Spake who hosts NASCAR Race Hub on FS1 and is a sideline reporter for the NFL on FOX will also be participating in Saturday's IRONMAN 70.3 Santa Rosa triathlon.
Village of Highland Hills (OH) Firefighter – Paramedic Diana Woolf, who will also compete in Saturday's IRONMAN 70.3 Santa Rosa triathlon. She will race the run portion of the event in her full firefighter gear as she raises money and awareness for the National Fallen Firefighters Foundation and her personal campaign, Rescue4PTSD. She has been part of the fire service for 20 years serving on volunteer, part-time and career departments.
Marine Corps veteran and IRONMAN Foundation Ambassador Mike Ergo. Ergo will also be competing in Saturday's IRONMAN 70.3 Santa Rosa triathlon and will carry the American flag during the run portion of the event to honor Army Pfc. Cesar Viglienzone, a Santa Rosa native killed in action in Baghdad on February 1, 2006. This initiative is in partnership with Flags4Fallen, a volunteer team that recruits athletes to carry a full-sized American Flag to the finish line for families who have lost a loved one in the line of duty.
"IRONMAN is about creating a sense of community, and through the support and generosity of our athletes and partners like HOKA ONE ONE, the Firehouse Subs Public Safety Foundation and CLIF Bar, we hope to be able to make a difference in Santa Rosa's continued recovery from the wildfires," said Sarah Hartmann, Acting Executive Director of the IRONMAN Foundation. "It will be a highlight to honor local first responders, to run the Community 5k on Sunday morning and support the restoration of Santa Rosa's parks and later provide hands-on rebuilding assistance with Rebuilding Together Petaluma."
To kick-off event weekend, the IRONMAN Foundation will host a First Responders Reception at Perch + Plow on Friday, July 27 to honor local men and women who bravely fought the wildfires and continue to ensure the safety of the Santa Rosa residents.
Also taking place this week will be an IRONMAN Foundation Community 5K scheduled for Sunday, July 29 at 8:00 a.m. at the Old Courthouse Square. Proceeds from this event will go directly to the Santa Rosa Parks Foundation to provide assistance as they work to rebuild local parks that were affected by the wildfires. This year, the IRONMAN Foundation will distribute a total of $111,000 in charitable giveback to non-profit initiatives and groups in the Santa Rosa region.
More information on the service project and 5K, including registration, can be found by visiting www.ironmanfoundation.org/santa-rosa.
For more information on IRONMAN and The IRONMAN Foundation, please visit www.ironman.com and www.ironmanfoundation.org. For media related inquiries, please contact press@ironman.com.  
### 
About The IRONMAN Foundation 
The IRONMAN Foundation® creates positive, tangible change in IRONMAN race communities by engaging athletes and volunteers to participate in programs that demonstrate service through sport and commitment to community. Since 2003, over $50,000,000 has been provided through IRONMAN Foundation programs to more than 6,300 local, regional, national and global nonprofit initiatives. Through these partnerships, IRONMAN athletes are powerfully linked to the community and together we leave the IRONMAN legacy behind in our race communities long after event day. For more information on IRONMAN Foundation programs, including Team IMF, Community Fund, Your Journey Your Cause, and Women For Tri, visit www.ironmanfoundation.org. 
About Rebuilding Together Petaluma  
Rebuilding Together Petaluma is a Safe and Healthy Housing organization that believes "Community Starts at Home."  Our focus provides critical repairs, accessibility modifications and energy efficient upgrades to low-income homes and community centers at no cost to service recipients. Our impact extends beyond the individuals served to revitalize and stabilize vulnerable neighborhoods. Nationwide Rebuilding Together's 187 local affiliates complete more than 10,000 rebuild projects a year thanks to the efforts of 100,000 volunteers from corporate partners, skilled trades professionals and everyday good citizens.
About HOKA ONE ONE
HOKA ONE ONE® is the fastest growing premium running shoe brand in the world. Two life-long runners launched HOKA in 2009, after years spent handcrafting and shaping lightweight shoes with extra-thick midsoles. Initially embraced by ultrarunners because of their enhanced cushioning and inherent stability, HOKA now offers shoes for all types of athletes who enjoy the unique ride the shoes provide. For more information visit hokaoneone.com or follow @hokaoneone #timetofly.
About Firehouse Subs Public Safety Foundation 
Firehouse Subs Public Safety Foundation was founded in 2005 in the aftermath of Hurricane Katrina, when Firehouse Subs Founders, Chris Sorensen and Robin Sorensen, traveled to Mississippi where they provided food to first responders and survivors. As they traveled back to Florida, they knew they could do more and Firehouse Subs Public Safety Foundation was born with the mission of providing funding, life-saving equipment and educational opportunities to first responders and public safety organizations. Since its inception, the non-profit organization has granted more than $35 million to hometown heroes in 47 states, Puerto Rico and Canada.
About IRONMAN 
A Wanda Sports Holdings company, IRONMAN operates a global portfolio of events that includes the IRONMAN® Triathlon Series, the IRONMAN®70.3® Triathlon Series, 5150™ Triathlon Series, the Rock n' Roll Marathon Series®, Iron Girl®, IRONKIDS®, International Triathlon Union World Triathlon Series races, road cycling events including the UCI Velothon® Series, mountain bike races including the Absa Cape Epic®, premier marathons including the Standard Chartered Singapore Marathon, and other multisport races. IRONMAN's events, together with all other Wanda Sports Holdings events, provide more than a million participants annually the benefits of endurance sports through the company's vast offerings. The iconic IRONMAN® Series of events is the largest participation sports platform in the world. Since the inception of the IRONMAN® brand in 1978, athletes have proven that ANYTHING IS POSSIBLE® by crossing finish lines at the world's most challenging endurance races. Beginning as a single race, IRONMAN has grown to become a global sensation with more than 230 events across 53 countries. For more information, visit www.ironman.com.
About Wanda Sports Holdings 
Wanda Sports Holdings is the world's leading sports business entity, founded to capture the opportunities in the global sports industry and to contribute to the prosperous international sports landscape – in three key areas: 1) Spectator Sports (media & marketing business), 2) Participation Sports (active lifestyle business), 3) Services (digital, production and service business). Wanda Sports Holding incorporates the international sports marketing company Infront Sports & Media, the iconic endurance brand IRONMAN, and Wanda Sports China. The headquarters are in Guangzhou, China.