IRONMAN FOUNDATION, NEW YORK HEALTH & RACQUET CLUB AND FIREHOUSE SUBS PUBLIC SAFETY FOUNDATION TEAM UP FOR PUERTO RICO RELIEF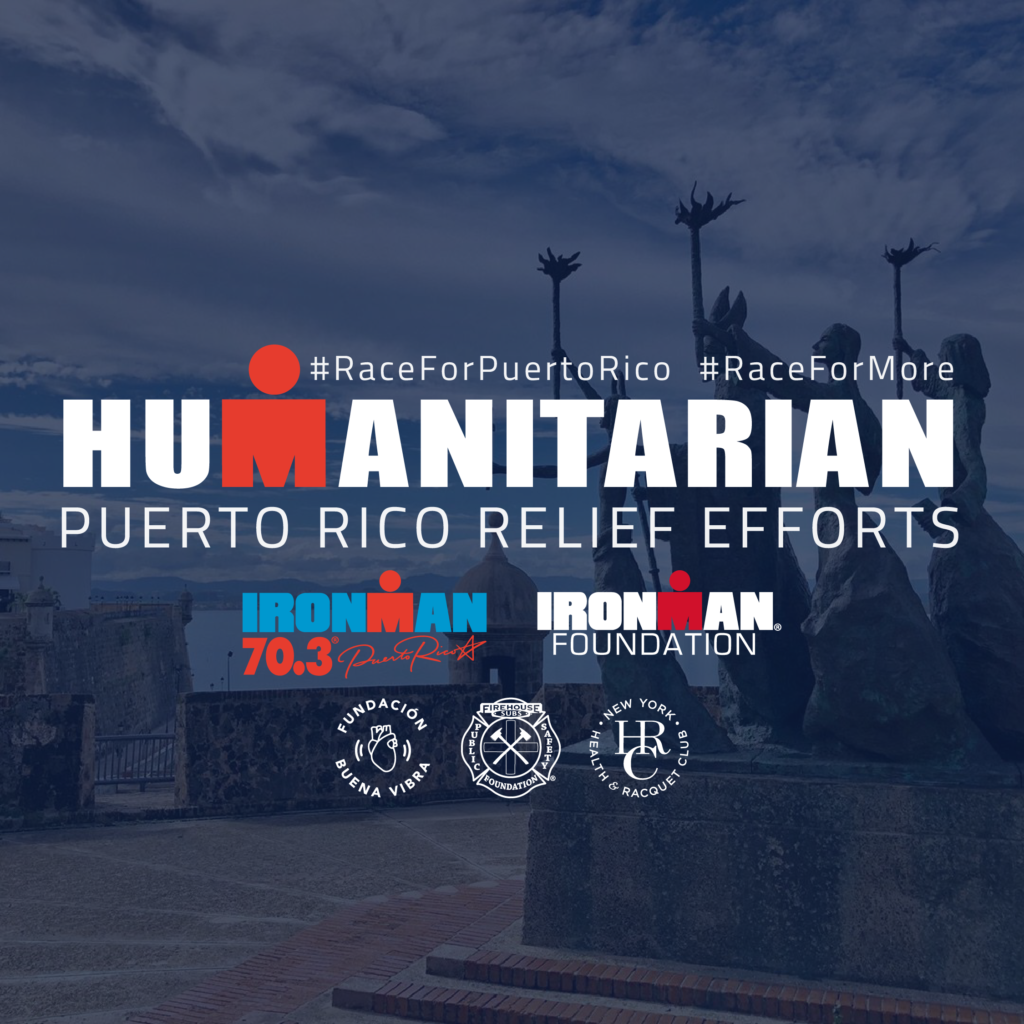 The IRONMAN Foundation® will provide $120,000 in Humanitarian Relief Effort funding to five nonprofit organizations in Puerto Rico to support Hurricane Maria recovery efforts in conjunction with the IRONMAN® 70.3® Puerto Rico triathlon which will be held on March 18, 2018. The support includes a large-scale service project in partnership with the Buena Vibra Foundation, where 125 athletes and volunteers on March 19 will help restore homes and revitalize the community of Barrio Ingenio in Toa Baja.
"IRONMAN is about creating a sense of community, and through the support and generosity of our athletes and partners, we hope to be able to make a difference in Puerto Rico's recovery," said Joanna Jordan, Managing Director for IRONMAN in Latin America. "We look forward to welcoming athletes and volunteers who are traveling from around the world to 'Race For Puerto Rico' and provide hands-on rebuilding support the day after the race."
"We are grateful and honored that the IRONMAN Foundation will work with Barrio Ingenio in Puerto Rico for their volunteer efforts right after the IRONMAN 70.3 race," said Max Pérez, Vice-President of Buena Vibra Group and Vice-President of Buena Vibra Foundation. "It shows the strong commitment the organization and volunteers have in investing and giving back to the locations which host their events. In addition, their collaboration ensures the continuity of our efforts to positively impact Puerto Rico's communities via donations towards repairing informal homes all over the Island."
Grant Awards
Grants will be awarded to five local nonprofit organizations to address long-term recovery needs in five areas: reforestation, water quality, solar power, hunger and home restoration. Funding was raised by donations to the Humanitarian Relief Effort campaign including generous donations from New York Health & Racquet Club (NYHRC), Firehouse Subs Public Safety Foundation and NFL veteran Don Davey in conjunction with his fundraising efforts with the VIKTRE Challenge. The grantees will be recognized at the IRONMAN 70.3 Puerto Rico awards ceremony on Sunday, March 18. The grantees are:
Puerto Rico Conservation Trust: Funding to plant one -million trees over the next 10 years.
Corporation for the Conservation of the San Juan Bay Estuary: Funding to restore the water quality of the Condado Lagoon and associated ecosystems.
Foundation for Puerto Rico: Funding to install solar power in two communities.
Banco de Alimentos de Puerto Rico: Funding to support the food bank and feed those in need.
Buena Vibra Foundation: Funding to replace roofs, rebuild homes and restore the community of Barrio Ingenio, including the Community Revitalization Volunteer Day on March 19.
"New York Health & Racquet Club is extremely proud of our partnership with the IRONMAN Foundation," said Anton Bass, Chief Marketing Officer for New York Health & Racquet Club. "We have five NYHRC athletes competing in IRONMAN 70.3 Puerto Rico and a total of 10 volunteers from our NYHRC team contributing to efforts in San Juan.  Through a campaign with our members, we raised $75,000 for the Humanitarian Relief Efforts in Puerto Rico and we are excited for the opportunity to be on the ground to contribute in the rebuilding efforts."
Race Week
At the IRONMAN 70.3 Puerto Rico race expo on March 16 and 17, the IRONMAN Foundation will greet athletes and collect VISA gift cards to be provided to the "adopted" families in Barrio Ingenio. Participating athletes include:
Kyrsten Sinema, U.S. Representative from Arizona and chair of the Women For Tri® Advisory Committee, a program of the IRONMAN Foundation that seeks to increase female participation in the sport of triathlon.
Don Davey, the first and only four-time Academic All-American in NCAA football history who went on to have a 10-year NFL career with the Green Bay Packers and Jacksonville Jaguars. Don is also a six-time IRONMAN® finisher.
Sam Cardona, a New York City-based triathlete, IRONMAN Foundation Ambassador and native of Puerto Rico. He is an accomplished fitness professional, athlete and coach, a 14-time IRONMAN finisher and a former member of the elite US Army Light Infantry who trained with the 10th Mountain Division.
Service Project
Athletes from around the world will travel to Puerto Rico to race IRONMAN 70.3 Puerto Rico and provide hands-on rebuilding support at the service project the day after the race. On Monday, March 19, 125 athletes and volunteers will travel to Barrio Ingenio in Toa Baja with the Buena Vibra Foundation for a day of community impact. The volunteers will work in teams, collaborating directly with community residents and leaders to restore multiple houses. The experience will include a family-style community lunch for volunteers, residents, community leaders and local government employees.
"We are grateful for the generosity of the IRONMAN community around the world for their support of our Humanitarian Relief Effort campaign, especially New York Health & Racquet Club, Don Davey and the Firehouse Subs Public Safety Foundation," said Sarah Hartmann, Director of Community Relations for the IRONMAN Foundation. "It's a privilege to support the inspiring and innovative work of our nonprofit partners to create a lasting and tangible impact in Puerto Rico. It will be a highlight to meet the residents of Barrio Ingenio, introduce them to our athletes and volunteers, and help restore their homes."
Service project volunteer registration is available until March 13 at www.ironmanfoundation.org/puerto-rico-relief-effort/. Online registration for IRONMAN 70.3 Puerto is available until March 13 at www.ironman.com.
For more information on IRONMAN and The IRONMAN Foundation, please visit www.ironman.com and www.ironmanfoundation.org. For media related inquiries, please contact press@ironman.com.