IRONMAN LAKE PLACID | WE'VE GOT THE BEAT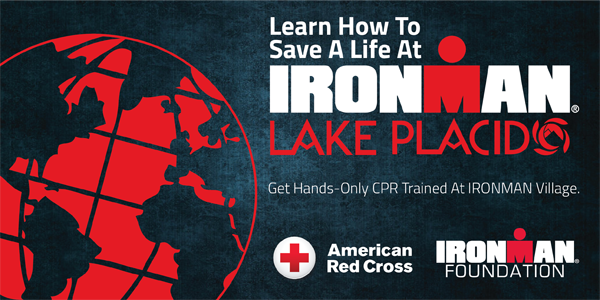 The IRONMAN Foundation® will host a large-scale Hands-Only CPR training for the community of Lake Placid, for IRONMAN athletes, and for their families and friends, on July 20, 21 and 22 at IRONMAN Village located inside the Olympic Oval as part of IRONMAN® Lake Placid race week. In addition, The IRONMAN Foundation will award a $5,000 Community Grant to the American Red Cross Eastern New York Region to support its training programs. The IRONMAN Foundation will distribute more than $90,000 in total charitable giveback to non-profit initiatives and groups in the greater Lake Placid region in conjunction with the 2017 IRONMAN® Lake Placid triathlon taking place on Sunday, July 23.
"We are thrilled to be able to partner with the IRONMAN Foundation to bring lifesaving training to thousands of people during IRONMAN Lake Placid race week," said Jane Gendron, Executive Director of the American Red Cross North Country Chapter, which serves the community of Lake Placid. "This is a unique opportunity and we are very grateful to the IRONMAN Foundation and our many dedicated volunteers for helping to make it possible."
The IRONMAN Foundation Community Fund provides community and volunteerism grant opportunities to non-profit organizations where IRONMAN events are held. This year's grant funding brings the total historical giveback to more than $1.5 million in the region. In 2017, The IRONMAN Foundation will distribute more than $1.5 million in grant funding to support the needs of IRONMAN race communities across North America.
In addition to the American Red Cross, two local non-profit organizations will receive Community Grant awards, the Lake Placid Outing Club and the Mirror Lake Watershed Association. Grants will be awarded at the Welcome Ceremony on Friday, July 21 and will include a special grant to Adirondack Health's Stafford New Life Center. IRONMAN athlete Ryan Heisler raised the funds for the special grant as part of the IRONMAN Foundation's "Your Journey, Your Cause Program" and in memory of his infant son, Owen.
"As both an organization and as individuals, we are incredibly moved by Ryan's support for our Stafford New Life Center," said Sylvia Getman, Adirondack Health President & CEO. "His generosity and compassion will touch hundreds of lives, and we are so very grateful to count Ryan as a friend. We wish him, and all of his fellow competitors, a safe and successful IRONMAN."
"It's an honor to support so many incredible local community organizations and causes," said Sarah Hartmann, Community Relations Manager for The IRONMAN Foundation. "Together we are creating a tangible and lasting impact in Lake Placid. It will be a highlight to meet members of the community, the athletes and their friends at the three-day Hands-Only CPR training, introduce them to our IRONMAN Foundation Ambassadors, including Team Captain and "Voice of IRONMAN" Mike Reilly and learn how to save a life!"
To learn more about the Hands-Only CPR training or to volunteer, click HERE.