How to Make Your Training Miles Really Count

Join IRONMAN and Charity Miles to support your community, by earning dollars with every step.
Triathletes spend months preparing to toe the start line of an IRONMAN race. During their training, they log many miles to ensure peak performance ensues on race day. The IRONMAN Foundation now has a way to make those miles count for more than just conditioning.
Together with the smart phone app Charity Miles, The IRONMAN Foundation is proud to offer athletes from all over the world the opportunity to give back to race communities by doing what they already do—train! For each mile logged in support of The IRONMAN Foundation, Charity Miles will donate money to the IMF Community Fund. This fund supports various vital athletic, community, education, health, human services and public benefit non-profit organizations in IRONMAN race communities in North America. Together we can turn your miles into positive, tangible community impact.
Since many athletes already carry phones during a workout—participating requires only one additional step. Simply activate the Charity Miles app before heading out to make each mile count. With racing season in full swing, most triathletes will be logging miles each and every day.
Getting started is simple. Before heading out on your next ride or run, follow these easy steps to start making your miles count today!
1. Download the Charity Miles app from your iPhone or Android platform.
2. Set up your account to begin logging miles.
3. Before heading out for a run or a ride, open the Charity Miles app and select the IRONMAN Foundation as your charity of choice.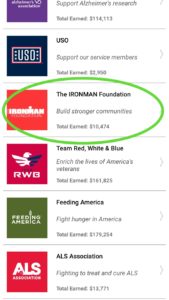 4. Complete your workout with the Charity Miles app activated. Cyclists earn up to 10 cents per mile; runners/walkers earn up to 25 cents per mile.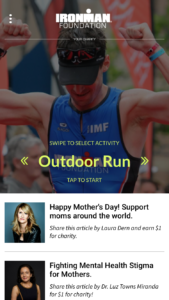 5. At the end of your training, stop the app to complete the transaction and submit your mileage to the IRONMAN Foundation bank.
6. Every time you run, walk, or bike, turn on Charity Miles. (Consistency is key!)
The average IRONMAN athlete while in peak training completes 280 miles total weekly, 7 miles of swimming, 225 of biking and 48 of running. The math is simple and the funds really can add up quickly to help to make a difference. At .10 cents per mile of biking, and at .25 cents per mile of running, that equals a donation to The IRONMAN Foundation of $34.50 per week.
Additionally, this app can be used for countless other activities, walking the dog, grocery shopping, going for a hike, a stroll in the park—every mile matters. According to Charity Miles, the average miles per user, is just 4 miles per use. Since the launch of Charity Miles, they have donated over $2 million to their charitable organizations in the app.
Without support of the communities, IRONMAN races could not happen. By donating miles to The IRONMAN Foundation, athletes now have a way to thank these communities for being part of their journey to the finish line. After all, becoming an IRONMAN is a life-changing experience, so why not help change lives in return?
To learn more about the IRONMAN Foundation, visit IRONMANFoundation.org. To learn more about Charity Miles visit charitymiles.org.
*Original post can be found on IRONMAN.com HERE.