Miriam Swedlow| MEET THE TEAM
Even the mental endurance race of law school won't stop Miriam Swedlow from achieving her dream of racing her first IRONMAN! As a self-proclaimed "DIY Athlete", Miriam focuses making the sport inviting for all who dare to dream (herself included), rather than having the latest and greatest aero gear. By supporting The IRONMAN Foundation through her race this year, Miriam has given new meaning to her IRONMAN Journey, and knows that no accomplishment is achieved in isolation- she's so thankful for the Coeur d'Alene race community that will be supporting her through her race day!
What is your 'IRONMAN resume'? 
Coeur D'Alene will be my first full distance IRONMAN! I have completed the Lake Stevens Half IRONMAN three times and have finished many Olympic and sprint distance races over the past eight years. I had hoped to complete a full distance IRONMAN the year that I turned forty, but this goal shifted when I began the intellectual endurance race of law school at the University of Washington. As I entered the final stretch of law school my mind turned again to the IRONMAN and my personal goal to complete a full distance race. I began training the first week of March, graduated in June, took the bar exam on July 26 and 27, and hope to finally cross the finish line in Coeur D'Alene in a few weeks.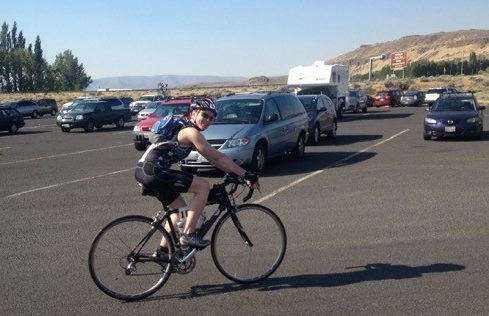 Why did you decide to #RaceForMore this year with The IRONMAN Foundation?
I decided to fund raise for the IRONMAN Foundation because I know that no accomplishment is achieved in isolation. It is only with the support of community that we are able to rise and become our better selves. I decided to go to law school in order to have a greater impact as an advocate in healthcare (I am a RN and working in a hospital for over 12 years). But for the past three years my focus has been sharpened on trying to balance school and my family. As I moved closer to graduation I wanted desperately to give back. I love that the IRONMAN Foundation is not limited to one cause, but instead provides funding and support to a vast array of organizations and groups. Fundraising for IMF has made my preparation for race day more meaningful and I look forward to crossing off each mile with the knowledge that I am not alone, but have the support and encouragement of each person that donated to my campaign.  Although the physical effort is mine alone, when I (hopefully) cross the finish line, the victory will belong to all of us together.
What has been your most successful method of fundraising thus far?
The greatest success I have had is simply taking the time to ask. Although posting to Facebook and other social media spaces brought in some support, the vast amount of donations that I received was from me writing people and asking for their help. Sometimes more than once. It is hard to ask people for money, but this is such a great cause I never felt bad reaching out. The worst thing that can happen is they say "no." But I was blown away by the support and from people's willingness to ask others on my behalf. It has been humbling and rewarding.
Any words of wisdom for first-time IRONMAN Athletes?

I am what I like to call a "DIY athlete." I do not have fancy or high-tech gear (my bike is close to ten years old and I bought it used!). I do not belong to a training group or have a personal trainer. But I have not let that stop me. Instead, I created a training plan from books that I researched from the library. I ask questions and learn from fellow triathletes. I remind myself that I am not there to compete with anyone but my own mind that challenges me with self-doubt and insecurities. While I certainly am victim to "gear envy" from time to time, I love my bike and am able to use it not only for triathlons but for other cycling events. When you come to events it can be pretty intimidating—everyone looks so professional and strong. But I am here to remind you that triathlons are for everyone, not just professionals and weekend warriors. The hardest part is simply showing up and taking those first steps.
What is a fun/unexpected fact about yourself?
I met my husband when I was 17 and living on a school bus following the Grateful Dead. Together we have five amazing children. Our oldest is 23 and he is engaged to a wonderful woman from Spokane, WA who grew up volunteering for IRONMAN Coeur D'Alene. Our 20 year old daughter and 18 year old son have both moved to Israel, become dual citizens and are serving in the Israel Defense Forces. This means that we only have two kids at home, two boys ages 15 and 10. It truly has been a wild adventure and I am looking forward to the new challenges ahead.