Richard Alamo, Conquering Demons on the Race Course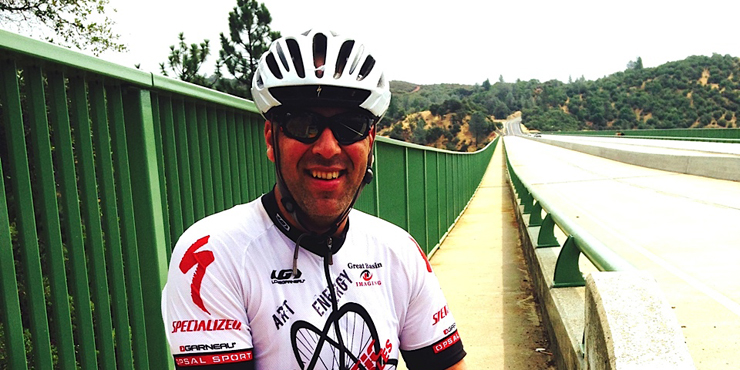 One man's sobering journey through IRONMAN. by Lisa Dobear
When 38-year-old Richard Alamo talks about going into "survival mode," he isn't referring to the grueling 140.6 miles it takes to get to an IRONMAN finish line. For the four-time IRONMAN finisher, survival mode used to be a 30-pack of beer and a couch.
"Before IRONMAN racing, I was just surviving," he says. "I experienced so many traumatic events in my youth. My grandmother raised me, and at one point we were homeless. She passed away when I was 14, and I found myself alone with nowhere to go. I lived in the streets and I started drinking." For most of his life, surviving was all Alamo knew how to do.
In an attempt to deal with his emotions, the Elk Grove, Calif. firefighter turned to marathons, but couldn't outrun his demons. "When a fellow firefighter was training for a sprint triathlon, I thought it might be time for me to try something else. In 2008, I found an Olympic distance race in East Los Angeles, where I grew up, and decided to sign up
and go conquer my demons back where it all started." He finished the race, but the demons remained. "I went back to drinking because that was the only way I knew how to run," he says.
Unable to cope through running alone, Alamo evaded his reality by watching sports and getting drunk. Perhaps by some twist of fate, his channel surfing landed on the IRONMAN World Championship broadcast one day in 2009. "The TV said 'IRONMAN triathlon," he recalls. "I had no idea what that was—I thought that Olympic distance triathlons were all that existed." As age-groupers crossed the finish line, Alamo was inspired and immediately started looking for a race to do. He settled on, and completed, a local full-distance event, but the finish line still couldn't slay the dragon. "Honestly, I thought that completing an IRONMAN race would fix me … (but) I was still a disaster inside."
While some newly-minted IRONMAN finishers start planning their next events and new "personal bests" mere moments after completing their races, Alamo left his to get an 18-pack of beer and went home to drink. His life spiraled out of control as he found his "personal worst." He drank heavily every day and got up to 300 lbs. In August 2011, he decided to end his life. (Alamo is pictured above in front of the bridge where he had planned to end his life.)
Fate intervened a second time, and Alamo changed his mind. "I knew I had to find a better way," he said. Recalling the same broadcast that inspired him, featured athlete Shane Niemeyer came to mind—"the journey from suicidal junkie to IRONMAN."
"It was one of the first times in my life that I felt an emotion and didn't reach for a beer. I knew then that I needed a purpose to stay occupied and find true sobriety." Alamo decided to give an IRONMAN event another shot and, that fall, headed to Tempe, Arizona to volunteer and register
for 2012.
This time, Alamo found a therapeutic experience. "I realized that IRONMAN racing could help me occupy my mind when all of the emotion, hurt and trauma from my past was in my face and I had to deal with it. It gave me a chance to heal while being active and sober."
Though Alamo's completed races have certainly helped him, it was actually a race he didn't start that finally brought him peace. Alamo was among the athletes that arrived to race the 2014 IRONMAN Lake Tahoe and was devastated when it was canceled just minutes before the start. "I trained so hard, and almost didn't sign up
because I wasn't sure I could finish such a tough course," he recalls. "Although I was disappointed, I realized that it wasn't doing the race that was going to define me or prove that I could be strong. It was the journey that got me there. In that moment, I knew that I had finally built the courage and strength to stand on my own two feet."
Along with his experiences in triathlon, Alamo's daughter is also a guiding light to him. "Whenever I experience lows in life, while training or at races, I always think of the way she's supported and encouraged me through my disease over the years," he says. "She reminds me that I have greatness inside, and to do an IRONMAN event for me and nobody else."
Alamo may not "need" IRONMAN racing anymore, but that doesn't mean he's ready to let it go. "I've met so many wonderful people in this sport, and one of my favorite things about it is having the opportunity to inspire others," he says. Alamo discovered the IRONMAN Foundation when he was in Arizona, and knew he wanted to get involved. He's headed back to Arizona next year and plans to raise $3,000 for the Foundation.
"I want to give back, and tell my story with the hope that I might help someone else."
Watch: Alamo's IRONMAN Foundation video