Rock This Town, the Charitable Program for the Rock 'n' Roll Marathon Series, Launches Nashville Tornado Relief Effort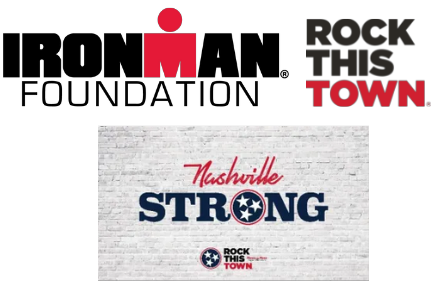 Humanitarian Relief Effort funds to support local recovery efforts in response to recent damage caused by tornadoes in middle Tennessee
NASHVILLE, Tenn. / TAMPA, Fla. (March 6, 2020) – Rock This Town®, a program of the IRONMAN® Foundation and the charitable program for the Rock 'n' Roll Marathon Series® has launched a Humanitarian Relief Effort campaign to raise critical funds in response to the major damage caused by the tornadoes in middle Tennessee. Funds raised will support recovery efforts and service projects in the greater race community for the St. Jude Rock 'n' Roll® Nashville Marathon & ½ Marathon taking place on April 25-26, 2020.
With community being a core pillar of the Rock 'n' Roll Marathon Series, Rock This Town is dedicated to creating a positive impact across event city locations through grant funding and volunteerism. To support local relief efforts the IRONMAN Foundation has matched the $10,000 donation made by the Nashville Convention & Visitors Corp. to the Music City Inc. Foundation.
"We stand with the staff of The IRONMAN Group regional office in Nashville along with the local community and call upon our greater IRONMAN and Rock 'n' Roll Marathon Series community to join us in helping bring assistance in this time of need," said Sarah Hartmann, Executive Director of the IRONMAN Foundation. "The areas affected will require ongoing assistance and donations, and service projects will be critically important for their continued recovery efforts."
In an effort to give back to the local Nashville community, Rock This Town will offer a hands-on Service Project Day taking place on Sunday, April 26 to assist the community with rebuilding. Additional information can be found at www.ironmanfoundation.org/relief.
To help raise funds for those in need, the IRONMAN Foundation has set up three ways to help with the Nashville Relief Effort:
DONATE – All donations will fund Rock This Town Humanitarian Relief Effort Grants awarded at the 2020 St. Jude Rock 'n' Roll Nashville Marathon & ½ Marathon.
T-SHIRT SALES – 100% of the proceeds raised through the sale of a custom "Nashville Strong" Relief T-Shirt will go towards Rock This Town's Humanitarian Relief Effort Grants.
VOLUNTEER – Register to volunteer and provide hands-on recovery assistance at the local service project planned for Sunday, April 26 in Nashville.
"We cannot thank the IRONMAN Foundation and Rock This Town enough," said Butch Spyridon, President and CEO, Nashville Convention & Visitors Corp. "We have been partners on the marathon for more than 20 years, and their generosity is evidence of how deep the partnership is."
For full details on the Humanitarian Relief Effort and how to donate, purchase t-shirts or volunteer, visit www.ironmanfoundation.org/relief. To learn more information on the St. Jude Rock 'n' Roll Nashville Marathon & ½ Marathon, visit www.runrocknroll.com/Nashville. For more information on the Rock 'n' Roll Marathon Series, please visit www.RunRocknRoll.com. Media related inquiries should be directed to press@runrocknroll.com.
###
About the IRONMAN Foundation
The IRONMAN Foundation creates positive, tangible change in race communities by engaging athletes and volunteers to participate in programs that demonstrate service through sport and commitment to community. Since 2003, over $50,000,000 has been provided through giveback programs led by the IRONMAN Foundation to more than 9,500 local, regional, national and global nonprofit initiatives. Through these partnerships, IRONMAN and Rock 'n' Roll Marathon Series participants are powerfully linked to the community and together help leave a positive legacy behind in race communities long after event day. For more information on IRONMAN Foundation programs, including Team IMF, Community Fund, Rock This Town®, Your Journey Your Cause, and Women For Tri, visit www.ironmanfoundation.org.
About Rock 'n' Roll Marathon Series
The Rock 'n' Roll Marathon Series® is the world's largest running series taking part in over 30 destination events around the world every year. Established in 1998, the Rock 'n' Roll Marathon Series simple idea of making running fun has transformed both the U.S. and global running landscape by infusing the course with live bands, cheer teams and entertaining water stations, creating a block-party atmosphere for participants and spectators alike. Focused on running, music and community, race weekend kicks off with a free Health & Fitness Expo showcasing the latest in running gear, sports apparel, health and nutritional information and much more. Events culminate with an entertaining finish-line festival featuring some of the biggest names in music, with past performances including Macklemore & Ryan Lewis, O.A.R. Aloe Blacc, Pitbull, Flo Rida, The Band Perry, Fitz and the Tantrums, the Goo Goo Dolls and Bret Michaels. Further information about the Rock 'n' Roll Marathon Series can be found online at www.RunRocknRoll.com and follow @RunRocknRoll on all social platforms.
About The IRONMAN Group
As part of Wanda Sports Group, The IRONMAN Group operates a global portfolio of events that includes the IRONMAN® Triathlon Series, the IRONMAN® 70.3® Triathlon Series, 5150™ Triathlon Series, the Rock 'n' Roll Marathon Series®, IRONKIDS®, ITU World Triathlon Series, premier running events including the Standard Chartered Singapore Marathon™ and The Sun-Herald City2Surf® presented by Westpac, Ultra-Trail® World Tour events including Tarawera Ultra and Ultra-Trail Australia™, mountain bike races including the Absa Cape Epic®, road cycling events, and other multisport races. The IRONMAN Group is the largest operator of mass participation sports in the world and provides more than a million participants annually the benefits of endurance sports through the company's vast offerings. Since the inception of the iconic IRONMAN® brand and its first event in 1978, athletes have proven that ANYTHING IS POSSIBLE® by crossing finish lines around the world. Beginning as a single race, The IRONMAN Group has grown to become a global sensation with more than 235 events across 55+ countries. For more information, visit www.ironman.com.
About Wanda Sports Group
Wanda Sports Group (Nasdaq: WSG) is a leading global sports events, media and marketing platform with a mission to unite people in sports and enable athletes and fans to live their passions and dreams. Through our businesses, including Infront and The IRONMAN Group, we have significant intellectual property rights, long-term relationships and broad execution capabilities, enabling us to deliver unrivalled sports event experiences, creating access to engaging content and building inclusive communities. We offer a comprehensive array of events, marketing and media services through three primary segments: Mass Participation, Spectator Sports and Digital, Production, Sports Solutions (DPSS). Our full-service platform creates value for our partners and clients as well as other stakeholders in the sports ecosystem, from rights owners, to brands and advertisers, and to fans and athletes. Headquartered in Beijing, China, Wanda Sports Group has more than 60 offices and 1,600 employees around the world.