The IRONMAN Group and IRONMAN Foundation Bring "Race For Change" Diversity Initiative to Memphis County in Conjunction with St. Jude IRONMAN 70.3 Memphis; Stax Music Academy Tapped to Create Original Theme Song for Local Outreach Effort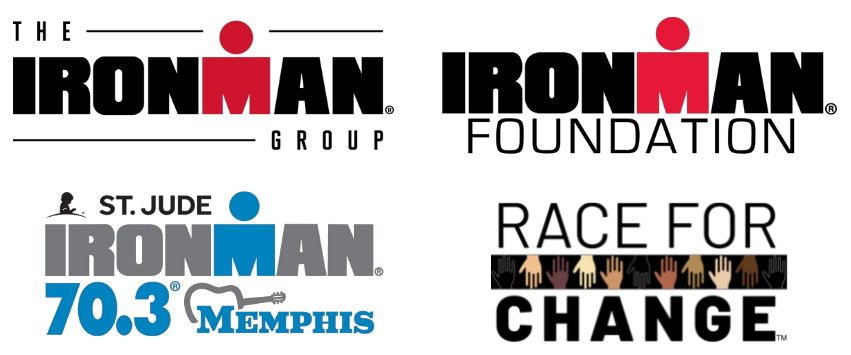 – Race For Change efforts aimed to increase Black triathletes as well as other diverse groups nationwide
MEMPHIS, Tenn. / TAMPA, Fla. (September 27, 2021) – Through its Race For ChangeTM initiative, The IRONMAN Group and IRONMAN Foundation® is teaming up with local communities and organizations to address potential barriers to entry that could prevent Black and other diverse groups from participating in triathlons. Coinciding with the 2021 St. Jude IRONMAN® 70.3® Memphis triathlon, Race For Change will be championing diversity, equity, and inclusion efforts at a special event on Sunday, October 3, in partnership with the YMCA of Greater Memphis and Major Taylor Memphis Cycling Club.
"As the largest organizer of endurance events globally, inclusive of some of the most prestigious races in the world, The IRONMAN Group is working as leaders of our industry by advocating diversity efforts that aim to proactively remove participation barriers in order to welcome more people of color into our sport," said Shane Facteau, COO of The IRONMAN Group and President of the IRONMAN Foundation. "Our vision of success for the Race For Change initiative is to attract and welcome people from all backgrounds to our sport and IRONMAN community so that they too can enjoy the life-changing event experiences that our teams work so hard to create."
To celebrate Memphis's rich and diverse music scene, the IRONMAN Foundation has partnered with Stax Music Academy's Songwriting Cohort to produce a theme song for the Race For Change in connection with the local Memphis initiative and St. Jude IRONMAN 70.3 Memphis triathlon. The Stax Music Academy's Songwriting Cohort was formed in 2019 when Justin Timberlake and Levi's Music Project installed a permanent Songwriting Lab in the academy and provided funding for a songwriting and music business instructor.
"We are treating this like a professional songwriting competition," said Pat Mitchell Worley, Stax Music Academy Executive Director. "The students are learning how to write jingles and the ability to engage with IRONMAN to create a theme song for this initiative will help the students with their craft in the future."
The winning Stax Music Academy group is comprised of Ashton Mack (Memphis Virtual School), Noah Israel (Gateway Christian Academy), Nadia Hopkins (Hamilton High School), and Violette Worley (Crosstown High School). They will perform their original theme song prior to the race start at the St. Jude IRONMAN 70.3 Memphis triathlon event on Saturday, October 2. The group will also perform the song at the IRONMAN Foundation's Race For Change community event on Sunday, Oct 3 at Douglass Park and Community Center.
The Sunday event will also feature giveaways and donations to the Memphis area YMCA and Major Taylor Memphis Cycling Club, introducing triathlon to the next generation of diverse IRONMAN participants. The partnership with the YMCA of Greater Memphis will offer free swimming lessons and swim safety curriculum for children attending local elementary schools throughout the city with a focus on predominately Black communities.
In collaboration with the Major Taylor Memphis Cycling Club, kids bikes and helmets, as well as bike safety training sessions, will be given to Memphis-area children.
Speakers during the event will include representatives from The IRONMAN Group, IRONMAN Foundation and the Memphis community who will talk about achieving one's full potential.
The Race For Change campaign was launched in 2020 with an initial pledge of $1 million to support programming that will help ensure equity for athletes in the sport of triathlon, and in the communities where IRONMAN athletes and first-time hopefuls live, train, and race. Through Race For Change, The IRONMAN Group and IRONMAN Foundation are working to recognize, empower, and sustain the next generation of great triathlon competitors, coaches and history-makers. For more information about Race For Change visit, www.ironmanfoundation.org/raceforchange/.
For more information on the IRONMAN Foundation, visit www.ironmanfoundation.org. For more information on The IRONMAN Group, its brands and global event series, visit www.ironman.com/about-ironman-group. Media related inquiries may be directed to press@ironman.com.
###
About IRONMAN DE&I Efforts
IRONMAN® has and continues to provide a welcoming platform and environment for all, becoming synonymous with monumental achievement by athletes from around the world proving that ANYTHING IS POSSIBLE®. Over IRONMAN's 40-plus year history, the brand and its series of events have worked with and celebrated athletes of all ages, abilities, and backgrounds, from all races, religions, nationalities, and sexual orientations. Since the very first years, IRONMAN has represented breaking barriers and redefining what is possible. This legacy continues as athletes and the greater IRONMAN community have utilized the platform as a vehicle to challenge and redefine society views. The very first trailblazing Special Team of Dick and Rick Hoyt racing alongside other athletes was a pinnacle moment for what was to come. Their determination and fortitude has continued with athletes like John MacLean, Jim MacLaren, David Bailey, Carlos Moleda, Jim Howley, Scott Rigsby, Sarah Reinertsen, Rudy Tolson-Garcia, Ricky James, Turia Pitt, Minda Dentler, Team Agar, the Pease Brothers, Alex Zanardi, Rajesh Durbal, Team Liza, Lauren Parker, Roderick Sewell, and most recently Chris Nikic and Sam Holness, among so many others. These athletes and their achievements through IRONMAN have established non-profits and long-standing partnerships like the Challenged Athletes Foundation that continue to do incredible work. The vastness of the athlete community, partners and the openness that exists with its events is what makes IRONMAN special and is core to the what the brand represents. Continuing the belief and importance of inclusivity, IRONMAN is committed to Women For Tri and Race For Change while working on additional avenues to further increase diversity, equity and inclusion.
About the IRONMAN Foundation
The IRONMAN Foundation creates positive, tangible change in race communities by engaging athletes and volunteers to participate in programs that demonstrate service through sport and commitment to community. Since 2003, over $50,000,000 has been provided through giveback programs led by the IRONMAN Foundation to more than 9,500 local, regional, national, and global nonprofit initiatives. Through these partnerships, IRONMAN and Rock 'n' Roll Running Series participants are powerfully linked to the community and together help leave a positive legacy behind in race communities long after event day. For more information on IRONMAN Foundation programs, including Team IMF, Community Fund, Rock This Town®, Your Journey Your Cause, Race For Change and Women For Tri, visit www.ironmanfoundation.org.

About The IRONMAN Group
The IRONMAN Group operates a global portfolio of events that includes the IRONMAN® Triathlon Series, the IRONMAN® 70.3® Triathlon Series, the IRONMAN® Virtual Racing™ (VR™) Series, 5150™ Triathlon Series, the Rock 'n' Roll® Running Series, the Rock 'n' Roll Virtual Running™ Series, IRONKIDS®, World Triathlon Championship Series, premier running events including the Standard Chartered Singapore Marathon™ and The Sun-Herald City2Surf®, Ultra-Trail® World Tour events including Tarawera Ultra and Ultra-Trail Australia™, mountain bike races including the Absa Cape Epic®, road cycling events including Haute Route®, and gravel racing like Gravel Epic®, and other multisport races. The IRONMAN Group is the largest operator of mass participation sports in the world and provides more than a million participants annually the benefits of endurance sports through the company's vast offerings. Since the inception of the iconic IRONMAN® brand and its first event in 1978, athletes have proven that ANYTHING IS POSSIBLE® by crossing finish lines around the world. Beginning as a single race, The IRONMAN Group has grown to become a global sensation with hundreds of events across 55+ countries. The IRONMAN Group is owned by Advance, a private, family-owned business. For more information, visit www.ironman.com/about-ironman-group.
About Advance
Advance is a private, family-held business that owns and invests in companies across media, entertainment, technology, communications, education and other promising growth sectors. Our mission is to build the value of our companies over the long-term by fostering growth and innovation. Advance's portfolio includes Condé Nast, Advance Local, Stage Entertainment, The IRONMAN Group, American City Business Journals, Leaders Group, Turnitin, 1010data and Pop. Together these operating companies employ more than 17,000 people in 29 countries. Advance is also among the largest shareholders in Charter Communications, Discovery and Reddit. For more information visit www.advance.com.