William Severi| MEET THE TEAM
Racing IRONMAN Vineman as a TEAM IMF athlete hits close to home for William Severi, literally. As a 30+ year local Santa Rosa resident, William is using his TEAM IMF journey to give back to the community that has supported him on race day, and beyond. Having been among the many athletes that travel through the IRONMAN Vineman course on training rides and runs, William will be making an impact right in his backyard this year. It is evident through his outstanding fundraising (currently at $7,440 raised) that this race is not just about crossing that finish line at the end of the month, it's about making a difference in the lives of those who need it most.
 IRONMAN Resume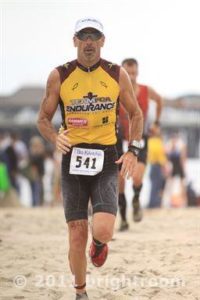 To date I have completed 10 half ironman races (70.3), 10 olympic distance races, 1 full Ironman and, if all goes as planned, one more full Ironman at the end of July.
Why did you decide to #RaceForMore this year with The IRONMAN Foundation?
I love Santa Rosa and all of Sonoma County, it is my home, and I wanted to give back. I figured what better way to do so than by raising money through my race efforts and giving it back to this beautiful area.
What has been your most successful method of fundraising thus far?
I do not often ask people for money but when I do, the people I am in relationship see the importance of my efforts and tend to want to invest in both me and foundation I support; it is a huge blessing to me.
Any words of Wisdom for first-time IRONMAN Athletes? 
Remember to have a proper hydration and fuel plan for your race so you are able to finish strong. But most importantly do not forget to have fun because you are never going to make money doing this sport!
Fun Facts? 
It gives me great joy when I go road biking with my son because it is one of the few areas of athleticism I can still beat him in!