Volunteerism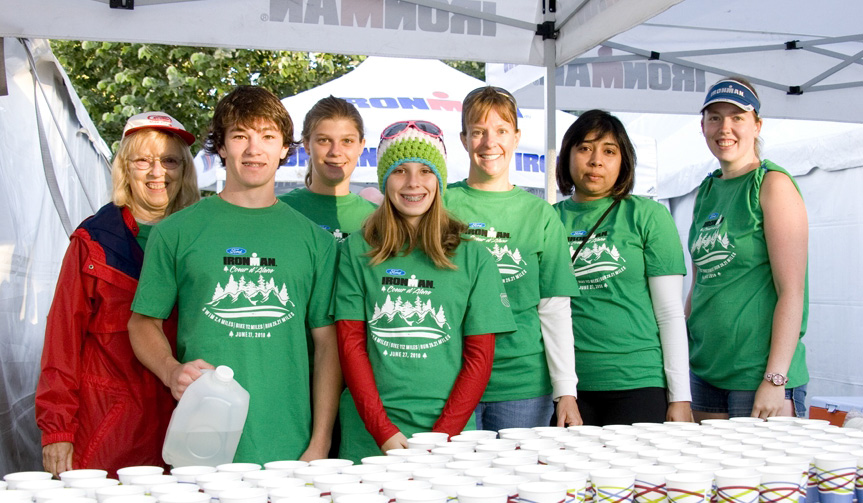 The IRONMAN Foundation Gives Back to Nonprofit Organizations with a Volunteerism Component
In an effort to enhance the well-being of those in the communities where IRONMAN triathlons are held, the IRONMAN Foundation provides an opportunity for IRONMAN athletes to showcase charitable support to a variety of local non-profit organizations that recognize citizens in need and provide support to the local community.
Within our IRONMAN race communities, we offer a grant program to support organizations that have a volunteerism component.
To find out more about volunteer opportunities available at races around North America, and to learn more about the volunteer grant application process, please contact the volunteer director within your region by choosing the appropriate event on IRONMAN.COM and selecting the "volunteer" tab.
WE WANT TO SHARE YOUR STORY!
IF YOUR ORGANIZATION IS AWARDED A GRANT THROUGH THE VOLUNTEERISM GRANT PROGRAM, PLEASE SUBMIT A RECAP VIA THE FOLLOWING LINK:  HTTP://WWW.IRONMANFOUNDATION.ORG/VOLUNTEERISMGRANTSTORY
BY SUPPLYING A STORY OF YOUR VOLUNTEERISM GRANT-IN-ACTION, WE WILL HIGHLIGHT YOUR ORGANIZATION THROUGHOUT THE RACE SEASON – EITHER THROUGH A FACEBOOK POST, AN E-BLAST, ON THIS WEBSITE, OR ON-SITE AT OUR EVENTS!